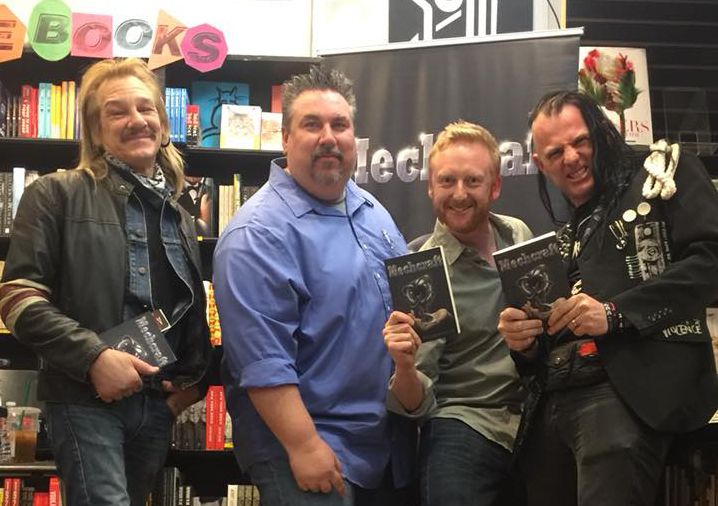 From Script to Novel to Trilogy
It's been a strange journey going from a screenwriter to novelist and back again. Through the rollercoaster of it all, I've never written down the triumphs and tragedies before. So, get in, sit down, buckle up, and prepare for an honest punch to the gut.
My sci-fi thriller screenplay, Mechcraft, had been doing well in the contest circuit. Seven entries and seven quarterfinals. Couldn't seem to break beyond. I was gearing up for a rewrite to remedy this, when I got a couple meetings with gatekeepers. In all, four entities reached out, held meetings with me, loved the script, and then gave me the same answer: we love the concept, love the story, but no one is going to take a risk on an unknown property.
Friends in the industry validated these responses. "Yep, that's how it is now." Accepting this reality, I had pondered burning the script and moving on to new ones, but my gut wouldn't let me give up on Mechcraft. This was The One™. I had to press on.
Plotting my next move, I met with a long-time friend in the industry. He's done it all: reader, screenwriter, producer, executive, CEO, etc. Over lunch, he suggested converting Mechcraft into a novel. The studios and agents won't touch an unknown IP, fine. Publish the book, build a fan base, and those studios, prodcos, managers, and agents will come to me.
I groaned at the thought. I'd just dropped blood, sweat, and tears on multiple drafts of the script. Last thing I wanted to do was recreate it as a novel. After pounding my head against the wall for a few days, his words of wisdom finally sunk in. He was absolutely right. Converting Mechcraft to a novel was the best path forward, if I wanted a shot at getting it made into a film franchise, which was my endgame.
I gathered up my notes, set up my playlist, and cracked my knuckles. This was going to be a piece of cake. The material was already there, just fill in some blanks and done, right?
That feeling lasted about five minutes.
Let me tell you now—converting a screenplay into a novel is damn hard. Everything changes. Everything. I agonized over the first chapters. I sobbed on my keyboard. I began making questionable life choices. But eventually something clicked.
Freedom. I found freedom in the prose. No longer limited to what an audience can see. No longer limited to a page count. I explored the characters on a deeper level, really getting in their heads. I expanded the story, adding characters and scenes not found in the script. I fell in love with the process.
Seven months later, I had hammered a full novel out of a 114-page screenplay. I didn't trust myself with the editing. I needed a pro. My budget was virtually non-existent, but if there was one area worth spending money on, it's a good editor. And a rock star found me. Thanks to social media and mutual connections, an incredible editor reached out to me, having heard of Mechcraft.
We spoke at length—comparing geek cred, lamenting over sci-fi disappointments, and debating the finer points of the John Carpenter film catalog. I knew right away she was the one to edit Mechcraft. Her grasp of the story and what I was trying to say impressed the hell out of me. This was easily the best money I spent on the entire journey. She helped my words soar without diminishing my voice.
Then, the publishing. How should I go about it? Traditional? Indie? Self? All had pros and cons. The marketing, distribution, and reputation of the major publishers is enticing, but getting in the door is a Herculean effort few newcomers survive or conquer. Indie publishers offer a boutique style service, often able to give deeper attention to their roster of authors, but many lack the funds needed to assist authors in marketing efforts. Self-publishing offers complete control to the author. A very appealing aspect. However, flying solo also means no support, no marketing, and no help in distribution. It's not an easy decision to tackle.
First, I decided to shoot my shot with the major publisher. I submitted to some of the big guns, as well as a variety of mid-levels. Most never responded, and the few that did, passed. It was the screenplay scenario all over again. No one wanted to take a chance on the new guy.
I had confidence in my story. I knew it would sell if it got the right exposure. So, I licked my wounds, dried my writer's tears, and pushed on. I started looking into the indie publishing world.
Then I heard about a new contest sponsored by a hybrid publisher that used a crowdfunding model to determine which books to publish. Those authors who could obtain a certain threshold of pre-orders would get their books professionally published and distributed. It seemed daunting and hellish, but I also saw opportunity. Victory or defeat fell upon me, my skills, and a bit of luck to get Mechcraft published. I jumped in with both feet.
This process was a crash course in marketing. I had to achieve 250 pre-orders to fund the publishing of the book. How do you ask people to kick in $10 or $20 for a book they won't receive for around two years? I was prepared to beg, borrow, and steal to hit that goal.
For me, this was do or die. I had to take a cold hard look at myself in the mirror and decide how badly I wanted a career writing for a living. I had to overcome any awkwardness or hesitation that would otherwise hold me back. I forced myself to approach friends, family, and co-workers. I expanded my social media reach and built genuine relationships and connections with the audience. I cannot stress this enough: social media is a wealth of information, help, and connections—if used wisely and genuinely. Be yourself. Be kind. Offer to help.
The relationships I've built via Facebook and Twitter are some of the richest I've known. People truly want to help you, if they can, but it's vital to always put yourself out there first. Again, offer to help. You will not only feel wonderful about assisting others, but you will build true connections with excellent people.
So, I marketed myself and my book, took out Facebook ads pointing to the pre-order page, created postcards, flyers, and bookmarks—each with a link and a QR Code that pointed to the page. My digital-artist son designed a visually stunning book cover. And in the end, after exhausting myself, I successfully gathered enough pre-orders and the publisher moved forward on publishing Mechcraft.
About six months prior to the launch date, I began a marketing campaign on social media. This time for sales not pre-orders. I wanted people to become familiar with Mechcraft and its author, so that by the time release day hit, sales would hopefully come easier. Sales and buzz were going to be key in drawing the attention of studios, prodcos, managers, etc. I eventually found a healthy balance between engagement and marketing. Both contributed to building my brand and more importantly—building genuine relationships.
Close to the time of the release, I began to outline the rest of the trilogy. My goal all along was a film trilogy. Creating all three tales as novels first made the most sense. Only this time around, I had no screenplay source material to use as a blueprint. I was starting from scratch. I created outlines for books two and three, then set them aside to focus on the launch of Mechcraft.
With the help of my amazing wife and some dear friends, we put together a launch party that exceeded all expectations. We anticipated 60-70, but 126 showed up. We had a catered taco bar, a live band, and a gorgeous room in a local art gallery. It was one of the greatest nights of my life.
The launch party was such a high, but it quickly came crashing down. After a very healthy launch on Amazon with three days of great numbers, the well dried up. The excitement in social media had worn off, and my own marketing no longer worked. My publisher offered no support in this area—nor did I really expect it, given the climate of the publishing world. And I could not afford a professional PR person.
Authors are truly the captains of their own marketing destinies.
Like most writers, I contended with bouts of self-doubt and imposter syndrome. I struggled with giving up several times. I became overwhelmed by disappointment time and again. Hope and perseverance got me through and kept me going. The hope for a better life of doing what I loved. And the gut instinct that told me to persevere.
Hope and perseverance is everything.
One of the first things I did to get back on track was sign up on ACX to create an audio book. ACX is Audible's free site that connects authors and narrators for audio book projects. Their process could not have been smoother. In two days, there were four auditions. One read the characters perfectly, and she got the job. I was utterly grateful she accepted a royalty share deal, so I didn't have to spend money I didn't have up front. Turned out she was an award-winning 10-year veteran narrator who was seeking to expand her sci-fi catalog. She normally would not accept a royalty share, but made an exception for Mechcraft. Her work was incredible, and I'm so proud of the final product. My gratitude to her is overflowing.
Additionally, I started booking signings and guest spots on podcasts. This world is surprisingly open-armed and welcoming. Local bookstores, podcasts, book events—all are great sources for building an audience. Be discerning, though. Theme and price for events, like book fairs, play a major factor. My book certainly did not fit into every event I looked into.
One fiasco, I purchased a booth at the one-day San Diego Book Fest, and it was a complete waste of money. Authors were randomly set up so attendees had no idea where to go to find the genres they liked. I was wedged between a self-help author and a history author. And none of us sold very many books in eight hours.
In opposition to that, I set up a booth for free at an Entrepreneurial Fair at a local Homeschool Expo, and sold more books in two hours than I did all day at the Book Fest. Research and discernment count for so much when choosing events.
With in-person events, here's a tip. If you're connected or friends with a celebrity in that area, invite them to the event. They may say no, but shoot your shot and invite them. It's a great chance to hang out (if you're friends already), and it's mutual support if you've purchased their products in the past. Having someone even a little famous attend your event boosts your reputation and visibility. It never hurts to reach out. Again, only do so if you are already friends or at least acquainted with them. Don't be a creeper.
A signing I did at Book Soup in Hollywood drew a small audience, but in that group were two rock stars I had befriended over the years, and a film editor friend. After the event, one of the rockers was able to hang out, and we talked over coffee about art, marketing, and the industry. He has gone on to help me with soundtrack music and given me permission to use his 10-album catalog of music for any marketing promo material I created. He is an amazingly generous person. In return, I've supported his music and attended his artist Zoom chats. Our friendship keeps growing, and I hope to repay his generosity even more.
Also with events: always invite the press. Always. It's a longshot for them to attend unless there's a newsworthy story involved. I've seen authors connect an event to a charity, where a portion of book sales go to a non-profit. Or a human interest tale. Unfortunately, an unknown author with a book to sell isn't high on a reporter's interest list. But it never hurts to invite them.
I also attempted several other marketing methods with mixed results. Book cover contests, author panels, merch investments (shirts, mugs), etc. Best advice I can give is to mind your budget, and if a promo or deal sounds too good to be true, it probably is.
The in-person and online marketing efforts were hit and miss, but always educational. After about 18 months of effort, I had to come to terms with the fact that this one novel was not going to generate enough buzz or sales to attract the film industry. I had to think bigger if I wanted to parlay all this effort into a writing career.
It was time to write book two, Mechcraft: Disruption. This time around would be different since I had no script to guide me. Again, I ended up loving the process. Eight months and five rewrites later, I sent it off to my editor—once again the best money I would spend. She got it into shape and ready for publication.
But now, where to publish? I refused to go through the crowdfunding model again.
Meanwhile, the fan base was beginning to grow for the original book. A killer industrial rock band, CHMCL STR8JCKT, approached me to ask permission to write a song about Mechcraft's villain. I happily agreed, and now the song "Tendril and Blade" is the opener for their latest album, DRK PRGRSSN. We are going to do mutual marketing when their tour begins in 2022.
Likewise, the owners of a chandelier manufacturer created a stunning sculpture of Mechcraft's book cover as a gift for me to display at my table events. And again, I'm giving them mutual marketing as a thank you.
Back to publishing. I hit up Querytracker, a free database that helps connect writers with agents and publishers, submitting to 10 entities in a test round to see how my pitch would fare. After about three weeks, responses started coming in. Five agents passed. Three publishers passed. The fourth publisher, Black Rose Writing, who was high on my wishlist, accepted my pitch and signed me for not only the sequel, but they wanted to re-release the original as well. It was a dream come true. Only one problem—the previous publisher's rights to Mechcraft hadn't expired yet.
Thankfully, Black Rose Writing was willing to wait three months for the contract to expire, and at that time, I asked the previous publisher to cease production on the book, which they honored without a problem. I had my book rights back and was on track with the new publisher. They gave a release date of May 4, 2021. Black Rose Writing's team delivered an excellent product, with my son designing the cover for Mechcraft: Disruption as well.
Then in January 2021, Black Rose Writing offered up a new opportunity. A slot had opened up for publication in November 2021, and they asked if I had any books ready to go. I immediately threw my hat in the ring for book three, and they accepted it. Only one problem: I had a two-month deadline to turn in the final manuscript to keep their printing schedule, but I hadn't written a single word. I only had the outline for Mechcraft: Cataclysm.
My plan was to write the book, give it a rewrite, give it to my editor for a pass, and then turn it into the publisher by their March 1st deadline. Easily the tightest deadline I've ever been under—seven weeks. Thankfully, I had vacation time from work available, and a very supportive family.
With my schedule cleared, I wrote like a madman for three weeks of extremely long days. Then after the vacation was used up, I spent long evenings at the keyboard. I ended up with enough time to finish the first draft and give it a quick rewrite. Then off to my editor who really came through and made Mechcraft: Cataclysm her top priority. She got it back to me swiftly with massive corrections needed, and I applied her notes in a last ditch final rewrite with just days remaining.
I handed the final manuscript to the publisher right on the deadline, and Mechcraft: Cataclysm was set for a November 4, 2021 release date. The previous books had taken seven and eight months to write, and somehow I was able to write the longest novel in the series in under two months. It was brutally exhausting, and my health suffered. It took days to recover and feel myself again, but the feeling of satisfaction and accomplishment were unmatched.
The conclusion to this trilogy is everything I had hoped it would be and more.
Many kind people supported and helped along the way. No one does this alone, and my gratitude is overflowing. The relationships I've built are as valuable as the writing goals achieved.
This process is frustrating, agonizing, soul-crushing, but also rewarding, exciting, and I cannot imagine doing anything else. I will not quit until Mechcraft becomes a film franchise or a TV series. And I will continue making moves toward that end.
Don't know if I'll make it, but I'll never stop trying. Hope and perseverance. Always.
Editor's Note: Learn more about the publishing experience by joining our free Symposium Town Hall, "Hard Truths: Publishing" on November 18th at 4pm PT.
*Feature Photo: (l to r) Franke Nardiello from My Life with the Thrill Kill Kult, Brian Fitzpatrick, Daniel Lee (film editor, author), Karl Learmont from Angelspit at Book Soup in West Hollywood.