Original (more coming this month!) and curated podcasts hosted by a global range of fellow artists and industry.
PIPELINE ORIGINAL PODCASTS

Words of Prey is the inaugural podcast from The Pipeline Artists Network. Host Chantelle Aimée Osman (editor of Agora Books, writer of random things, former Hollywood Person) sits down to talk business, writing, life and all of the things in between with a variety of guests with a variety of backgrounds. So, dear listener, grab an adult beverage, sit back, and learn from our mistakes.

Real talk about writing, publishing, and everything in between.

Book Pipeline's own Peter Malone Elliott and Erica Davis are teaming up for real talk from the publishing trenches. He's a screenwriter, playwright, and novelist. She does the words. Each episode, Peter and Erica will unpack a piece of the writing life. And don't forget your industrial forklift because there will be baggage. A Pipeline Artists Original Podcast.
---

PIPELINE RECOMMENDS
Sunday Sermons
At 3:00 p.m. EST, once a month on Sunday, publishing guru Jane Friedman, offers "off-the-cuff and free conversations about the business of writing, publishing, and freelancing (and life)." She's honest, humble, and completely transparent about her experiences and vast knowledge of the publishing industry.
Site | Videos | Twitter | Facebook | The Hot Sheet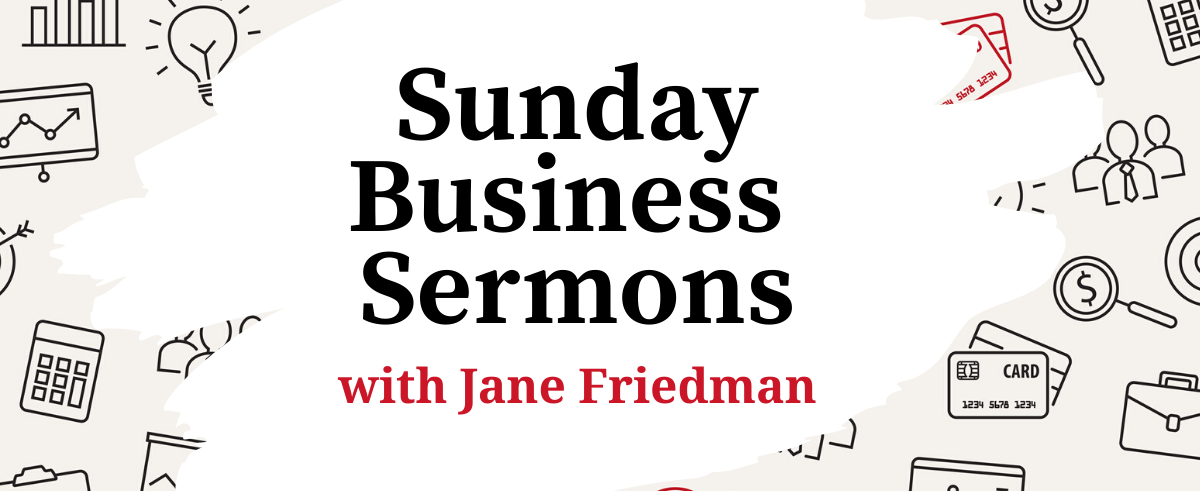 ---
Screenwriter's Rant Room
This is the Official Page for "Hilliard Guess' SCREENWRITER'S RANT ROOM!" Our host is Hilliard Guess, a WGAw award-winning writer, a director and a very busy producer. Hilliard and his amazing team drop industry knowledge in this unfiltered, hilarious podcast series that delivers nuthin' but REAL TALK … from real working writers … while at the same time … puttin' you on game! With co-hosts: award-winning sci-fi/horror "Fan Girl" writer & author, Lisa Bolekaja and director/writer/cinephile—Chris Derrick. Our motto: "Keep it street. Keep it opinionated and keep it what ... 2020!"
---
Life In The Human Zoo
A weekly compendium of stories, music, poetry and some of the wisest wisdom available to human kind. Hosted by writer and comedian Mike "Sweepstakes" O'Connell.
---
Write-Minded
Write-minded: Weekly Inspiration for Writers is for writers craving a unique blend of inspiration and real talk about the ups and downs of the writing life. Hosted by Brooke Warner of She Writes and Grant Faulkner of National Novel Writing Month (NaNoWriMo), each theme-focused episode of Write-minded features an interview with a writer, author, or publishing industry professional. There's always a takeaway at the end of each show for listeners, too. Brooke and Grant interview writers, authors, and publishing industry folks, and bring to this weekly podcast their shared spirit of community, collaboration, and a deeply held belief that everyone is a writer, and everyone's story matters.
---
Writeway™  
The Writeway Podcast is committed to empowering writers and turning creative aspirations into career realities. Join author and Writeway CEO, Rea Frey, and Writeway Executive Editor, Joe Tower, as they take a truly "no bullshit" look behind the curtain of the publishing industry … and provide the tools to help you become your own best writing advocate.
---
HARD OUT
HARD OUT is a 60-minute ticking time bomb of a podcast hosted by Them Thorntons (Chris and Jay Thornton, professional screenwriters and filmmakers of the indie feature Cactus Jack and authors of the dark fantasy novel series Reapers). Aptly named, each and every episode abruptly ends at the 60-minute mark—no matter what's going down as the buzzer sounds! The show includes several subseries, to include "Hard Out: My Favorite Movie "(in which we have a guest or guests on to geek out over their all-time favorite film) and "Hard Out: Cinephiliacs," where we do in-house double feature deep dives or have on guests to postulate over a picture. Video episodes on YouTube, "Hard Out Them Thorntons."
---
Breaking Out of Breaking In  
Breaking Out of Breaking In, created by Bri Castellini and Christina Raia, is a practical, pragmatic filmmaking and storyteller podcast about taking your creative destiny into your own hands, reframing what it takes and means to "break in" to a fundamentally broken industry, and making work that gets seen without playing the Hollywood game (or at least, while changing the rules). Each episode explores a particular subject interrogated and researched by the hosts to turn an obstacle or limitation into an opportunity for listeners, or a conversation with a guest who shares exactly how they broke out, broke in, or circumvented things entirely to define success for themselves.
---
Oh, Dear  
Comedians Nick Whitmer, Cristian Duran, and Bret Raybould hang out every week and occasionally someone will say something so horrible that all the others can say is, "Oh Dear." Oh Dear is basically if your group chat was a podcasts. @Nick_Whitmer @cduranduran @Bretraybould
---
Paper Team
Paper Team is a weekly podcast about television writing, becoming a TV writer, and everything in between. Hosted by Alex Freedman (@TVCalling) and Nick Watson (@_njwatson), every episode alternates between topics on the screenwriting craft (pilots, specs, story, character, etc.), and discussions about the TV business itself (breaking in, representation, networking, staffing, etc.). This is a podcast for anyone working their way into the entertainment industry, and everyone passionate about television. Available on all podcast platforms, including Apple Podcasts, Google Podcasts, and Spotify.