Beyond our Pipeline Artists' og podcasts, here are some of our faves.
Sunday Sermons
At 3:00 p.m. EST, once a month on Sunday, publishing guru Jane Friedman, offers "off-the-cuff and free conversations about the business of writing, publishing, and freelancing (and life)." She's honest, humble, and completely transparent about her experiences and vast knowledge of the publishing industry.
Site | Videos | Twitter | Facebook | The Hot Sheet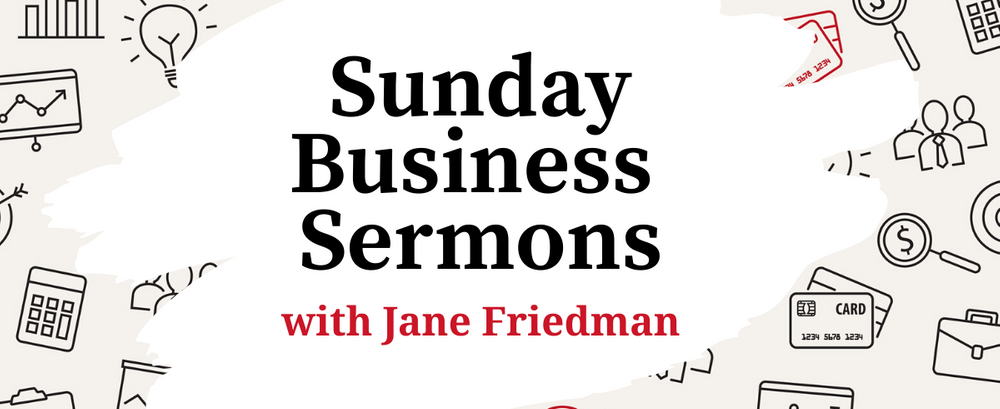 ---
Write-Minded
Write-minded: Weekly Inspiration for Writers is for writers craving a unique blend of inspiration and real talk about the ups and downs of the writing life. Hosted by Brooke Warner of She Writes and Grant Faulkner of National Novel Writing Month (NaNoWriMo), each theme-focused episode of Write-minded features an interview with a writer, author, or publishing industry professional. There's always a takeaway at the end of each show for listeners, too. Brooke and Grant interview writers, authors, and publishing industry folks, and bring to this weekly podcast their shared spirit of community, collaboration, and a deeply held belief that everyone is a writer, and everyone's story matters.
---
39 Minute Conversations
Screenwriter, actor, comedian, and shut-in Brian T. Arnold hosts a podcast about reconnecting with old friends and making new ones. But, he's only got 39 minutes to do it because he will not be paying for Zoom Pro.
Conversations feature screenwriters, comedians, filmmakers, actors, and more.
---
Screenwriter's Rant Room
This is the Official Page for "Hilliard Guess' SCREENWRITER'S RANT ROOM!" Our host is Hilliard Guess, a WGAw award-winning writer, a director and a very busy producer. Hilliard and his amazing team drop industry knowledge in this unfiltered, hilarious podcast series that delivers nuthin' but REAL TALK … from real working writers … while at the same time … puttin' you on game! With co-hosts: award-winning sci-fi/horror "Fan Girl" writer & author, Lisa Bolekaja and director/writer/cinephile—Chris Derrick. Our motto: "Keep it street. Keep it opinionated and keep it what ... 2020!"
---
HARD OUT
HARD OUT is a 60-minute ticking time bomb of a podcast hosted by Them Thorntons (Chris and Jay Thornton, professional screenwriters and filmmakers of the indie feature Cactus Jack and authors of the dark fantasy novel series Reapers). Aptly named, each and every episode abruptly ends at the 60-minute mark—no matter what's going down as the buzzer sounds! The show includes several subseries, to include "Hard Out: My Favorite Movie "(in which we have a guest or guests on to geek out over their all-time favorite film) and "Hard Out: Cinephiliacs," where we do in-house double feature deep dives or have on guests to postulate over a picture. Video episodes on YouTube, "Hard Out Them Thorntons."