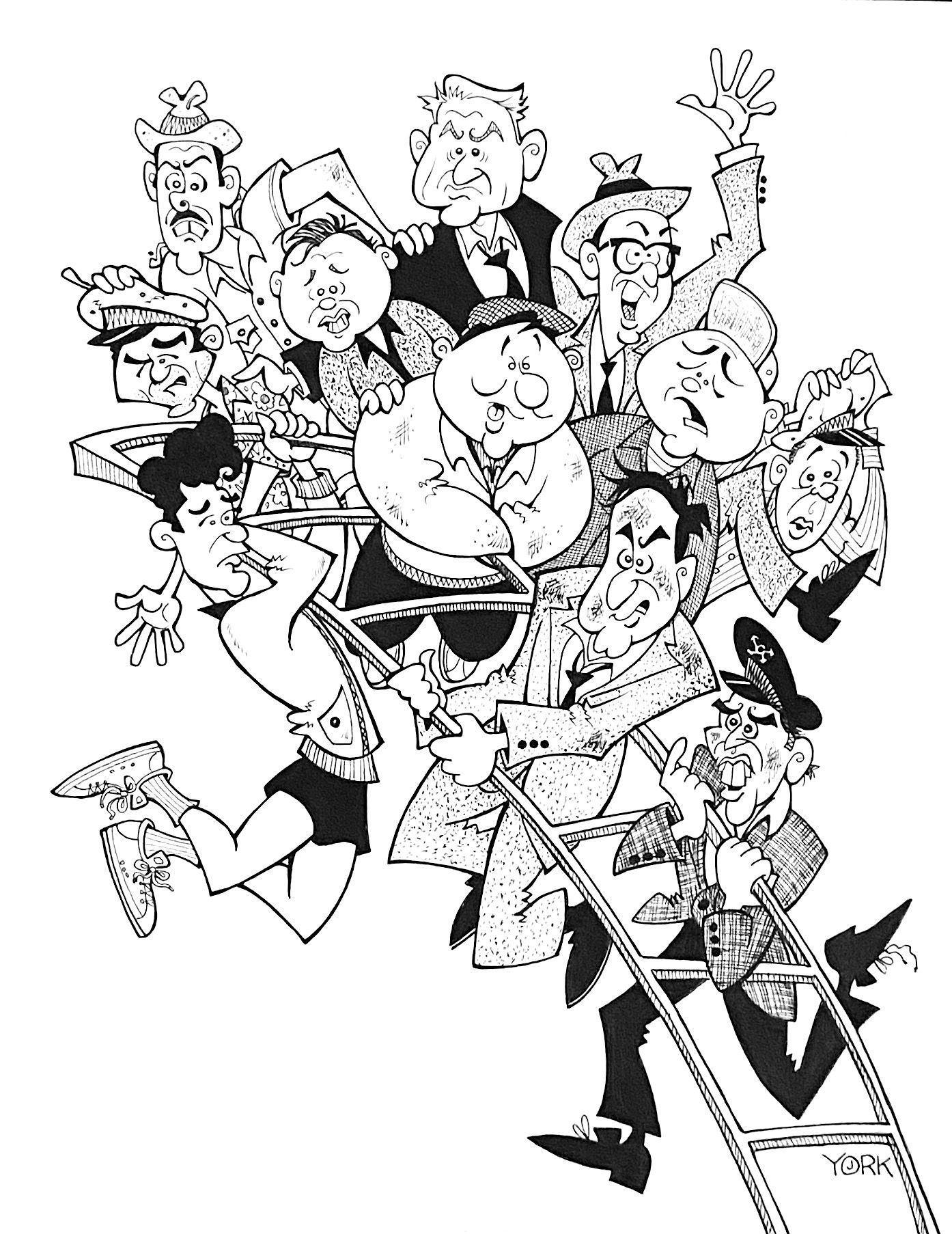 How to Write an Ensemble Movie Script
Ever since the onslaught of TV, cinema has struggled in one way or another to keep audiences coming out to the theater when it's so much easier to stay at home. And yet, the film industry has always found a way to add novelty or exclusivity to the big screen. Be it 3-D glasses, Sensurround, or loads of state-of-the-art CGI, movies try their damnedest to keep our eyeballs interested. Why, the entire MCU seems to have been founded on the idea that these superhero stories must be seen on the big screen where one can truly appreciate the scope of their ginormous, powers, battles, adventures, etc. (Is that why so many of the MCU series streaming on Disney + have had trouble capturing the same magic? The tales seems so … puny …  there?)
There is another gimmick in the film world that has always proven to bring audiences out to the cinema as well, one that's a lot less expensive than all those over-priced production values. In fact, movies have reveled in the gimmick since it helped Grand Hotel win Best Picture in 1932. I'm talking about the all-star ensemble.
Films chock full of a lot of big stars, say ten or more, are the rarest of rare. They get immediate attention because they're not the kind of films one sees every day, certainly not on television. After all, an all-star cast instantly says that a movie is not only special but that it is also an event.
Still, if one is going to make an ensemble film, it can't just be about placing a lot of A-listers on screen, dumbing them down in uninspired star turns or glorified cameos. No, an ensemble movie and its script must recognize why such an ensemble is needed and what's at stake in such a story.
THE PLOT IS REALLY THE STAR
Director Stanley Kramer cast dozens of the biggest names in comedy for It's a Mad, Mad, Mad, Mad World (how many can you name pictured in my caricature?) but the true star of the film was its plot. The key to the screenplay by William Rose and Tania Rose were the high stakes that involved every character. And those stakes were two-fold: Get rich or die trying.
The story concerned a group of California motorists who witness a car accident and hear its dying driver tell of $350,000 he buried in Santa Rosita Park. For the next three hours of the film, the story fractions off as each of those witnesses tries to beat the others to the park to claim the loot, risking life and limb to do so. Hilarity ensues, of course, but those clear objectives, all shared by every last character, make the story big.
The same is true of other all-star epics like The Poseidon Adventure (an ensemble cast must find a way out of a capsized ocean liner), Ocean's Eleven (an ensemble cast must rob three casinos in one night), and Don't Look Up (an ensemble cast might contend with the world ending courtesy of a meteor).
Big story. Big cast. Big stars.
ENSURE THAT EVERY CHARACTER GETS A CHANCE TO SHINE
One of the reasons that Sidney Lumet's 1974 version of Murder on the Orient Express was vastly superior to Kenneth Branagh's remake in 2017 had to do with how the former used his stars versus the latter. In Lumet's take on Agatha Christie's classic murder mystery, adapted by Paul Dehn, each of the 14 above-the-title stars got a lot of time to shine. Not so in the remake. Giant stars like Penelope Cruz and Judi Dench barely registered as the newer script failed to give them scenes that truly 'played.' (Maybe it had something to do with director Branagh's preference for his own screen time as detective Hercule Poirot, let alone that of his character's over-the-top mustache.)
And while it was expected that Albert Finney, Lauren Bacall, and Ingrid Bergman would all get big scenes to play in the 1974 classic whodunnit, Dehn's script found plenty of room for featured players like those essayed by George Coulouris, Colin Blakely, and Dennis Quilley, too.
How? Dehn not only wrote distinct characters, but everyone's words not only propelled the plot but revealed character too. Bacall's character of Mrs. Hubbard is always spilling key information because as the mastermind behind the murder, she's trying to steer Finney's Poirot in the other direction. Coulouris' doctor is a 'doubting Thomas,' cynically questioning many character's testimony. Being a man of science, he sees through the inaccuracies and improbabilities. Dehn gave both characters plenty of motivation for their actions, and it propels both story and character development.
EDGE UP TO CLICHÉ WITHOUT GOING OVER
Subtlety, generally, isn't plentiful in such ensembles. When you have so many characters, they need to be vivid and establish themselves quickly with broad strokes. Case in point? Robert Rodriguez's adaptation of Frank Miller's classic graphic novels Sin City. Rodriguez cast 18 stars in his anthology, and in almost all of the cases, the characters written were as black and white as the comic pages they came from. Thugs, cops, hookers, and killers populated Miller's world, and none of them were far off from being hard-boiled, smoldering, or world-weary. The characters were easy to read, although each did have a characteristic that added some (ahem) color.
Mickey Rourke's Marv may be a vicious thug, but the block of granite is actually as intellectual as he is brutal. Bruce Willis' Detective Hartigan stood tall, a pillar of moral virtue and tenacity, with only his bum ticker bringing him to his knees. And Rosario Dawson may have played a spikey dominatrix, but her Gail turned into a girlie-girl sweet on her fella (Clive Owen) when he was around. All of them were extremely clear-cut types, albeit with a counter characteristic to their core essence.
EVERYONE MUST PLAY THE SAME TONE
If you're going to write an ensemble comedy, you better be funny. And every character better contribute to the hilarity. Wes Anderson imbues every part of his scripts with humor. Characters say funny things, they say it in funny accents, and they dress, pontificate, and walk funny, too.
Everyone in his ensemble comedies is there to be funny.
In last year's The French Dispatch, every line Bill Murray uttered was drolly humorous. Every physical gesture Lea Seydoux made was snippily hilarious. Yet, no character must know they're funny. Quite the opposite. Those in a comedy think they're in a tragedy. And good writing shouldn't underline jokes.
In David O. Russell's new film Amsterdam, he tries to be funny, but you can feel him straining to be cra-cra. Some of his characters are blatantly absurd, ridiculous to a fault, while others seem underwritten, fairly straight, and even boring. It doesn't feel like they're all of the same universe. If you're going to write an ensemble comedy, everyone must be funny.
And if you're going to write a disaster movie, everyone must be in panic mode. A horror movie? All terrified. All the characters must be working to believe in the story they're in, every last one of 'em, so the audience buys into it as well.
GET YOUR CHARACTERS IN THE SAME ROOM AND OFTEN
One of the reasons that movies like Rat Race, Valentine's Day, and Cannonball Run aren't particularly good is that they fail to put everyone in close proximity to each other. It's an easy mistake to make when you're writing a script with lots of characters. But even if you're telling a bunch of different stories, try and bring the characters together where you can to make them feel part of the bigger story being told. All of the adventures of The Avengers do just that, particularly at the climax. (Christie adaptations and Mad World did so, too.)
In Love, Actually, writer/director Richard Curtis tells a dozen different love stories during Christmas season in London, yet finds delightfully clever ways to have their stories overlap.
Emma Thompson's character is the sister of Hugh Grant's Prime Minister. Colin Firth's Jamie and Laura Linney's Sarah are wedding guests of Juliet and Peter (Keira Knightley and Chiwetel Ejiofor). Even Thomas Sangster's Sam runs into Bill Nighy's rock star when they're both making a physical display at the airport. It's important in ensemble stories for all the characters to feel part of the quilt.
Whether or not ensemble films could be rebooted as a trendy genre remains to be seen, but the Knives Out franchise is a good omen. Rion Johnson's managed to blend Agatha Christie and Wes Anderson into a frothy cocktail of guffaws and the grisly and the buzz on his sequel Glass Onion: A Knives Out Mystery is ecstatic. And he seems to have created a new ensemble film franchise that audiences are psyched to see, be it on the big screen for a couple of weeks or then on Netflix for the majority of its run.
Hey, eyeballs are eyeballs, right? No matter where they watch the movie, the point is they're watching. That's something I'd imagine an ensemble of moviegoers would agree upon.