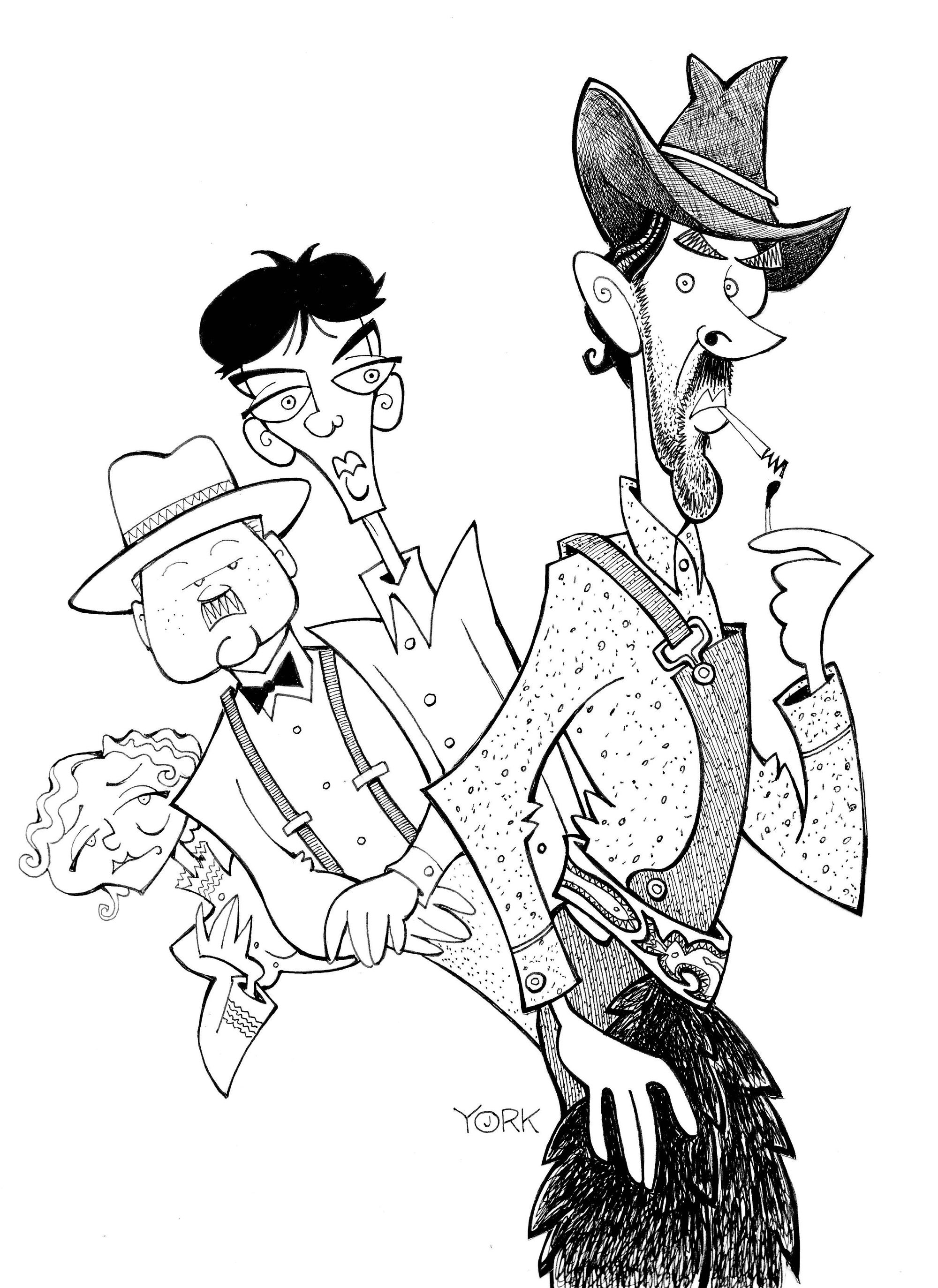 I'm Not Looking Forward to the Oscars
The 94th Academy Awards are this weekend and, sad to say, it's the first year ever that I'm not looking forward to them as a fan, writer, or critic.
Why so? Well, it has to do with the fact that the producers of this year's show seem to be doing everything in their powers to deliver a telecast even more egregious than last year's. The 2021 debacle, as you'll recall, ended with the telecast giving out Best Actor after Best Picture to make hay of the "sure thing" of seeing the widow of the late, great Chadwick Boseman picking up his award for Ma Rainey's Black Bottom.
However, it was Anthony Hopkins' name that was read from the envelope for his stellar performance in The Father, not Boseman's, and the show ended in shambles as Sir Tony was an unfortunate no-show. Rather than go out on a glorious high with a Best Picture being crowned, the ceremony became the most embarrassing in many a moon. And that's saying something given the many awful Oscar telecasts that have been done over the years. Did you forget the year when the woefully miscast duo of James Franco and Anne Hathaway hosted?
This year, the Academy only has to rise from the ashes that were last year's Boseman botch, but the tin-eared, self-saboteurs running the show in 2022 seem determined to match such blunders. Sure, when the Oscar nominations were announced in February there were a lot of high-fives all around as almost all of the nominees in every category were quite laudable, and the 10,000 Academy members even saw fit to give international features like Drive My Car, Parallel Mothers, and Flee multiple nominations. Bravo!
But as the weeks progressed, the Academy announced one tin-eared move after another, starting with relegating eight Oscars to be given out before the regular show to trim down the running time. That outright dismissal of those categories, including critical ones like Best Editing and Best Dramatic Score, is not only outrageously rude, but it's disparaging of the industry as a whole. They're telling a full third of this year's nominees that they're not worthy of time in the real-time telecast. The Oscars are supposed to glorify excellence in film, not discriminate against those below-the-line.
Additional moves only further the recipe for disaster at this month's ceremony. The hosts selected for the show on March 27th—Amy Schumer, Wanda Sykes, and Regina Hall—seem an odd trio at best. They may tick a lot of politically correct boxes, but one wonders what A-listers passed before they got to two comedians mostly known for television work and another who's not exactly a movie star to take up the duties. It's also more than a little opportunistic for ABC's parent company, Disney, to plan on showcasing two songs from their animated nominee Encanto, even though only one is nominated for Best Song. (Aren't the producers trying to cut time out of the show?)
And I doubt if this year's show will give the honorary Oscar winners any more time than they've done this past decade, much to the disappointment of film aficionados. Not only are those awards handed out at a different ceremony months in advance, but the show barely makes hay of them. Still, wouldn't you rather see what Samuel L. Jackson, Elaine May, Liv Ullmann, or Danny Glover have to say about their prestigious careers than two numbers performed from Encanto? I know I would. Oh, and did I mention that the Academy is giving out a "Fan Favorite Oscar" this year that the public gets to vote on? Indeed, but unless that winner is named Spider-Man: No Way Home, I predict that will be a cringe-worthy bust of a new move, too.
The Academy seems almost clueless about such belittling moves. They also don't know their core audience very well either as the simple fact is that most movie fans who tune in to watch don't care if the show is three hours or four. I'd bet that most would clamor for an even longer Oscar show if it allowed them to see those honorary Oscar winners talk. Sadly, one must traipse to YouTube to see the full clips from years past when the likes of Spike Lee or Jackie Chan accepted their lifetime achievement Oscars, but at least they are available in their entirety somewhere.  
Why is Oscar season, the time of year when Hollywood has to do nothing but laud themselves, something you'd think they could do in their sleep, wrought with such silliness, offensiveness, and controversy? Even veteran actor Sam Elliott had to add to the consternation with his slurring of the homosexual themes in Best Picture frontrunner The Power of the Dog. Everyone from director Jane Campion to star Benedict Cumberbatch has eloquently defended their arthouse western on various red carpets in weeks past, but with friends like Sam in the industry, who needs enemies? Homophobia sunk the Best Picture hopes of Brokeback Mountain back in 2005. Will the Academy have to wrestle with such fall-out again this year?
It's funny how the Academy, with all their influence, prestige, and resources, simply cannot sink a "gimme putt" such as the Oscar show. It seems as if Hollywood likes to wear a "hair shirt," that legendary uncomfortable cloth that religious zealots once wore to punish themselves in the seventeenth century.
There's simply no reason that the Oscars can't put on a spectacular show. They have talent and money at their disposal, and they're the Oscars, for heaven's sake. Why can Broadway put on a great Tony show year in and year out? For starters, they have people who love theater and award shows producing it. And their hosts come from the theater, and their enthusiasm shows. Too often, the Oscars hire cynical stand-ups who mock the awards and nominees openly. And who wants that on a night of such celebration?
Maybe the Oscars have a blind spot because they're the "Big Daddy" of awards shows. They intimidate too many, producing or hosting. Or perhaps it has something to do with the importance of these awards that stymies so many. There's another big institution that has trouble landing the plane too, and that's the American Film Institute. Their Lifetime Achievement Award is the ultimate career capper in Tinsel Town, but it's unfortunate how many mistakes the AFI has made over the years.
They notoriously shot themselves in the foot back in 2002 when they gave Tom Hanks their prestigious Life Achievement Award … when he was only 46. It was an attempt to make the awards and the institution hip and happening, but it almost sunk them for good. Then there are those legends they've shockingly passed on over the years—Charlie Chaplin, Groucho Marx, Mickey Rooney, Sidney Lumet, Jerry Goldsmith, Francis Ford Coppola, Robert Redford, Gene Hackman, Robert Duvall, and Michael Caine could have been given the award, just to name just ten. But they haven't. (We'll see if the AFI gets to those last five, all still alive.)
This brings me to the AFI's latest unforgivable blunder, as egregious in many ways as the Boseman debacle from last year's Oscars. In 2019, the AFI named Dame Julie Andrews as their next Lifetime Recipient, but COVID-19 spoiled the ceremony for her in 2020. OK, fine, but they could've found a way to honor her anyway, say with a clip show rather than the usual big, star-studded sit-down dinner. But no, they waited, and waited, and skipped two additional years when they could've honored a couple of other legends. Now, this June, they're finally going to have Andrews' dinner, but it's almost contemptuous that they waited.
You're in a town full of the most imaginative people on the planet, find a way to honor her in a timely fashion. My God, the Emmys managed to hand out trophies to their winners at the height of the pandemic in the autumn of 2020, but the AFI sits out almost three years. Ridiculous.  
Here's hoping that the Oscars deliver a good show this year and that the AFI gets back on track, too, but I won't be surprised if we're all standing around the water cooler, or the Zoom call, again this year, wondering why these big players in Hollywood can't live up to the moment.