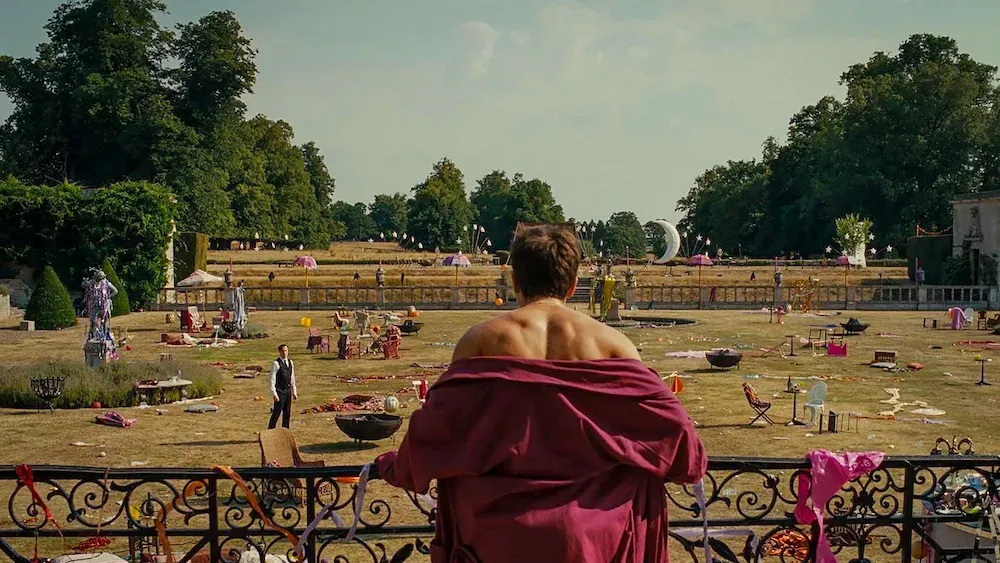 Off the Beaten Path: A Week at Fantastic Fest
What if I told you there was a film festival whose programming rivals the likes of Sundance, TIFF, or Telluride—held in a single, small theater off South Lamar in Austin, Texas?
Welcome to Fantastic Fest.
Although I've been local to Austin for a little over two years, this year marks my first at the fest. Billed as a horror aficionado's paradise, Fantastic Fest primarily focuses on the spooky and eclectic side of international, independent filmmaking. Its offerings range from Korean slashers, to long-lost restorations, to Estonian kung fu, to Brazilian treatises on class consciousness, to modern American fairy tales—all of which are brilliantly rendered and a blast to watch.
In addition, the programmers also secure early screenings for hotly anticipated mainstream titles—such as The Creator and Totally Killer—alongside their trademark 'Secret Screenings,' where you have no idea what you're going to watch until you sit down in the theater.
Throughout the fest, a crew of dedicated movie nerds make each and every screening an experience unto itself.
My focus for the week went into curating an ideal film schedule. This proved to be way more difficult than expected, as we were required to order our tickets for the next day's screenings at 10 a.m. on the dot each morning. Being an online event veteran, I thought I was ready, slamming my mouse down on the "order tickets" button the very moment the clock struck ten.
To my surprise, many of the major screenings sold out in less than 15 seconds. If you were one of the lucky ones not booted by the server, there might only be a slim chance of reserving your first-choice film. I ended up missing out on quite a few of the larger screenings, and only managed to get into one of the four Secret Screenings (and yes, I'm still pissed that I couldn't get into Nick Cage's Dream Scenario for Secret Screening #2).  
The good news is, many of the films you end up seeing instead might be even better than the one you wanted to see. That was certainly the case for a special little documentary I'll talk more about in the film review section coming up.
What follows is but a small slice of the myriad offerings available:
FILM REVIEWS
Property (Brazil)
- A gonzo slasher with a heavy sprinkling of class consciousness. While the film is shot from a wealthy ranch owner's perspective, the story remains unapologetic in its thesis of what happens when you push a desperate community to its breaking point. As a result of the owners' decision to close the farm and sell the land, the workers are forced to resort to the same kind of violence that traumatized our protagonist in the first place. By the film's closing, one is left with the lingering feeling that in a true class war, nobody wins.
The Origin (Scotland)
- Honestly, I'm amazed it took this long for somebody to make a true Paleolithic horror film. 40,000 years ago, everything was terrifying—a concept that this film fully and effectively exploits. Highly visual storytelling, grounded character performances, and the stunning exterior backdrops of the Scottish highlands give this film an almost timeless feel. And the twist? Hoo boy. You'll never see it coming, and you'll kick yourself for not thinking of it first.
Secret Screening #1 - Saltburn (UK)
A wild, psychosexual drama with pitch black humor that gives a brand new meaning to "the long con." Fantastic performances from the central cast—with a particular tour de force from Barry Keoghan—ground an insane narrative in just enough reality that your morbid curiosity will keep you watching. Fair warning, there are some scenes that will have you cringing in your seat and looking over at the guy next to you in the theater going: "What the fuck was that?"
The Invisible Fight (Estonia)
For a film billed as "Soviet Orthodox Monks Doing Kung Fu," there was a surprising lack of Soviet Orthodox monks doing kung fu. The movie starts off strong, leaning full tilt into the surreal and absurd. By far the strongest scene was the opening fight with the three heavy-metal, kung fu masters, utilizing some great wire-work and a boombox as a weapon. Certain gags in this film would be right at home in "Monty Python," like the one monk doing jump rope in the background of a scene at the monastery. Unfortunately, we end up losing the fun that makes the movie special in a second half that drags on and on, trying to outdo itself in its own randomness.
Kim's Video (USA)
Kim's Video was, by far, my favorite filmgoing experience at the festival. The doc starts off as a fun retrospective on one of the largest and most eclectic physical film collections in the world (over 55,000 titles), and rapidly descends into a bizarre tale of political intrigue that spans multiple countries, involves the Sicilian mafia, and ends with one of the better heists—fiction or non-fiction—I've seen this year. What made the screening itself so special was learning that the festival venue itself—Alamo Drafthouse—had its own supporting role in the doc. Kim's Video collection is now fully available to the public to rent at their Manhattan location, capping of a journey for these films you'll have to see to believe.
Riddle of Fire (USA)
Four precocious little hellions seek to play their latest video game console, but are thwarted by a firewall password to the TV. To obtain it, they must procure a blueberry pie for their sick mother, getting into all sorts of hijinks in their quest for the key ingredient of "one speckled egg." The directing and editing could use a bit of a polish, but fortunately the film shines on its script and the charisma of its young core cast. There's no doubt that Jodi, the youngest, will grow a cult following with his imminently quotable one-liners. Although it's a little rough around the edges, it's safe to say that Riddle of Fire invokes some of the best aspects of the "kids having adventures" genre pioneered by films like The Goonies.
River (Japan)
River is a funny, charming single-location drama disguised as a time-travel film, where the same two minutes loop over and over in the bucolic mountain town of Kibune. As the film unfolds, each of the characters find ever more creative ways to work through their conflicts, given the double-edged gift of an infinite amount of time. A novelist stuck on a key point in his book. A couple navigating a breakup. Business partners resolving a dispute. All of this, wrapped up in a live action Ghibli-esque aesthetic that you can cozily settle into for the entire runtime.
The Creator (USA)
As with any film festival, there are highs and there are lows. Unfortunately, this bloated sci-fi thriller was a definite low—despite some jaw-droppingly gorgeous cinematography. The story follows most of your typical cliches regarding AI. Big nuclear exchange. An enslaved class of robots wanting their freedom. A Chosen Child destined to save the day. I was really hoping the film would at least subvert the Sadman Deadwife trope for a sci-fi protagonist, but alas. This was clearly a labor of love from Gareth Edwards though, and I'll always commend a filmmaker for taking a multi-million dollar swing on an original project.
Totally Killer (USA)
Keeping in line with its spooky theme, Fantastic Fest closed this year with a banger. Totally Killer follows a Gen-Z teenage girl as she returns to the 80's stop a murderer from killing four young girls, including, eventually, her mother. The film requires a little suspension of disbelief regarding the scrappy photobooth time machine that gets the narrative going. Once you get past that, you'll find a fun, rollicking homage to Back to the Future and horror comedies past. Kiernan Shipka leads a fantastic cast, and there's plenty of good jokes to go around for multiple generations. The film debuts on Amazon on October 6th.

With three rounds of films per day, spread over eight jam-packed days of back-to-back screenings, the average festival attendee could bear witness to as many as two dozen films. As for me, I was working the week of the fest, which forced me to meter both my screenings and my energy—which unfortunately meant missing out on the late-night events that have come to define the festival for many, such as the legendary "Fantastic Debates" and "Drag Me to Hell" drag show.
The great thing about this festival is that you can go as hard as you like, or not. Even for those of us who require a non-negotiable eight hours of sleep, there's still something for everyone. Given how many films and events I simply couldn't get to this year, it all but guarantees my return to the fest next September.
I, for one, can't wait.
*Feature photo: Saltburn (MGM)