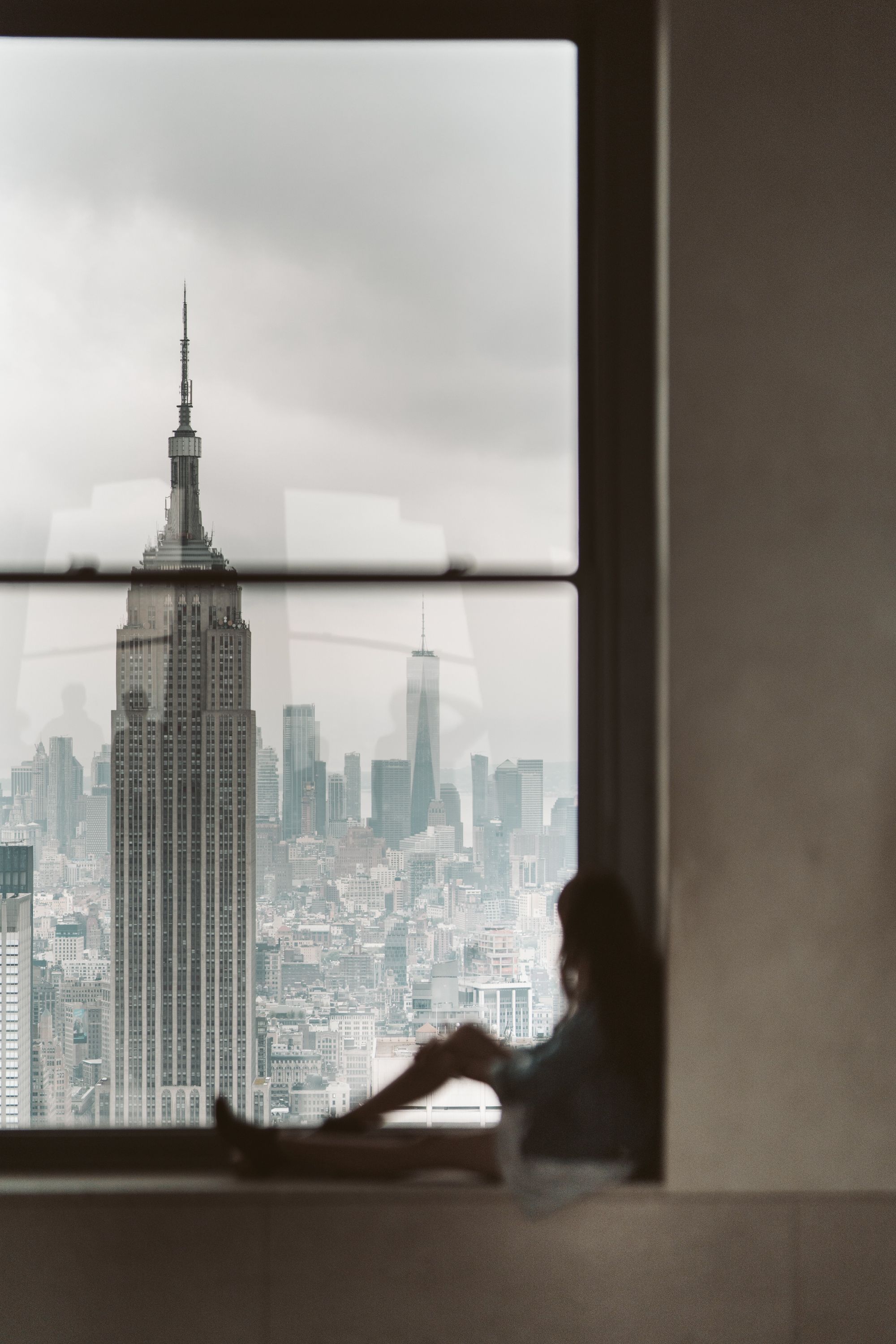 Writing a Professional Bio So People Care to Read Your Work
It's not enough to write a beautiful script, or have a list of accolades as long as Hollywood Boulevard—unless you know how to succinctly explain who you are as an artist/creator, the uphill battle of getting taken seriously gets steeper. As such, nailing your professional bio, and understanding that a single bio cannot rule them all, is an invaluable skill for every aspiring writer, filmmaker, director, and beyond.
Start with your logline
The same way you distill your project into a single sentence is the way every professional bio should start. Common misconception: the best way to distill yourself is not, in fact, a list. Multi-hyphenates are more and more common (and sought after) these days, but it's hard to know where a stranger or applicant is coming from when they identify themselves as every possible film role. In fact, rather than looking prepared and skilled, it makes you look desperate. A bio isn't the full conversation, it's just the icebreaker, so choose one or two (MAX) role identifiers for yourself and then pair that with either a unique personal identifier or your mission statement as a creative.
Example (personal identifier): Bri Castellini is an asexual writer and director of dialog-driven dramedies and supernatural-slanted mysteries.
Example (mission statement): Bri Castellini is an asexual screenwriter dedicated to expanding the representation of asexual film and television characters beyond the sole six characters that currently exist.
Pepper in your accolades and style
Depending on what you want to be/are known for, now's the time to name drop and list a bit. What are the unique aspects of your work in general, and what's an example of your work that has a concrete accolade to include? And, if applicable, how does your personal identifier or mission statement from your logline interact with your work?
Example: With an affinity for ensemble pieces and punchy dialogue, Christina Raia focuses on character-driven and socially conscious horror and comedy, using genre as a lens to represent, discuss and dissect social issues, otherness and real-world anxieties. Her work, consisting of over a dozen short films, a web series, and two feature films, has screened at film festivals around the world with coverage on press outlets such as Indiewire and BuzzFeed.
Example: Bri Castellini's work in the dramedy space primarily deals with queerness, type A female leads, and mental health, which you can see in action in her short film Ace and Anxious (150k views on YouTube).
You are not award-winning
Notice that so far, none of my examples have mentioned my podcast co-host Christina or I being award-winning, despite the fact that we have, through our years of independent filmmaking, won awards we're quite proud of. There are a few reasons for this:
"Award-winning" is so common in filmmaker bios it's rendered almost completely meaningless (or worse, cringeworthy) because—
—unless those awards are from recognizable sources (Sundance, Cannes, etc.), no one cares. At least, no one reading your bio for the purposes of hiring you or selecting you for a fellowship cares.
If you have a specific award to mention, and it feels relevant to the circumstances of you writing this particular bio, absolutely include it. But that's different from saying you're an award-winning screenwriter.
Example: Christina is currently focused on beginning development for her third feature, Silent Night; the screenplay for which was a quarterfinalist in Slamdance's 2016 Screenplay Competition.
Example: Bri's latest webseries script, the 10-episode supernatural mystery Dead on Arrival, was chosen for the 2021 Stowe Story Labs, and was a finalist for one of their fellowships.
Remember you are a package
Here's where we come back to: you will not have one bio to rule them all. You'll probably have a base bio with swappable anecdotes and details like a Mrs. Potato Head, because depending on circumstance, you'll need it to communicate different things.
Something I didn't really connect until writing my application for Stowe (my first acceptance of 2021!) is that when I'm submitting a particular piece of work for consideration in a contest of fellowship, my bio needs to match my sample. Since I was applying for Stowe with a mystery script, my bio referencing my affinity for telling nuanced stories about mental health wasn't really relevant. Here's what I started with instead:
I grew up in Grand Junction, CO, a town four hours and a mountain range from any major city, and I have seasonal allergies. As such, popular local activities like hiking, mountain biking, and rock climbing were torture, so I had to develop different interests. Writing was one of them, which went hand in hand with my obsession with mysteries. My first completed piece of writing, at the age of six, was a short story called "The Diary," centering around a missing diary in need of reuniting with its author.
For the purposes of that application, my whole brand needed to align with Bri Castellini, writer of mysteries (who is also a little bit funny). So, I swapped out my mental health anecdotes for ones more aligned with the particular script I submitted, though still keeping the tone and styling of my classic slightly sarcastic bio voice.
If you're applying for a job as a barista, your cover letter should thematically align itself to the skills needed for baristas (personable, good on your feet for long shifts, love of coffee). If you're submitting a personal statement for a writing fellowship, the unique aspects and genre/format of your writing samples should bleed into who you are more generally as a writer/human.
The final beat
You should end as strong as you begin, and while the bio should feel concluded, your final beat should also invite further conversation and reinforce the thesis of your logline.
If you want to work in documentaries and dramas, this should be a final mission statement of what you hope your work will accomplish/bring to the world. If you want to work in comedy/lighter fare, end with a joke or an obscure, funny detail about yourself.
I have a few varieties, depending on my mood and the tone of the event/submission:
Collaborators have described me as a human bulldozer, and honestly? I'm kind of flattered.
Despite assertions of its impossibility, I can lick my elbow.
If you ask nicely, I'll participate in an event or Zoom meeting entirely through a puppet of myself.
I write drama that errs on the side of comedy when I'm not writing comedy that tip-toes into drama, so my bio needs to strike a balance the way my work does in taking myself seriously as an artist while also opening the door to laugh. That's why my final beats tend to be something irreverent, to make it clear the kind of voice I have and to automatically ensure I know what the first part of the conversation will cover if I'm interviewed.
When women in leadership positions read the "human bulldozer" beat we can immediately connect over being ambitious and unapologetic about it. When anyone reads that I can lick my elbow, that's a silly, lighthearted thing I can prove right at the beginning of our interaction which always puts people at ease around me. And if I'm asked to show or elaborate on the puppet of myself that I do in fact own, that's a great segue into talking about my web series Sam and Pat Are Depressed, for which the puppet was custom-created.
When you're approaching the thousandth rewrite of your professional bio, whether it's for your portfolio website or a fellowship application, just remember one simple truth: authenticity is about telling the truth strategically.
So, what are you hoping to accomplish, and what details about your life and work can you combine into the perfect combination to achieve that?
*Feature photo by Taryn Elliott (Pexels)