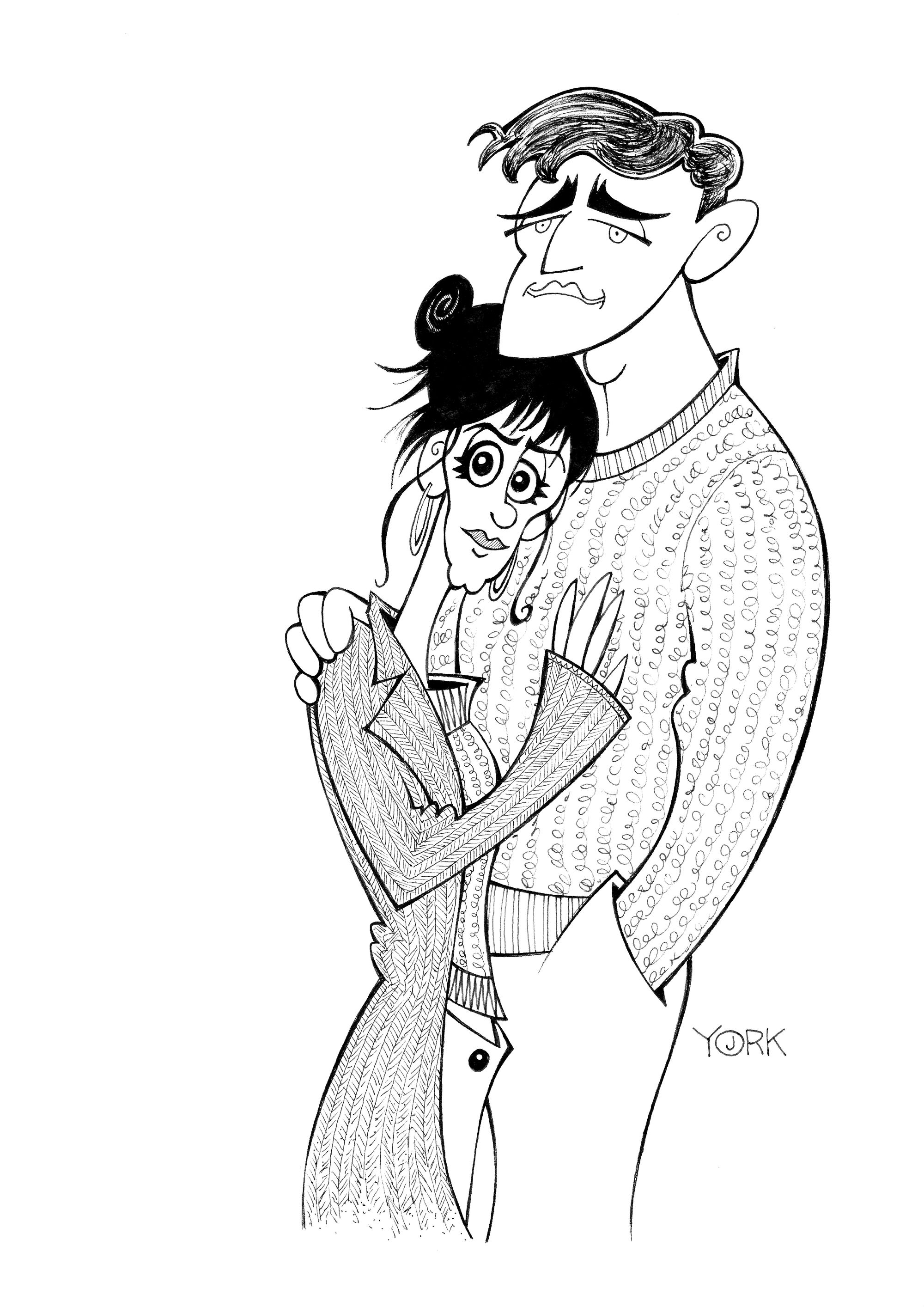 30 is the New 60
Two Irish teenagers from different sides of the track fall in love and struggle to overcome their differences and insecurities.
A superhero creates a world for herself based on beloved sitcoms from her childhood and uses the motifs to "play house" with her deceased lover.
An uncommitted couple tries a counseling retreat and stumbles upon a land seemingly out of a Broadway musical.
These are the descriptions of Normal People, WandaVision and Schmigadoon: three, wildly different television shows that became big hits on various streaming platforms in the last year. Additionally, the romantic drama, musical comedy, and fantasy/adventure have something else remarkable in common. All three series were presented to the public in episodes that each lasted merely 30 minutes in length. Normally, such series would have likely been presented in episodes that lasted 60 minutes, but these are anything but normal times.
Indeed, a paradigm seems to have shifted in the world of television: 30 is the new 60.
These three critical and popular series proved that complex and nuanced storytelling could be delivered in such a truncated weekly vehicle. So, how did they do it? Why did they do it? And what is it about the shorter format that proved to be so ideal for both the storyteller and the audience?
In examining the phenomenon, it's important to be cognizant of two key variables: first, that people are pressed for time more than ever, and two, there's simply far too much television streaming across cable, premium channels, and online platforms.
For decades, people have been complaining about having less time for everything in their lives. The stresses of COVID-19, working from home, and other stressors have only added exponentially to America's haplessness regarding their schedules in the last two years. Additionally, 2020 saw the number of original scripted television series in the United States stand at 493. That's down 7% from 2019 due to halted productions during the pandemic, but that's still a lot of dramas, comedies, and limited series vying for the attention of strapped Americans. So, what's a network to do?
To grab audiences, some producers try to create fresh, original programming and hope that the novelty will pull in the numbers. Others imitate existing successes or reboot known properties familiar to wide audiences. Shortening the seasons of series has been going on for decades now, and Netflix changed the game years ago by dropping all the episodes of their series in one fell swoop.
Accessibility is key these days, as more and more networks strive to find new ways to keep audiences' eyes on their content. And as people get more of their news and information in shorter bursts, it was inevitable that series would start following suit. Hence, 30-minute series, be they comedies, dramas, or limited series, are becoming the rage.

That's one reason that Normal People was launched in 2020 on Hulu as 12 half-hour episodes.
Adapted from Sally Rooney's international bestseller about Marianne and Connell (Daisy Edgar-Jones and Paul Mescal), two star-crossed lovers in Ireland, its shorter episodes allowed for several immediate benefits. For starters, each episode felt like a chapter of a novel, storytelling that was breezy, exciting, and never waning. Additionally, the shorter lengths gave the material a more emotional immediacy as the show spent less time on plot and more time on the two main characters reacting to each other within the plot. Gone were elaborate set-ups, B-roll filler, not to mention secondary storylines. The show was about those two teens with everything else, even supporting characters, falling away around them, and the intensity on display in those 30-minute episodes echoed the excitement of falling in love for the first time.  
Disney's WandaVision had many challenges to overcome in conforming the Marvel Cinematic Universe into 30-minute increments. Action takes time to build, and the world of the Avengers was known for taking its time. Indeed, Avengers: Endgame clocked in at over three hours. Shrewdly, however, the creators of WandaVision chose not to emulate such epics, but instead followed more of the feeling of half-hour episodes of Rod Serling's classic TV series The Twilight Zone.
Leaning into the aesthetic of sci-fi more than action/adventure, WandaVision became a phenomenon for zigging when almost everyone thought a Marvel show would comfortably zag. It started by focusing a series around two of the MCU's oddest characters: Wanda (Elizabeth Olsen) was a super-powered witch, and her lover Vision (Paul Bettany) was an AI. Secondly, both characters died in Avengers: Infinity War due to a (ahem) snap decision by Thanos, so that drove the theme of mourning throughout the show. (Wanda was returned in Avengers: Endgame. Vision wasn't.) And finally, the series made a calculated decision to directly parody high-concept TV sitcoms like Bewitched and The Brady Bunch, having Wanda and Vision play-act such fluffy scenarios. Is it any wonder it was done in an appropriate 30-minute sitcom format?
Still, WandaVision managed to serve up ginormous action set-pieces, toss around millions of dollars' worth of special effects, and delve deeply into serious dissertations on death and grief that you'd expect in longer formats. WandaVision may have been abridged, but it, too, like Normal People, never felt like it was losing out by being shorter. If anything, the shorter time allowed for it to keep focus and hit its targets directly each episode, having nary a second to waste.
Dramedies that have appeared over the last year, like Physical with Rose Byrne (Apple TV +), and Hacks with Jean Smart (HBO Max), have also felt more like 60-minute shows although they've been cleverly conformed into a more accessible, 30-minute format. Their weighty stories, each about two women questioning their worth in the world, felt like the kind that could have yielded episodes twice as long. And then there was Schmigadoon, which in almost any other time would have had to been served up in longer formats to get its high-concept craziness to land.
In the stylized and off-the-wall show, Cecily Strong and Keegan-Michael Key play a couple struggling to stay together who happen to find themselves in a strange village where the townsfolk transform the lives of the couple in exponential ways. The series of six, 30-minute episodes was clearly a spoof on Broadway shows like Brigadoon and The Music Man, with heaping helpings of Rodgers & Hammerstein musicals like Carousel and The Sound of Music thrown in as well.
Schmigadoon would've been done as a two-hour TV movie a decade ago, something in the vein of Eternal Sunshine of the Spotless Mind or Back to the Future, but not today. In our modern era, the needs of a nation that thinks texting is conversing, shorter formatting is the thing. Thus, Schmigadoon told its story in half-hour episodes, cramming in at least two song-and-dance numbers per show. Additionally, the show was able to keep up its exuberance knowing that six, 30-minute episodes didn't have to hit the traditional beats of a 60-minute show, let alone those of a two-hour film. It never was on long enough to become irritating either.
It's a credit to all involved with such programming, that such shows can be true to their goals, maintain their specific tones, and play so appealingly to audiences in the shorter formatting. The show's writers deserve special mention, too, for delivering scripts that were trimmed of fat yet never felt like they were on a diet. Normal People, WandaVision, and Schmigadoon all told their stories with great aplomb, albeit in the most abbreviated form possible.
The shows may have been short, but they never shorted the audience, and that made them not only timely and on trend, but wholly worth the time as well.
*Feature Image: Normal People by Jeff York