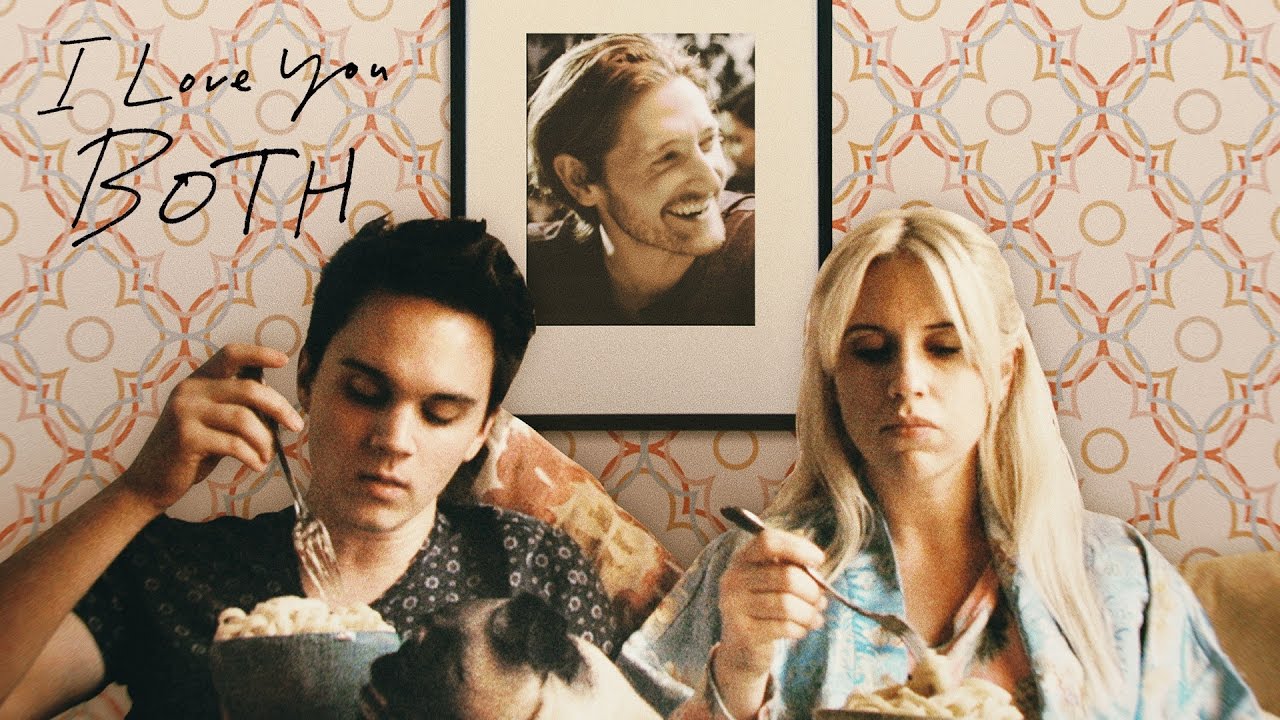 I Love You Both: A Conversation with Twin Writers Doug and Kristin Archibald
From the L.A. Screenwriter collection.
Hollywood families aren't a new thing, but it's rare to see a movie where the co-stars are twins in real life who also wrote the film together. Plus, their mom in the movie is played by their actual mom. That bit of trivia adds an extra layer of eccentricity to the highly enjoyable I Love You Both.
I spoke with the co-stars and co-writers, Doug Archibald (who also directed) and Kristin Archibald to discuss their writing process, developing wacky side characters, and their favorite parts of seeing their film come together.
Angela: Can you tell me a bit about the origins of this story? Were you two basing this off of personal experience?
Kristin: The humor and family dynamic is definitely based on us as real people.  We wanted to write a family sibling story. When we started writing, we remembered a time in high school when we both liked the same person for a day. Upon discovering that, we immediately both stopped liking that person, but we thought it was a good idea for a story since we wanted to write about co-dependent twins, and a boyfriend would be one of the few things they couldn't share that would be a good catalyst for them becoming more independent people.
Angela: Writing with a partner always has its challenges, but writing with a sibling seems like a potential minefield. How do you two write together?
Doug: We heavily outline in a room together until we know exactly what is happening in each scene. Then sometimes we separate to write out the dialogue and sometimes we talk it out together.
You have to get to place where you both remove your emotions and just always focus on what's best for the story. By the end, I can't remember which ideas were whose. You can't say about the other person's idea, "I'm not sure about that." You have to say why, so the other person doesn't feel like her ideas are being snuffed out for no reason.
Kristin:  I think whoever your writing partner is, whether it's a friend or business partner or family member, you have to fully trust that person, always put your egos aside, and know that you're both putting the story first. It's hard writing with another person when you have to make tough choices. During those times you have to trust that the other person's opinion is based solely on what they feel will benefit the story.
Angela: Doug, did the fact that you were also directing this film affect the writing process?
Doug: No. I try not to think about that while writing and just let myself be a writer.
Angela: Writing a character for yourself to play that's loosely based on your actual self is a real challenge. There's always the temptation to make the character too perfect. How did you go about writing characters for yourselves? What was the hardest part of that process for you?
Kristin: We wrote these characters loosely based on parts of our personalities, but when writing the movie, we actually never intended to play the characters ourselves. That was a choice we made after the script was finished. Doug and I shot a very short pitch trailer to test the concept of the story. When we showed our producer, he thought Doug and I were great in the test and encouraged us to play ourselves.  We ended up using that same pitch trailer in our Indiegogo campaign for crowdfunding.
It took us a couple of years to completely finish writing the movie because we were across the country from each other and working and doing all kinds of other things at that time in our lives. When we were finishing writing the movie, we had changed a little, as people do over the years. So, it was always very important to make sure that the choices we made for the characters were the right choices for those characters that were based on ourselves years prior.
Doug: A lot of my character is based on my experiences and personality when I moved to LA years ago and was sort of naïve and very trusting of everyone no matter what, especially people asking me to do insane amounts of work in return for promises that I should've been skeptical of ever panning out. I don't regret those experiences at all, but I can make fun of myself, and that's where I think the comedy comes from. My character was never supposed to have anything figured out. So I didn't really find it hard to not make him perfect.
Angela: One aspect of this film that really shines for me is the side characters (Linda and the mom in particular). How do you approach writing side characters?
Doug: The supporting characters are sometimes even more fun to write than main characters because you can get away with them being wackier. I love all of the side characters in the movie, too. In particular, they were designed to be a little extra wacky so the twins seemed even more isolated. That way, when they meet Andy, it feels like they've "finally" met someone they can relate to.
But in general, each of them serves a purpose that contributes to the main storyline for the twins. Of course, Andy is the best example—he's the catalyst for them realizing they can't live the same life. Linda's insane advice turns out to help Krystal get over her ex-boyfriend in an unexpected way. And a shocking incident with Donny's manager gets him to finally talk with Krystal about their codependency.
Angela: What has been the most rewarding part of seeing your script come to life?
Kristin: Hearing people laugh and the reception during and after screenings. Also knowing that there aren't a lot of movies with bi-sexual characters and giving them representation in film. It's been rewarding to hear a lot of views and conversations around a movie that is LGBT necessarily as the A storyline.
Doug: To see a mostly positive reaction has been amazing and never expected.  But more specifically, I really enjoy watching my favorite scene with an audience, which is when Linda cries then tries to make Krystal feel better about her life by showing her some Tae Bo moves in the middle of the office. For some reason it's the only time that I feel like I'm not the filmmaker watching his own film. I just love how this scene turned out—Artemis and Kristin are both so good in it—and the feeling that it gives me is one that I feel in some of my favorite movies. It's a combination of sad, confused, amused, and just weird, and that's how I think life is.
Kristin: One of my other favorite things is hearing the very many and very diverse reactions to the ending. We wanted to create something very real, and I think we made that happen in the end.
Angela: What's next for you two?
Doug: We are pitching a TV show right now that Kristin, our mom, and I would act in again. Frankly people are obsessed with my mother and they can't get enough of her. The main characters are twins again, but not at all like our characters in the movie. We were surprised to get a lot of feedback during our festival run that people wanted to see more of these characters, so we took that to heart and developed a show that we're really excited about. And hopefully we'll get to make it.
*Feature Photo: Doug Archibald and Kristin Archibald in I Love You Both / Magnolia Pictures (2016)