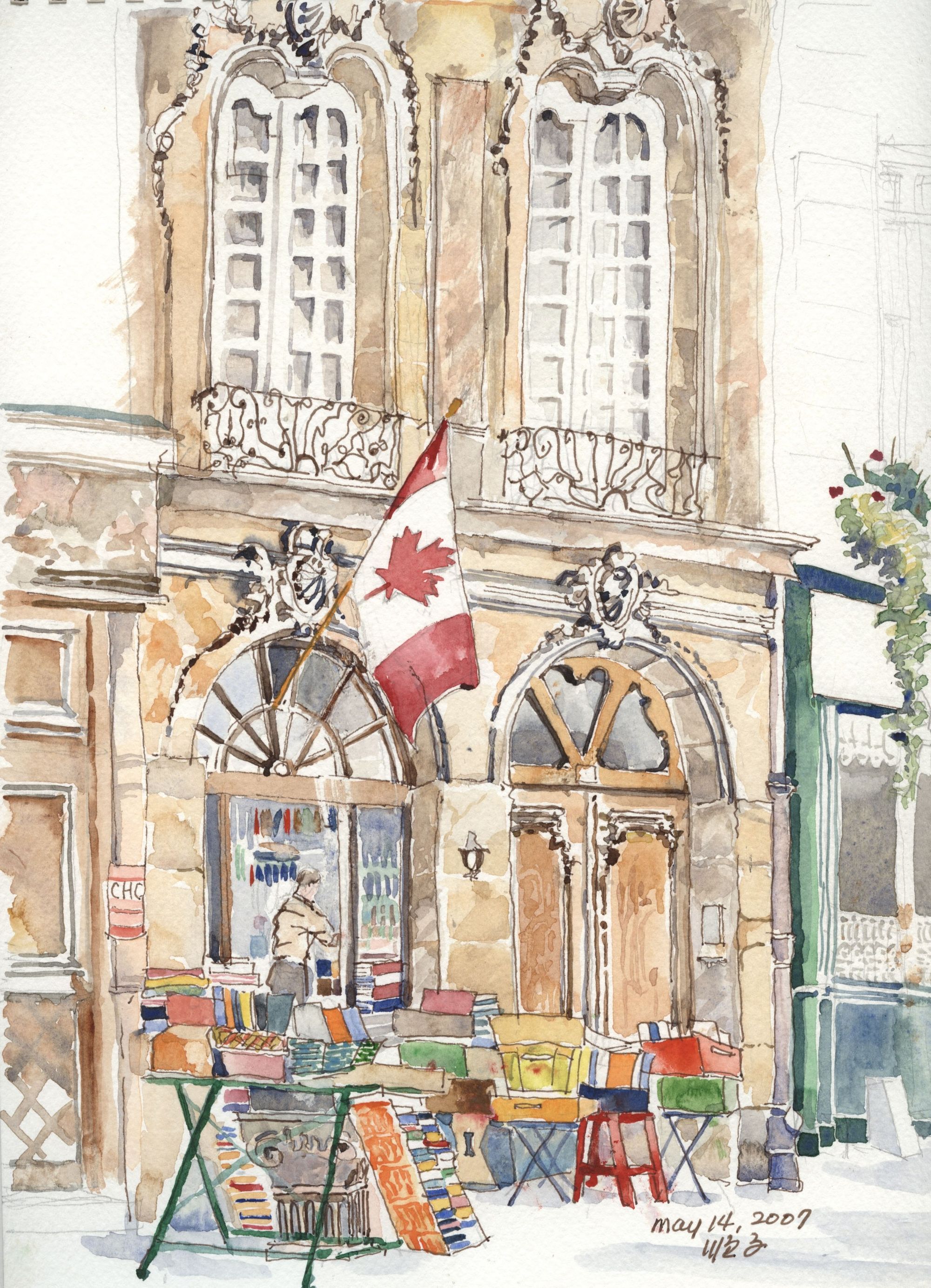 Launch Party: The Practicalities of Taking an Impractical Leap
How to be a full-time writer: a thread.
While I suspect the above wisdom-soaked intro is familiar to a lot of you, this is not a certain platform where advice is routinely doled out in 250-character-sized nuggets.
To further destroy my business plan in the advice-giving racket, I do not have any right-or-wrong answers for how your writing journey should go.
(Spoiler alert: there are no right-or-wrong answers for how your writing journey should go!)
What I do have, and what I hope you'll find somewhat useful and/or inspirational, is a look back on a zig-zagging writer's journey that included: quitting a corporate job, writing and publishing a book in a magical city (you'll have to keep reading for the details!), and starting my career from scratch in a field I actually enjoyed.
It wasn't always pretty, easy, or free from humiliation, but it certainly wasn't boring …

"We can't advertise toilet paper at that price point," said the executive firmly.
I gestured to the report laid out in front of the ten other executives in the boardroom, all of them superior to me in rank and clothing labels. "Our analysis shows the increase in foot traffic and resulting bump in overall sales will more than make up for the negative margin," I explained.
No brainer, guys.
"Let's put a hockey stick on the front cover instead," said another executive.
He was met with grunts of approval from his fellow Canadian hockey-loving executives, and just like that, another pointless day was over.
As dinnertime turned into burning the midnight oil, I furiously edited my second novel, powered by neon-coloured energy drinks that were sure to one day kill me.
This was not sustainable.
How did I even get here?
It probably began when I found myself swept up in the burgeoning "blogging scene," the early 2000s when long-form thoughts were fly as hell, and gettin' all up in each other's comments was a national pastime. Blogging eventually inspired my first novel, and after dozens of literary agent rejections (during a time when vampire fiction was also "fly as hell"), I discovered an online treasure trove of info about self-publishing.
Book cover artists, book blog reviewers, online banner advertising, newsletter lists, pricing strategies … it was a whole new world in which my business degree finally had a purpose.
After having a blast writing my first novel, and later realizing that actual human beings had enjoyed it, I knew I had to keep going.
But there are only 24 hours in a day!
There were two distinct moments when I knew I had to quit my corporate job. The first was when I ended my second book with the character moving to Paris. Had I ever been to Paris? No. Did I think I could fake the third book by using Google? Definitely not.
The second moment happened when I rolled my eyes at an executive in a meeting.
This was not sustainable.
In the following weeks, I applied for a long-stay visitor visa to France, I signed a six-month lease for an apartment in Paris, I horrified my strict Indian parents until they finally accepted the inevitable, and off I went!

Ah, Paris.
Before I left for Paris, a couple of people warned me it that was a cold, unfriendly place.
Their cynicism accompanied me to the airport, on the plane, in the taxi, but here's how my first day unfolded:
I emerged from my apartment where a gothic cathedral loomed large on the other side of the charming cobblestoned street. I regarded it with some reverence before turning the corner to find, of all things ... a Canadian flag hanging from a medieval-looking bookshop. This little gem, The Abbey Bookshop, was only minutes from the famous Shakespeare and Company, and yet I hadn't even seen it on Google Maps! I went inside and bumped into Brian, the affable owner who offered me some coffee with a dash of maple syrup (yes, he was Canadian). He told me he would be hosting drinks outside his shop that very evening, and to my utter delight he invited me to join.
Through this first random encounter, I met a PhD student who is still a dear friend to this day. The following week, I showed up at a bar for a French and English quiz night. The teams were comprised of expats and French locals, one of whom was a French woman who shared my affinity for eyerolls. Our mutual language of ocular scorn was directed at our loser teammates, who were too intense about trivia and not near intense enough about wine. She would soon become a dear friend as well, and it was because of her I first discovered the Paris that belongs to the locals.
My time in Paris was full of moments like that, which in its way is a lesson to never let the cynicism of others deter you from taking chances. This applies as much to social interaction as it does to writing. Occasional serendipity doesn't hurt, either.
For the next few months, I filled myself up with all the inspiration that would later form written words: hidden cocktail bars, the allure/intensity/bullshit of French men (always worth it), my first writer's open mic at a seedy basement bar, birthday parties at strangers' apartments because a friend of a friend knew a friend, midnight picnics at the Eiffel Tower with locals, Bastille Day parties where you'd dance with hot firefighters outside their fire stations until 4 a.m. (this is an actual thing!), gallons of wine, kilos of cheese, and it went on and on and on.
And then suddenly … there were only two-and-a-half months left in my Parisian stay.
Hadn't I come here to write and publish a book while living in Paris? Oops.
Weeks passed in which I barely showered or left the apartment. Words poured out, words were edited, book cover art was confirmed, and somehow, with only three weeks left until my return to Canada, a shipment of books arrived for my launch party at the Abbey Bookshop.
That launch party was one of the best nights of my life. It was a night full of laughter, great friends, and a bucket list dream come true.
And then the dream gave way to being broke, jobless, and hopeless.

Was it worth it?
That question came from a lot of directions, including from myself. It's easy to now respond with a resounding 'yes!' but things weren't always so clear. I didn't become a full-time writer because it would support me financially—I did it so I could finally feel alive.
As magical a concept as 'feeling alive' is, the practicalities of living inevitably pushed their way in. Practicalities like deciding between couch-surfing or living with your parents, because you'd burned through all your savings, practicalities like needing a source of income to afford the things you took for granted, and the humiliating practicalities of having to explain your life choices at family gatherings.
In my case, my family assured me it wasn't too late to pursue an MBA or ask for my old job back. Since both of those options were equally puke-inducing, it was time to find an alternate solution. I knew I wanted to keep writing in whatever shape or form I could, so I started to look into freelancing—and in particular, copywriting. While I was completely unqualified, I discovered that advertising agencies needed proofreaders, too. Long story short, I meticulously proofread five days a week, until one day ... the lone copywriter called in sick.
Oh, what's that? You need a writer?
I poisoned the copywriter. He is now deceased.
That is a lie, but the point is, it's never too late to take a leap or start over. I've been copywriting now for almost four years, and even though I technically write for a bank, the world of corporate executives is long behind me. I wear jeans, I slouch, and sometimes I'll spend entire days trying to come up with interesting headlines. It ain't half bad.
When it comes to creative writing, I'll admit I often need my closest friends to remind me that things have gone well. Selling almost 15,000 copies of my books without a publisher is no small feat, nor are the paid stories I've written for brands, or the occasional screenwriting recognitions. So, why do I keep forgetting that? Maybe it's easier to downplay our successes before someone else does it for us.
When I look back on the books I wrote early on, compared to the stories I'm writing now, I sometimes laugh at how in-your-face my narrative style used to be. I suppose it captures who I was at the time, and my only hope is that my writing keeps evolving just as a I do. It's a journey, guys!
That being said, I recently had a strange thought: I wonder if I've hit my ceiling as a writer, and if I won't ever reach a bigger audience.
It was just a passing thought, but now, two months later, at the time of writing this, I can firmly say that the ceiling will soon be shattered. That's all I can say for now as the details have yet to go public, but what I know for sure is I wouldn't be here if I hadn't taken that first frightening leap.
Okay, advice time. Should you quit your job and write a book in a whole new place?
No!
Or maybe yes!
I think some of it depends on the causes of friction in your life, and your aversion or attraction to risk. How much frustration are you willing to bear before something has to give? How many comforts are you willing to trade in so you can do what you love for as many hours a day as it takes to feel happy?
That's not a question anyone else can answer for you, but it's definitely a question worth asking …
*Feature Image: Junko Yoshida / "Skulduggery in the Latin Quarter," Last Kid Books