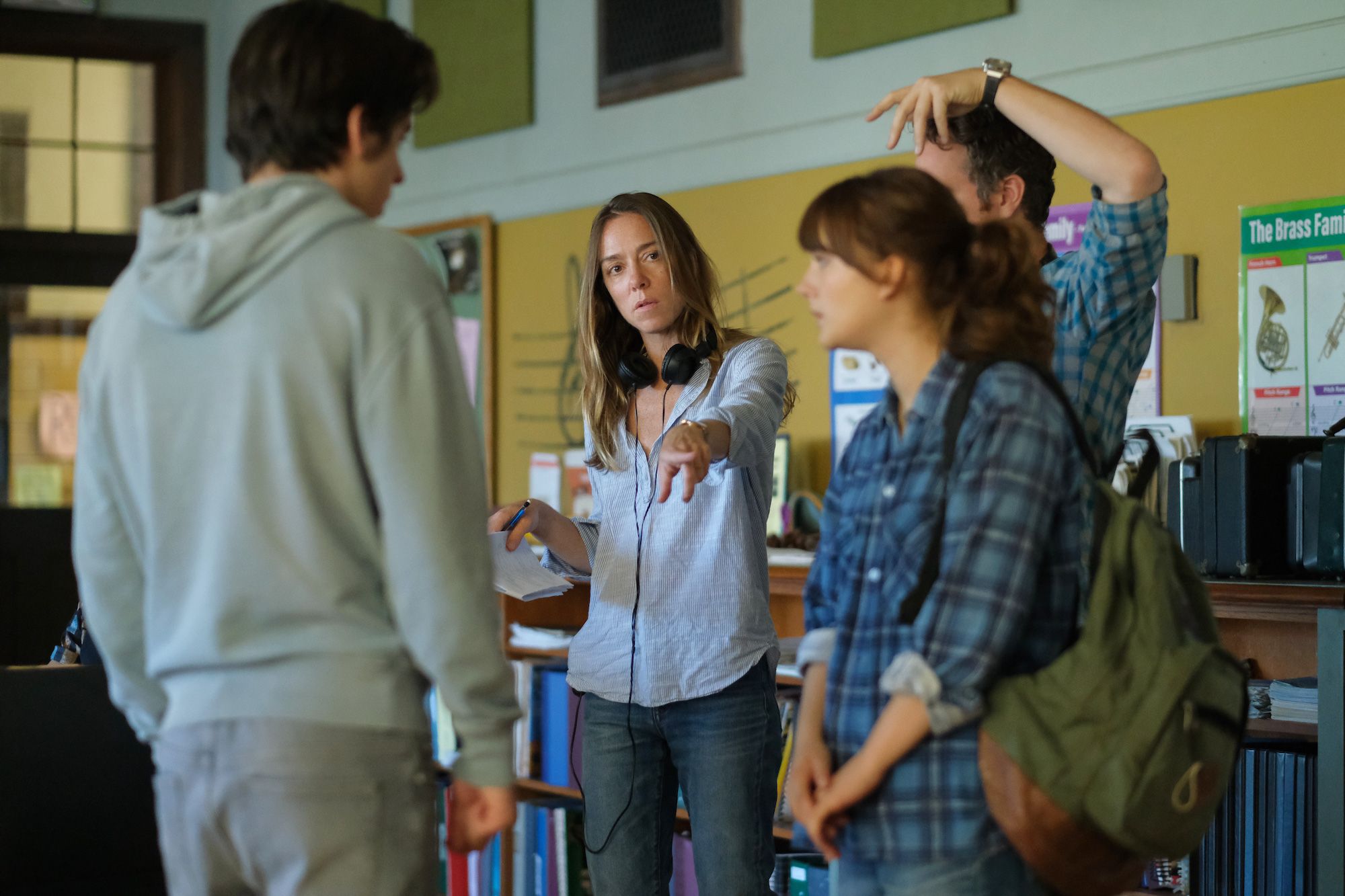 Tough Choices and Following Your Dreams: Experiencing Siân Heder's CODA
One of the most powerful motifs in storytelling is to position a character at the center of an impossible choice. When obligations and family are at odds with the pursuit of one's dreams, a crushing angst and hollow longing often sets in. The confusion, paralysis, and deep ache causes some to run, others to compensate, and only a few to stand and face the ultimate weight of the decisions they must make.
17-year-old Ruby is the lone hearing member of a deaf family—a CODA, child of deaf adults. When she discovers her gift for singing and applies to a prestigious music school, she is forced into choices she's spent her entire life avoiding.
Honored with all four of the top awards in the U.S. Dramatic Competition at the 2021 Sundance Film Festival, writer/director Siân Heder made her triumphant return to Sundance with CODA, after having premiered her first feature Tallulah there in 2016. Heder had previously established herself as a storyteller with the nuanced talent to unpack character-driven narratives as a writer/director on Netflix's Orange is the New Black. Amidst a standout cast of talent, CODA stars Emelia Jones as the film's protagonist and Academy Award-winning actor Marlee Matlin, as her mother.
Pipeline Artist contributor John Bucher talked to Siân Heder, Emilia Jones, and Marlee Matlin about the project, which releases this week in theaters and on Apple TV+.
A significant challenge for many writers can be to center a story within a community that they, themselves, are not a part of. Heder acknowledges the challenge and how she navigated it.
"I was an outsider to this community. Coming in as an outsider, I think you feel a huge, enormous responsibility to take on that representation in a way that is specific and forwards the conversation and is going to be embraced by the community that you're working to represent. It was very important for me to surround myself with collaborators, right from the beginning, from the moment that I started writing the script through production and continuing through post.
"I wanted deaf collaborators, not just in front of the camera, but behind the camera, who could be my deaf eyes on set and be my team that was looking at the story and digging into the script and sometimes changing what was on the page to make sure that we were telling a story that felt authentic and real," Heder said.
She relied on her own experiences to approach some aspects of the story, as well.
"My parents were both immigrants. My dad was a Hungarian refugee, and there was an importance placed on family. I think if it was up to my dad, we all would have been in a room together at all times. So, I think I understood what that was like to grow up and be trying to individually create who I was outside of my family. That process was painful at times because it is hard when you have that kind of closeness growing up and your identity feels very tied to the identity within your family. I related to that experience, and I also was excited to dive into this culture that was not mine," Heder explained.
Representation becomes even more significant when the community being centered has been greatly underrepresented.
"It's not just a community that's been underrepresented, it's a community that has been harmfully represented in storytelling and on screen. And as is the case with a lot of communities that have been historically marginalized, there's a history of representation that can be very harmful. I felt a responsibility to make sure that these were three-dimensional characters and very specific as human beings," Heder said.
Having personally pioneered this type of representation, Matlin agrees.
"Someone asked me just recently about Children of a Lesser God (the film for which she won an Oscar), saying that it was inappropriate because there was a representation of a deaf character through the voice of a hearing character. Children of a Lesser God was a product of its time. We're now looking at film and television and streaming media in a completely different way. The stories are being told in a different way. I wouldn't touch Children of a Lesser God with the current lens or from a contemporary perspective. But as far as what needs to be done in terms of representation, we need to make sure that hearing actors don't play deaf actors, as if they're a costume to take on and take off at the end of the day. I think we're done with that. I think we just need further representation in film and television—more deaf writers, more deaf costumers designers, more deaf people in front of and behind the camera," Matlin said.
Emilia Jones, fresh from her role as Kinsey Locke on Netflix's Locke and Key, was also an outsider to the community. She explained, "I didn't have any ASL (American Sign Language) experience prior to shooting. So, when I found out that I got the part, I went straight into intense training and learned sign language for nine months before we started shooting. I was filming a Netflix show (Locke and Key) at the time in Toronto, so I only had the weekends, but I was always finger spelling in between takes and things. I had an amazing teacher in Toronto who was so patient, and he didn't just teach me ASL. He also taught me all about deaf culture."
When asked about why the story appealed to her and what she looks for in a script, Jones smiled and stated, "When I read the script, I immediately thought whoever gets to play this role is incredibly lucky. I'm always looking for something that's going to educate me and challenge me, and help me grow as an actor, but also as a person. I feel like I've learned so much from every role or film or TV show that I do. Even with theater when I did a couple of plays, when I was younger in the West End. I learned so much during that too. I guess what drew me to this was the challenge. I knew that it was going to be very, very, very hard and that excited me. I knew that I was totally out of my comfort zone, which also, I was excited for. I'm close to my own family and I fell in love with the Rossi's (in the story). I loved that they were dysfunctional and relatable. I loved Ruby. I loved that she's a deep, complex character. And honestly, I spoke to Siân before I was cast, and I just loved how she spoke about the movie."
Heder talks about the importance of having the right conversations and the right team on board from the beginning.
"I had two ASL masters with me right off the bat. They worked with me to do the translation of the script because 40% of the movie was in ASL. And that was an amazing process to take written English and work to make the sign choices, to bring those scenes to life and get at the intention of the character and the emotion. That was an incredible process to literally see the words come to life in this incredible visual cinema language."
Heder's challenges in writing the script extended beyond language, as well. Having had up to twelve hours a season to tell a story on Orange is the New Black, a moving and satisfying journey is usually told within the span of around two hours in a feature film.
"It is a very different journey. The fun of television is you get to explore characters over long spans of time and explore many different facets to those characters. In a feature, it's really about discovering the heart of your story and then trying to strip away anything else that feels extraneous. My editing process was very rigorous on this movie. I had an incredible editor who I'd worked with on Little America, and he was a great collaborator and ally for me. I think we cut over 30 scenes from the film—stripping away so much that wasn't about the family and Ruby and her journey.
"In a feature, this is really essential because you have this very limited amount of time, and anything that's not within that small vessel of the story you are telling has to go, because you're on this very specific emotional ride and you need to support that ride. I cut my own daughter from the movie. She's really mad about it. She's seven. She's like, 'My mom cut me out of her movie!' and I had cut her out of Tallulah, too. So, she's doubly mad at me. You have to make those hard choices when you're in the edit. And it really is about what story I am telling," Heder said.
Returning to the subject of telling stories in this particular world, Marlee Matlin stated, "There's been a lot of misunderstandings about deaf people. I think the more people see a deaf person in film after film, they'll forget that it's not about what we can't do. Some people think we can't drive. Some people think we can't have families. This film demonstrates that none of those things are true. Having the opportunity to use Hollywood as a means to pass along these values that we can do whatever we want to do is important."
Heder agrees, "Storytelling and movies are incredible tools for creating empathy. There's nothing that opens us up more as a human than feeling what it is to be in someone else's shoes. This is a very simple story about family and what it is to leave home and find yourself and feel caught between your feelings of responsibility and your own ambition. I hope that people take with them a feeling that this could be their family, that they fall in love with these characters and leave more open to understanding a community that they might not have seen on screen before."
CODA premieres Friday, August 13, 2021, in theaters and on Apple TV+.
*Feature Photo: Siân Heder directs Emilia Jones and Ferdia Walsh-Peelo in "CODA (Apple TV+)