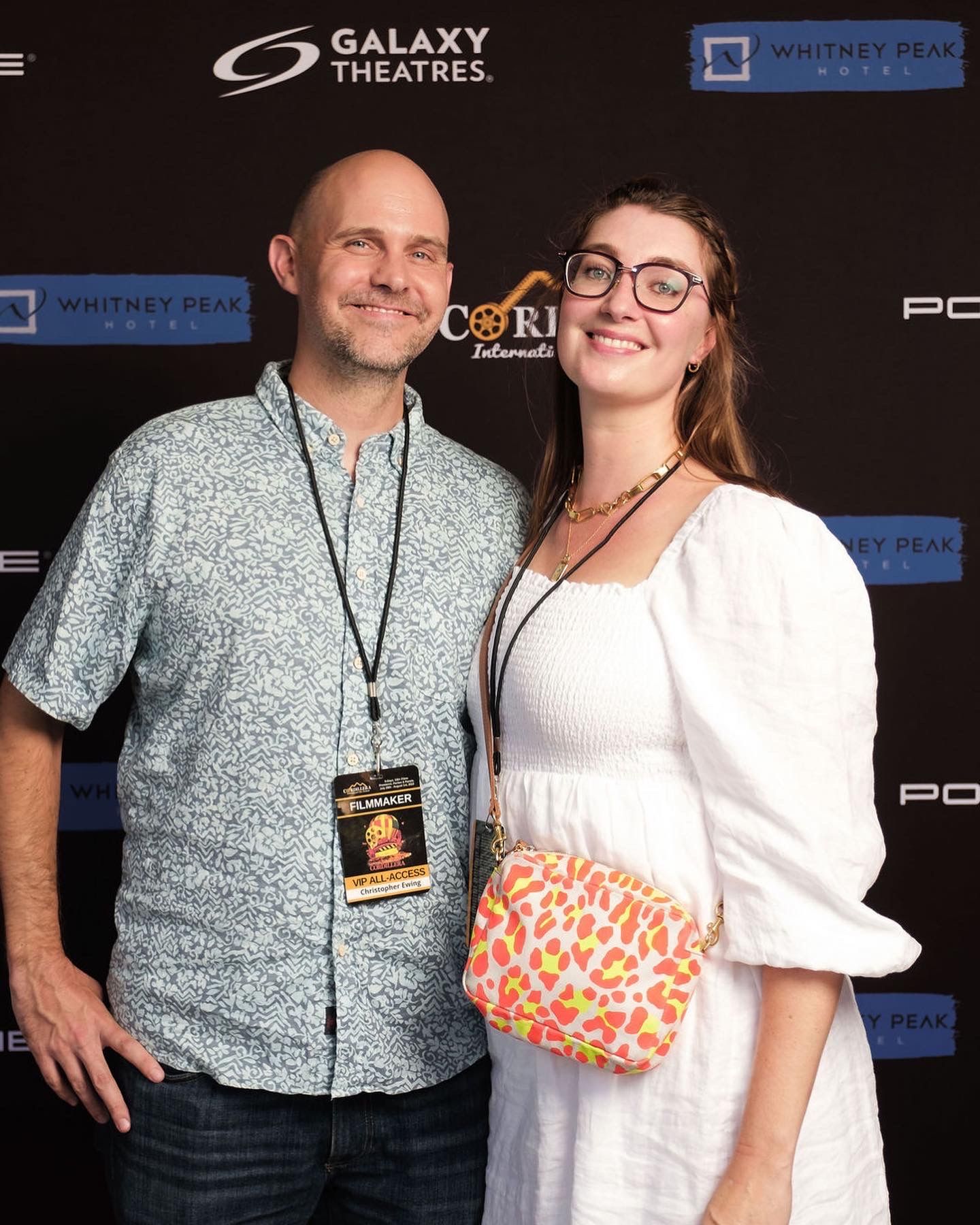 Artist Snapshot: Christopher J. Ewing and Callie Bloem
Origin Story:
Chris: Originally hailing from the northern suburbs of Chicago (literal John Hughes country), my dual passions have always been music and movies. But it wasn't until my dreams of opening up Chicago's first record-store-slash-surf-shop were cruelly dashed while taking my first macroeconomics class in undergrad that I fully shifted my focus to creative writing and eventually screenwriting.
During and after completing a grad degree in writing and directing for the screen, I spent many, many (many, many) years of working on any set that would have me, doing any job that needed to be filled (PA, then boom operator, then Art Dept, then Second AD, then First AD) while also working as a music journalist, and doing random development work for production companies, and script competitions to (barely) pay the bills.
I then became a senior producer in the marketing department of Hulu where I was able to really hone my writing, directing, producing and editing skills by producing the video marketing campaigns for shows like "Castle Rock," "The Handmaid's Tale," "Veronica Mars," "Marvel's Runaways" and more while directing promo content with incredible folks like Seth Rogen, Sissy Spacek, Kristen Bell and many others.
During all those years working in content marketing I was still directing music videos, commercials and doing other client gigs on the weekends which Callie always produce. Eventually we realized that our definition of success was working together, so using RZA's five-year plan for the Wu Tang Clan (as detailed in THE WU TANG MANUAL) as our inspiration, we formulated our own escape plan to begin directing our own narrative shorts and writing feature specs.
Callie: I started out on a very traditional path. I always loved working with numbers and eventually got into healthcare tech for almost a decade. After a while I got really tired of the constant travel and would daydream about doing something more creative. Meanwhile, Chris was always working on projects, and as he mentioned above, I started working with him on smaller projects. Then more and more projects kept coming in, and once I got pregnant, I decided there was no way I could stay in the corporate world.
Once the pandemic hit, we were able to truly focus ourselves on our goal of working together (even though we were locked inside of a house with a toddler), which led to our first narrative short film WRITTEN BY and a few feature screenplays, one of which (TAPE 22) would go on to win the 2022 Academy Nicholl Fellowship, which really shifted our career into hyperdrive.
Pipeline Accolades:
Film Pipeline Short Film Winner (Written By)
Accolades:
2022 Academy Nicholl Fellow (feature screenplay TAPE 22)
Teen View Jury Award Winner, Nantucket Film Festival 2022 (short film WRITTEN BY)
Best Genre Film Winner, Salute Your Shorts (short film WRITTEN BY)
Outstanding Cinematography Winner, Salute Your Shorts (short film WRITTEN BY)
Best Drama Honorable Mention, Salute Your Shorts (short film WRITTEN BY)
On Being an Artist:
Chris: Art is all about pushing yourself to do something unique and compelling. Film is such an all-encompassing art form that it feels like there is always some new challenge to overcome or new skill to master, whether it's camera movement, or writing effective character arcs, or composing an original score, or directing possums, or perfecting the art of a great general meeting over Zoom. Film work is endlessly fascinating and rewarding and never-ending, and that's even before taking into account all the incredible artists, collaborators and businesspeople with which you get to meet and work. There's no other art form like it.
Fueled by:
Chris: My insanely talented wife and partner in all things and our awesome family and friends (especially the ones who give notes on multiple drafts and edits). I'm also constantly reading, watching and listening to new things, trying to expand my horizons while pursuing my goal of reading, watching and listening to every album, movie, screenplay and book ever written, recorded or directed. Wish me luck on that, haha!
Callie: I second everything he said and will also add we're highly motivated by the thought of never having to work in another office building again!
Currently:
Callie: We're currently in pre-production on our feature film directing debut. We found amazing producing partners to make TAPE22 with and we're finishing up a quick rewrite and then getting into casting. We also just finished our second short film BOUNCE HOUSE and are starting to send it out to film fests.
Someday:
Callie: Writing and directing features and TV that tell innovative stories about timely characters through a unique pop-culture lens and still working together, of course.
*Feature Photo: Christopher J. Ewing and Callie Bloem