Creating Micro-Content for the Win
When our careers aren't moving as fast as we'd like, the most common advice is to "create your own content."
But then the question becomes, how do you get people to see it?
In 2019, Michael Shannon did a reading of my play, and was going to star in it off-Broadway. An Emmy-winning director pitched my TV pilot to Netflix. I appeared on Network television and in commercials.
Things were going amazingly well.
Then the play got bogged down in fundraising; Netflix passed on the pilot; auditions were slow. Suddenly, I felt back where I started.
If I wanted people to see my work, I had to wait for an audition, send a 60-page script, or ask people to watch a 12-minute short film.
My answer was to create Bloomywood—a micro-webseries of 2- to 3-minute episodes. I structured it that way, hoping that even the most busy person could spend 2 to 3 minutes to watch our videos. And it worked.
Showrunners and producers I dreamed of sharing my work with watched the series; it led to job offers, auditions, and great representation; and we made a lot of people laugh.
But the most important benefit of "Bloomywood" was that it gave me true belief in myself.
Instead of waiting for opportunities, I poured all my energy into my art—the reason I came to L.A. in the first place. And when those auditions and meetings did come around, I was better prepared to take advantage of them.
Here are some lessons I learned from creating Bloomywood.  I hope they'll inspire you to start creating micro or other content, and stop waiting for someone else to say "yes."
Know Your Goals
For Bloomywood, I mainly wanted to build my exposure as an actor. While the series was nominated for several writing awards, we largely focused the series around the performances.
Think of what you want to accomplish (representation, film festival wins, industry buzz), then build your content from there.
Know Your Audience
Our target audience for Bloomywood was industry professionals—showrunners, writers, casting directors, etc. We knew their time was limited, so we created a 1-minute trailer, and episodes that were mainly 2 to 3 minutes. That strategy worked, and we got a lot of views that we wouldn't have with a longer project.
Figure out who your audience is, then make it as easy as possible for them to say "yes"—and take away every reason for them to say "no."
Start with a Proof of Concept
We initially filmed a test episode of Bloomywood, to make sure the show was strong enough to continue. The pilot helped crystallize our storytelling, fix technical issues, and attract talent and crew who wanted to be part of the series once they saw it.
So many people (including myself) have wasted endless time and money on projects that were never going to be strong enough to achieve their goals.
Instead, make a proof of concept, share it with friends, and honestly assess whether it's good enough to continue with. If it's not, try something else.
Quality Matters More than Budget
It was our friends and our content that attracted talent—we actually tried to go through the establishment agent/manager route first, with no result.
Richard Kind agreed to do an episode because my friend Tara Westwood liked the show, sent it to him, and asked him to consider it. Kate Flannery also almost appeared for the same reason.
We also had executives at major companies interested in developing it and network showrunners told me they'd watch more of my work.
Yet our total budget before post-production was $25 (for a lav mic). I know people who've spent $25,000 on short films, and haven't gotten the same results.
A bigger budget can help. But quality will always win out.
Another tip: spend time building up your network of collaborators, instead of worrying about funding. Friends and people who believe in you are worth 10x more than funding—and they'll make the journey a lot more fun.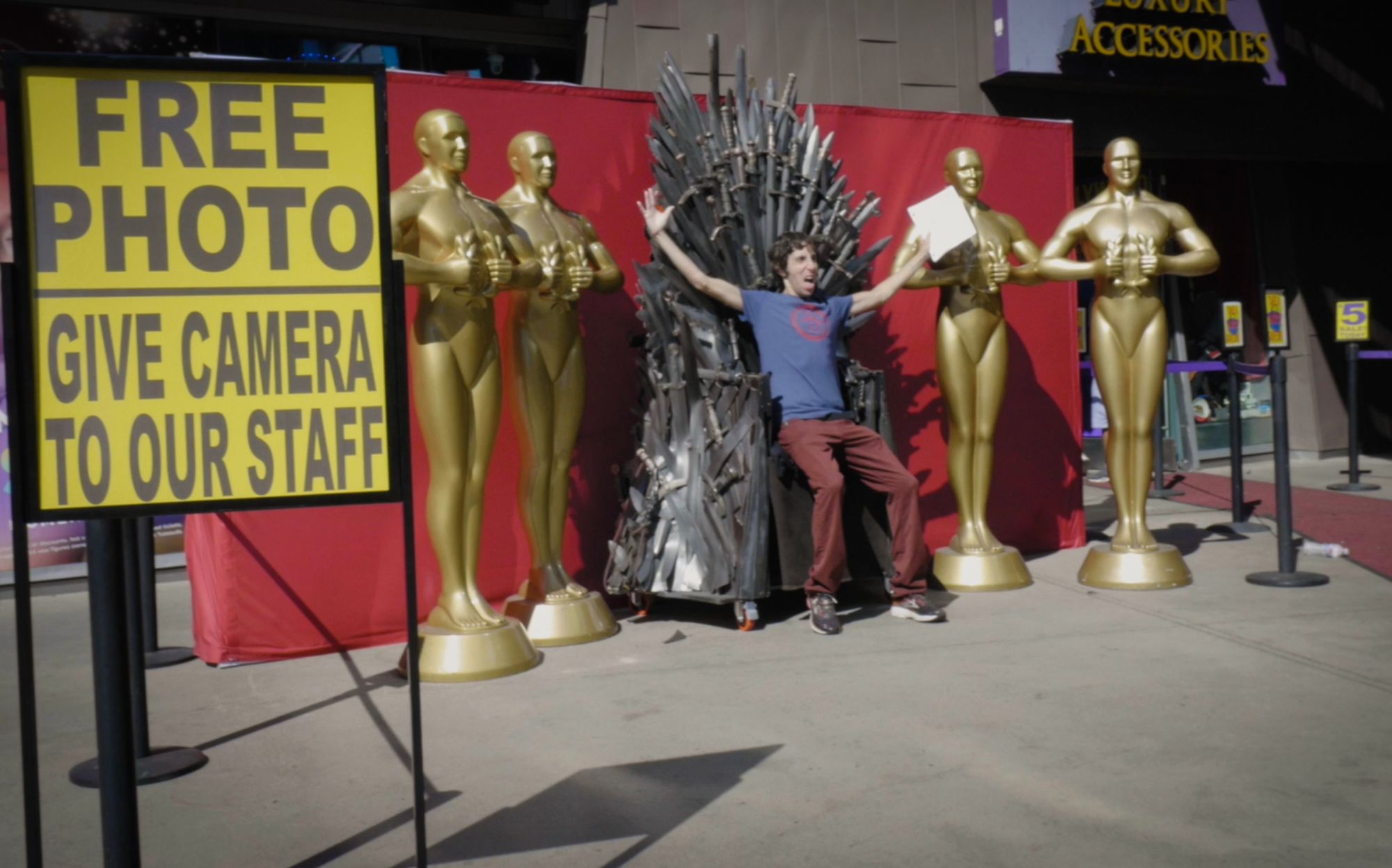 Do It Yourself
As Mark Duplass famously said, "The cavalry isn't coming." But by relying on yourself, you can build a career regardless of the whims of the industry. No one will ever care about your dreams as much as you—so why put them in someone else's hands?
I've seen so many people wait for a break—or believe that one short film will change their careers. I used to be one of them. But that rarely happens.
I often joke that if I had auditioned for Bloomywood, I probably would not have been cast. I made five or six projects before. None were as successful, but they all helped me in some way. And the lessons I learned from them made Bloomywood possible.
We had a lot of setbacks along the way—and a few horrible turns of luck (mainly due to COVID that were incredibly disappointing). But like the lead character of Michael Bloomstein, I always tried to persevere with irrational optimism.
Spend the Time to Invest in Yourself
Since my collaborators couldn't spend countless hours promoting the show or posting on social media, that responsibility fell to me. I spent literally weeks of my life posting online, pitching the show to press outlets, trying to find sponsorships and partnerships, and sharing the show literally one person at a time.
And despite the great things that happened, there were many disappointments.
I had four major press outlets say they would cover the show—but only if we secured distribution. And despite being praised by network showrunners, major casting directors and others, we didn't get into the film festivals I hoped we would.
To be honest, I felt like giving up so many times, But I knew that if I didn't share and promote Bloomywood, no one would. And I also knew that whenever people saw the show, good things happened.
So,I made the decision to keep going, to accept that this was part of the journey.
I'm not sure what I would have done differently, besides using TikTok sooner, having a major press agent and marketing team, trying to collaborate with other content creators earlier—and maybe having a little more luck.
But overall, Bloomywood was the best thing I ever did for myself as an artist.
If I can encourage just one person to take a risk on themselves like I did, I'd consider this article (and my career) to be a huge success.