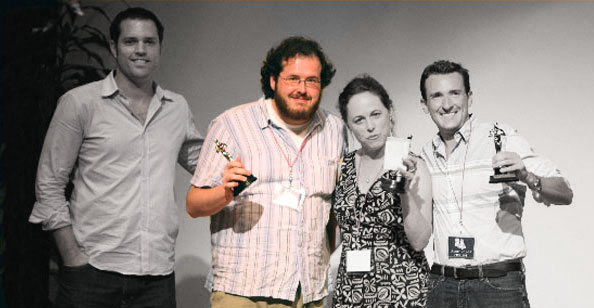 Interview: Evan Daugherty
– Evan Daugherty, writer of Killing Season (a.k.a. Shrapnel, 2008 Script Pipeline Screenwriting Contest winner), Snow White and the Huntsman, Divergent, Teenage Mutant Ninja Turtles, and numerous studio and television projects. Due in part to his Script Pipeline win, Evan went on to become one of the most in-demand screenwriters in Hollywood. He'll make his directorial debut in 2015 with the Dimension Films feature Ink and Bone.
How long have you been writing screenplays? Did you start with scripts, fiction. . . ?
I've been writing in one form or another for a long time: short stories, poetry, etc. But to be honest, from an early age, I was more interested in "making movies" than just "writing scripts."  Most of my creative energy went into filming backyard movies with a digital video camera. I think I started to write my first feature script as a senior in high school. I didn't know how to write a screenplay and was clueless about formatting, so it was kind of a disaster.
I didn't write a "real" screenplay until I started at NYU Film School the following year. I wrote four feature screenplays while I was at NYU. Only one of them was for a class; the rest were extra-curricular. Once I graduated, I wrote three or four more scripts before Shrapnel. It's essential to keep writing and not be discouraged if your first few scripts aren't very good. If you keep at it, your writing will improve.
What has influenced your writing most?
That's a tough one. Shrapnel is a gritty, almost "art house" thriller. It was influenced mainly by films like Southern Comfort, Deliverance, Hell in the Pacific and The Duellists. That said, my writing as a whole is probably more influenced by writers like James Cameron, Scott Frank, David Koepp and, of course, William Goldman. . . with a little bit of David Mamet thrown in for good measure.
Shrapnel: Where did the idea come from? What made you say, "I have to write this"?
I originally wrote Shrapnel to direct myself. NYU film school gives out grants every year to recent alumni to help pay for their first feature films. I wanted to write something cool and unique but also cheap. I thought about writing a typical "cabin in the woods" horror movie, but those have been done to death. Then, I stumbled onto the idea of doing a "cabin in the woods" political thriller. I also thought it would be interesting to explore aspects of World War II that don't usually get discussed or depicted in most films. But above all, I really wanted to see an old-school mano-a-mano action movie where both of the combatants are grizzled, old dudes.
Had the script been in other contests? What was it like being announced as a Grand Prize winner for Script Pipeline (formerly Script Pimp) and making the 2008 Blacklist?
After submitting Shrapnel for the NYU grant (which I didn't win), submitting it to contests was very much an afterthought. I think I might have submitted it to one other contest, which I don't remember the name of. The whole Script Pipeline process was really great. I was still living in Dallas at the time and when I was announced as a finalist, I decided to actually fly out to LA for the ceremony. I had no expectation of winning, I was just using it as an excuse to visit some LA friends. So when I was announced as one of the Grand Prize winners, it was a real shock.
It was the same as the Blacklist. I had heard about it, but would never have dreamed that just a couple of months after winning this contest, Shrapnel would make it onto the list of the best unproduced screenplays in Hollywood. It was definitely an honor.
Tell us about what happened after the contest. Your introduction to Jake Wagner, the meeting with Warner Bros. . . did it feel like just a logical next step, or did it take some getting used to? What was it like in the WB meeting?
Following the Grand Prize win, I was contacted by a few different managers, all of whom seemed to be big fans of Shrapnel, but Jake (then from Energy Entertainment, now with Film Engine) seemed like the best fit for Shrapnel and for me. I quickly moved out to LA, and Jake and Brooklyn started putting me in rooms almost immediately. A few months later, they sat me down with a few different agents, and I ultimately signed with Tobin Babst and Rio Hernandez at UTA.
I worked on a few different takes and pitches but ultimately landed my first job at Warner Bros. doing a rewrite on Grayskull. I have to admit that all of it took a lot of getting used to. For instance, when I was announced as the new writer in the trades, I wasn't prepared for the torrent of internet discussion surrounding the project.
How was the experience with Warner Bros.?
Unfortunately, Warner Bros. decided not to renew their option with Mattel on the Masters of the Universe franchise. It's kind of a bummer because I was very proud of the work I did on Grayskull. It was a really fun experience though. Silver Pictures was great. And it was especially rewarding to work with John Stevenson (Kung-Fu Panda), the director who was attached to Grayskull at that time.
As an up-and-coming writer with a new view on the inner-workings of the industry, has it been largely positive? Negative? How so?
To be honest, it's been surprisingly positive so far. Fingers crossed. I've met with hundreds of people in town, and I'm always surprised by how friendly, energetic and creative they are as a whole. That said, Hollywood is a strange place, and I've had a few horror stories.
What are your short-term and long-term goals in the industry? Any new scripts in the works?
My short term goal is to just keep writing, and to keep working with cool, talented people. I have a few spec scripts at various stages of completion, as well as a pitch for a TV show and some good prospects on the writing assignment front.
As for the long-term goals, I'm still working those out. . . .
Advice to beginning writers? What do you wish you'd have known about the industry earlier on that you know now?
There is a perception amongst young writers or writers who haven't broken into the business that people in the industry want you to fail. This couldn't be farther from the truth. Everybody wants you to succeed. They want to work with you on a great idea that will take the town by storm.
In terms of advice, I'll go with the cliché answer and say, "Write."  As I mentioned, I wrote seven or eight screenplays, some good, some bad, before I wrote Shrapnel, the script that earned me a manager, agent and my first job. Beyond that, I would say that it helps if you're basically a nice, friendly, open person, who can engage with the people you meet on a real, human level.