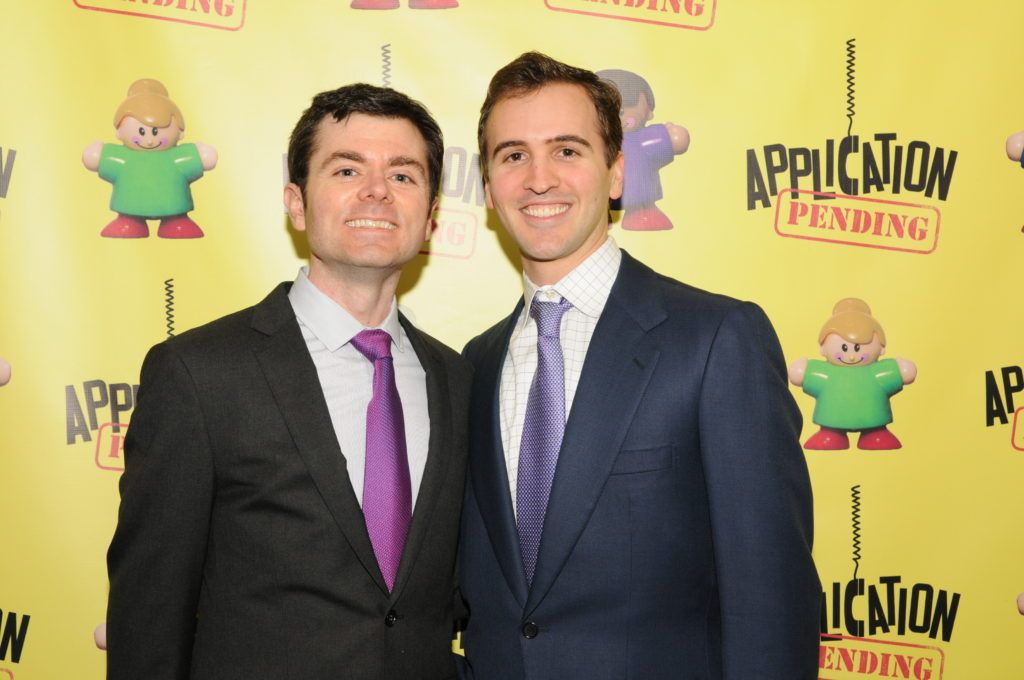 Interview: Greg Edwards and Andy Sandberg
Both Andy and Greg bring a wealth of theater and writing experience to their contest-winning play Application Pending, a marvelously penned one-woman comedy set against the backdrop of an elite Manhattan private kindergarten—a story that, for Book Pipeline execs, had doubtless potential as a TV series.
I wouldn't know where to begin when it comes to your backgrounds in theater—from writing to producing to directing to acting. . . . The reality is few of "The Aspiring" get a chance to attempt half of what you both have already accomplished. What were the career-defining moments for each of you before you become playwrights and involved in theater?
AS: Like most, we both started as actors. I continued acting professionally my first few years out of college, but I had started directing and writing as early as high school, and when you write or direct in high school and college, you also produce by necessity—or at least I found that to be the case. I also performed with both the Alley Cats and Whiffenpoofs, two a-cappella groups at Yale, while simultaneously serving as their business manager. I moved back to New York to continue juggling performing, directing, writing, and producing.
Acting has taken more of a backseat in recent years, though I do occasionally still perform when asked to do a reading or a concert. . . or step in as an emergency understudy in Greg's show this past summer! My experience as an actor has certainly informed my work as a writer, particularly something that is so character-driven like Application Pending. I joke about wearing too many hats, but truthfully I've always loved it, and each of those hats inform one another.
Though Greg and I knew each other from the beginning of freshman year, we discovered a mutual respect for each other's work when taking Mark O'Donnell's "Writing Comedy" seminar. The assignments were usually optional, and we seemed to be the only two people bringing in work and trying to take advantage of Mark's brilliant comic brain.
GE: Andy writes "we both started as actors." He neglects to mention, however, that my debut was as the king's youngest child in my Catholic school's production of The King and I. You might think putting a six-year-old WASP in Thai makeup would be problematic, but this occurred neither to my parents nor the sisters of the Sacred Heart.
Roughly 10 years later, I realized that my desire for control over actors exceeded my acting ability, so I shifted to directing and then writing. In college, I wrote my first full-length show, a musical biopic about the Emperor Nero.  The Yale Daily News reviewed it with the headline "Rome's Failed Ruler Fails on Stage." Fortunately, the New York Times was kinder regarding Application Pending.
As far as "seeds" go—as Andy mentions—Mark O'Donnell was key.  He was such a kind and talented man, and the world is poorer for his absence.
Andy, I don't think you had mentioned, but according to always-reliable Wikipedia: you're the youngest producer in history to win a Tony (at 25) for the revival of Hair, correct? In the film world, the equivalent, winning an Oscar for producing at 25, would be an almost inconceivable feat, so I can hardly wrap my head around it. How many doors did that open, and how did you build upon that momentum?
AS: It's all downhill from there! No, actually it was an incredible time and an amazing opportunity to be part of that revival. Hair was a special production, and it opened many doors in one regard, particularly thanks to the people I met and relationships I built through that journey. . . and yes, a Tony Award was an exciting recognition. At the same time, the entertainment industry does sometimes like to put people in a box and define people by one credit or title; I think that's even more true of theater than other areas of the business. So to some, the success of Hair branded me as a producer in the eyes of many. "Tony-winning producer" is a title I'm grateful for, but it's not something I ever credit without also billing myself as a director and writer. I am incredibly proud of Hair and grateful to have played a role in bringing that production to Broadway and London, but I am also grateful for my experiences as a multi-hyphenate, and equally proud of my career as a director and playwright.
And Greg, your creative work has crossed over into several fields, including musicals and TV scripts. Every format of course has its own demands. What's the biggest challenge in terms of switching mental gears—adapting to each distinct form of storytelling, for example—when jumping from project to project?
GE: I think the principles of storytelling and dialogue writing are pretty consistent between the mediums I work in (musicals, plays, TV, video games, essays). To oversimplify: you avoid excess verbiage or repetition; you ensure every punch or plot event has a setup; and you put the interesting words at the end of the sentence so that the audience has to listen all the way through.
Each medium has its own technical requirements, e.g. lyrics have to rhyme, scan, and be understandable on first hearing. Similarly, each medium has its limitations, e.g. in video games, you have no idea in what order the player is going to do things. But switching mediums is less learning a new language than an awkward dialect. The vocabulary's largely the same—you just can't understand why they spell legitimise with an "s."
Application Pending is a multi-award winner. A no-brainer for adaptation. Not only is it a simple yet expertly conceived idea, but it's clear how this could transition to film. Or for us, a series. And lo and behold, you had a TV pilot version ready and waiting. Was it difficult to expand the world and this character into a full pilot? What do you lose and what do you gain from taking the story from stage to screen?
We actually discovered while writing the play that this material was ripe for television, and we started banking ideas for the structure and world of the series. Very few theater pieces adapt well for television, and I suspect that's because most plays (like most films) are built around a firm beginning, middle, and end. I've had some plays where the "twist" at the end is the core of the experience, so those stories don't really adapt well to a series, where the world needs to remain more open-ended.
Application Pending's world is so expansive, and if anything, the heightened comedy of the play is enhanced by the device of one woman playing 43 roles, so the ending is about wrapping everything up as quickly as possible. Though the play is carefully structured and we love how the ending works for that version of the story, the play was not conceived toward that end. It was always about capturing the world through Christine's unique lens. I suppose the biggest difference for the pilot, aside from the fact that it's not simply one actor, is that Christine is fighting to hang onto her job (a struggle that propels her across a season), whereas in the play she wants out of the job as quickly as she got into it.
What we lose is the heightened theatricality of one woman playing 40 characters. While that's an incredibly fun component of the play, it doesn't really feel like a loss in the television adaptation. The series has allowed us to delve deeper into the characters and really focus on Christine. Also, the series is more of a workplace comedy, where the most significant supporting players are Christine's co-workers and family; these are the people she will be seeing every day. In the play, all of the supporting characters—the applicants, the competitors, the co-workers, etc.—they all have a more evenly distributed balance. Many of the subplots that appear in the play are storylines we're saving for later episodes in Application Pending. We spent so much time in the play cutting material we loved, not because it wasn't funny or interesting, but because it wasn't essential to the streamlined arc of the play. We had to be even more precious with space in the pilot, but what we kept reminding ourselves was: "we can bring that back in a later season!"
Why this premise?
AS: Growing up in New York, I have always been fascinated by the culture surrounding kindergarten admissions. I have seen perfectly sane parents lose their minds going through this process. I went to a small private school in New York (The Browning School), so I had a firsthand look at this world—though fortunately Browning's faculty and administration were much kinder than Edgely Prep's!
At the same time, while the play is set in New York, we wanted to be sure that the story and characters were relatable and that the piece never felt too New York centric. Obsessing about getting your kid into the right kindergarten is not specific to New York. . . or even to private schools. I have known many families who've moved homes or even changed cities to be in a different school district as soon as they learn they are expecting. Greg was able to bring a different perspective, and we've seen the play licensed successfully all around the country, including some smaller towns. Soon, it will be done in translation with a few upcoming international productions.
Greg and I also know that our collective aesthetic when writing together is a slightly heightened sense of comedy while still being grounded in reality, and we felt this subject was ripe for exploration in this realm.
GE: I grew up in the San Francisco Bay Area in the late 80s, and even then, private school admissions were insane.  In order to get me into the local Catholic school, my non-Catholic parents had to ask the local fire chief to vouch for my character. He had never met me, but I hadn't set any fires—that he knew of—so that was enough.
By the time I applied to college, firefighting bore considerably less weight in the admissions process. Nevertheless, the same principles applied (high stakes, crazy parents, minimal arson), and I realized even then that it would make good theatre.
Building an entire play around a single actress, I'd imagine, had its share of demands. For one, dialogue has to be air-tight, right? When you had cast the lead (Christina Bianco), did you build the role around her sensibilities and breed of comedy, or was the script essentially set and she worked with what you had written?
We were actually careful to avoid writing the show for one specific actor. From the outset, we wanted to be sure that we were writing a well-crafted play, not a performance vehicle for one individual. We wanted to write a show that could live well beyond its original performer. Many solo plays are performance vehicles—either for the author or a particular actor—and even the best of those can struggle to find a life beyond their original run. We developed the show through a series of readings and workshops with a few different actors. We both knew and loved Christina Bianco, and she did one of our earliest readings. In addition to nailing all of the comedic supporting roles, she also completely embraced the heart in the main character of Christine, which is crucial to the play's success. The jokes only work if you're invested in the main character and her journey. Christina was brilliant in the role and a joy to work with. Certainly, once we knew she'd be doing the Off-Broadway production, we made a few adjustments around her specific talents—some of those were specific to the New York production, and a few carried into the published version of the play. Funnily enough, people assume the main character is named Christine because of Christina, when in fact, she's really only "Christine" because of a shameless Phantom of the Opera joke in the play—one that did not survive the pilot adaptation, but perhaps it'll come back in a future episode!
We've subsequently seen various productions around the country and have been so impressed with the actors who've tackled this role.  We also recently created a male version of the show, which is now available for licensing.
The film/TV industry is. . . rather maddening, to put it gently. Some days. Other days it's gloriously satisfying. Granted, the process is vastly different, but what are some of the parallels you've seen between getting a play produced and trying to get a series off the ground?
AS: The greatest similarity is that it's all calculated gambling. You can only control so much. You have to be pragmatic about where your work belongs, but simultaneously creative and inventive with your work. "Wow, you're doing a reading!" is the theatrical equivalent of "Wow, you've got a development deal!" Neither is to be taken for granted, but neither means the show is guaranteed to reach production. In both worlds, you have to keep putting your work out there, continuing to develop it and embrace the feedback you're given, until someone else discovers and shares your passion for the work.
GE: Ooh, this is why I work across mediums. For some mediums, you're super dependent on gatekeepers (e.g. plays or musicals require producers, TV shows require multinational conglomerates). For others, you can get your work into the world directly (e.g. post an essay or a game online). I think the important thing is to always keep creating and to create in mediums where you have some control over the endgame. That way if one project is blocked on a gatekeeper—I imagine them staring at the stack of scripts at their desk and yelling YOU SHALL NOT PASS—there's another you can work on and get it out into the world.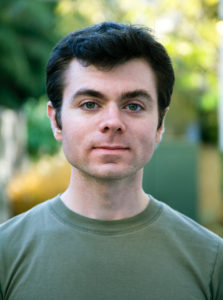 GREG EDWARDS wrote the scripts for Application Pending (Off-Broadway, Drama Desk nomination) and Craving for Travel (Off-Broadway), both co-authored with Andy Sandberg, lyrics for Neurosis: A New Musical (Merry-Go-Round Playhouse, SALT Award for Best New Musical), and book and lyrics for Evelyn Shaffer and the Chance of a Lifetime (City Theatre, Samuel French OOB Festival winner, Take a Ten Musicals), Taking the Plunge (Samuel French OOB Festival, NYMF), and The Almost In-Laws (Take a Ten Musicals). He has collaborated with Marvin Hamlisch (White House Governors' Dinner, Mr. Hamlisch's holiday tour) and Arthur Laurents (Love Affair). Greg's essays are published in Avidly (Los Angeles Review of Books) and McSweeney's, and his game Jessica Plunkenstein and the Dusseldorf Conspiracy (NYT "Best Adventure Game of the Year") was published by PC Gamer UK. Honors and approximations thereof include the BMI Harrington Award, the Fred Ebb Award (two-time finalist), and a Nickelodeon Writing Fellowship (top-12 semifinalist). Greg graduated Phi Beta Kappa from Yale, belongs to the BMI Workshop and Dramatists Guild Fellows, and can be stalked most effectively at www.greged.com.
Follow Greg: Site | Instagram | Twitter
ANDY SANDBERG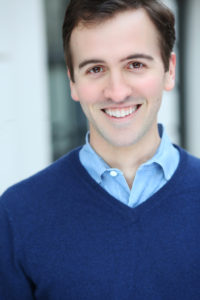 is a writer, director, actor, and Tony Award-winning producer. He has written the scripts for Application Pending and Craving for Travel (co-authored with Greg Edwards), and he directed their world premieres Off-Broadway. Application Pending received the BroadwayWorld Award for Best Off-Broadway Play and a Drama Desk Award nomination for Outstanding Solo Show. He subsequently directed the world premiere of Straight, which was named a Critics' Pick by The New York Times. Other directing credits include the world premieres of Operation Epsilon (Four IRNE Awards, including Best Play, Best Director), Shida (AUDELCO nominations, Best Director and Best Musical; Ars Nova / A.R.T.) and The Last Smoker in America (Westside Theatre), as well as the New York premieres of the musicals Neurosis and R.R.R.E.D. (DR2 Theatre). He has been represented on Broadway as a producer of HAIR (2009 Tony Award; also London's West End), Gore Vidal's The Best Man (2012 Tony nomination), and Will Eno's The Realistic Joneses. Also as producer: A Perfect Future (Off-Broadway); Hal Prince's Paradise Found (London); and Pageant (Drama Desk nomination – Best Revival). B.A. Yale University. Sandberg is a proud member of the Stage Directors and Choreographers Society, Actors' Equity Association, and the Off-Broadway League. He currently sits on the boards of the Yale Dramatic Association, the Whiffenpoof Alumni Association, and the Browning School (NYC). He is President of both the Browning Alumni Association and the Yale Alley Cats Alumni Organization.