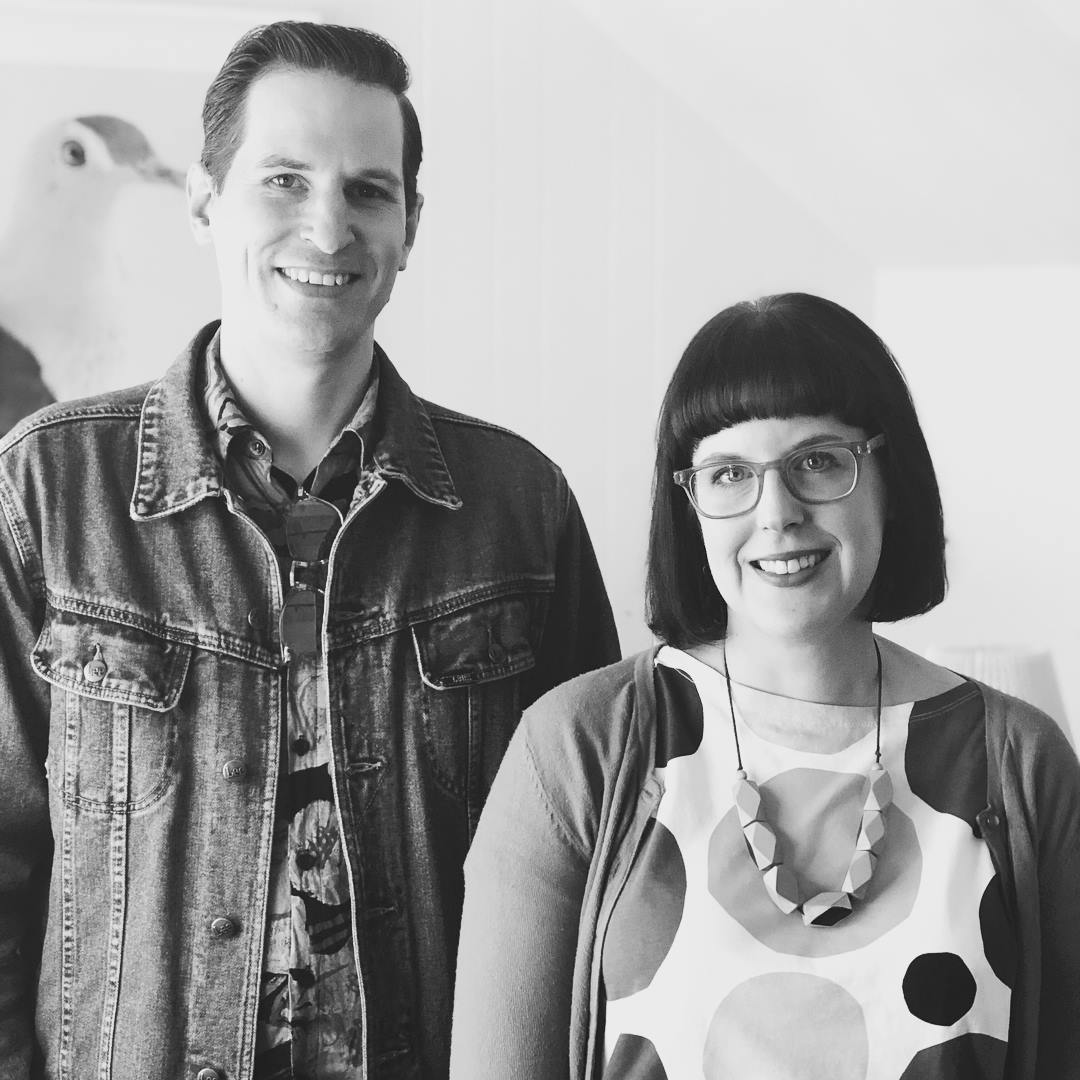 Interview: Greta Harrison and Matthew C. Vaughan
Two-time Script Pipeline TV Writing finalists with comedy pilots Inner Beast and My Fist Your Face, Greta Harrison and Matthew Vaughan have written for and created several series, both live-action and animated, in addition to co-writing an action/drama feature.
Before moving to Los Angeles, you both wrote and produced (and acted in, correct?) a few TV series, as well as a feature, in Australia. Mostly comedy. We've had several phenomenally talented Australian writers come through Script Pipeline, all with varying career projections–some who decide to come to L.A., others content not to do so. Did you feel like there was a ceiling in Australia as far as what you wanted out of the industry? The direction in which you both saw yourself headed?
Matt: That's right. We've been producers, actors, and sandwich-makers. But writing comedy has always been our focus. We figured if we wanted a long-term career writing for TV and film, the odds are higher if we moved to the place where a good chunk of it is being made. That's why we're in LA.
Greta: Australia has a much smaller industry, which partly relies on government funding. It's lovely our government supports filmmakers to develop things. We've benefited from funding, which has helped our career a huge amount. A smaller industry also means a new writer can take on more responsibility, and gain writing credits relatively quickly, rather than working for years on the assistant route. I'm grateful we were trusted to write episodes early on in our careers.
MV: However, Australia is a smaller market, so you're competing for the same pots of money and opportunities.
GH: As a result, many of us have to go back and forth between paid writing work and day jobs. There's really only one network that develops children's series, and the same network develops the bulk of new Australian comedy. There is also a tendency to be a bit risk-averse in Australia–understandable given our small population.
MV: We're excited by the opportunities over here in LA. In Australia, there's only one TV set. We all take turns using it.
GH: Often, Australian comedy needs to be broadly appealing to capture as many viewers as possible. But our comedy tastes veer toward the strange and subversive. I don't know why the Australian Broadcasting Corporation didn't want to make our kids show about a sentient foot fungus.
MV: Greta's joking. What a stupid concept. Let's write it!
GH: Sure!
Two of your pilots, Inner Beast and My Fist, Your Face have placed in the top 10 for Script Pipeline TV Writing. And honestly, the reason was the same for both: a unique sense of comedy and character sensibility. What types of series and films influenced this seemingly instinctive approach?
GH: Why thank you! We bonded over some weird stuff. A lot of our TV influences are from the golden era of UK comedy–the mid-1990s to mid-2000s. Shows like Brass Eye and The Day Today, Jam, Human Remains, The Office (UK), Spaced, Garth Marenghi's Darkplace and everything Alan Partridge has been in.
MV: And US TV like Curb Your Enthusiasm, Tim & Eric, Strangers With Candy, Wonder Showzen, 30 Rock, Eastbound & Down and Nathan For You. In terms of influential comedy films, Harold and Maude, Clifford (the Martin Short one), the first two Naked Guns. . . it's a massive list, I won't go on.
GH: But I will. The Monty Python films.
MV: Greta can remember every word of Life of Brian. But she fails to remember any important dates, like our anniversary. That's why I love her.
GH: Another film influence is the Australian classic Yobbos Up The Guts.
MV: Haha! She's lying. . . . Don't Google that.
GH: Our sensibilities veer toward characters that create a visceral reaction–whether that's comedy, horror, or other genres.
MV: I really enjoy comedy that makes me distressed. The most recent show to cause that is Sally4Ever–a perfect example of a concept that influences our approach.
GH: I've always gravitated toward strange comedy. When I was a young nerd, I recorded audio of The Young Ones from my TV on cassette so I could analyze it.
MV: You're showing your age there. You should mention something contemporary.
GH: Memes. I love all the memes.
MV: That's better.
When you develop something new, what comes first, the concept or the character? It probably varies, but with comedy, almost inarguably the toughest genre to perfect, is there a specific approach that gives you the best opportunity to organically let the humor surface?
MV: Concept informs character, character informs the concept–we usually tackle both simultaneously. We tend to explore the flaws of the main characters and create other characters and situations that can exploit those flaws.
GH: In terms of how we actually work, there's a lot of brainstorming and pissfarting around with an idea before we type words. When we have a loose concept, we'll do character development and story structure on a Google Doc and card it out on Trello–that's a free project management/scheduling tool, but we find it works really well for developing. Then we start writing in WriterDuet, where we can watch our best jokes get deleted by our co-writer in real time. And then have a big argument about it.
Your first produced feature credit, Event Zero, isn't a comedy at all but an action-drama. I'm of the mindset that good writers can adapt, but. . . it's tricky, right? Switching genres and formats, changing some big mental gears to get in the proper frame of mind? Would you say, though, that all writers should try their hand at different genres, or instead fine-tune their strengths? What's the benefit in crossing over now and again?
GH: The industry in Australia is a little different. Writers need to be adaptable in order to get work. You really can't afford to turn down jobs! That's why our IMDB credits might seem all over the place. We've written for a range of things, from sketch comedy, kids' TV, to a political thriller. We're also currently writing comedy questions for Australia's Who Wants To Be a Millionaire (Millionaire Hot Seat). Now we're in LA, where you're supposed to stick to your lane as a writer. People are surprised by the weird variety of stuff we've worked on.
MV: I enjoy jumping from TV to film and smaller-length projects. I wouldn't want to stick to one form. But yes, switching genres can be challenging. When we're writing something heavier like Event Zero, my brain wants to flirt with comedic concepts. That said, we really like stepping outside our comfort zone.
GH: Having written something that got a cinema release, particularly in Australia where that's an uphill battle, is something we're really grateful for. Event Zero also gave us experience writing procedural. It's a useful skill to have, and that can be applicable to any genre. It also gave us chance to destroy Sydney. Stupid Sydney with its stupid, pretty harbour.
MV: Our comedy is usually a genre-hybrid, like horror-comedy (for instance, Inner Beast). We just finished a western-comedy feature inspired by historical events.
GH: We're really excited about that one. While a historical story a bit of a departure for us, we've taken the same approach to comedy character development, and peppered it with the playful weirdness we enjoy, but with a stronger focus on themes and relationships. But it's still our voice.
You're writing partners, but also partners-partners. I'd be remiss not to ask what the pros and cons are. Or maybe by and large it allows for a much easier working relationship? Less inhibitions to take and give criticism?
GH: I'm sure it's not for everyone, but it works well for us. I can't imagine who else would have the patience to put up with us. I mean, who wants a partner who spends all their spare time coming up with goofy ideas, rather than folding all clothes into tiny, perfect, symmetrical parcels. That's what couples do these days, right?
MV: I'm obsessive about film and TV–I'm always talking about it. I need to be with someone who can bear me prattling on about it. One pro is, sharing the struggle of the creative process. We're very lucky that our tastes align.
GH: The one con for me is when people assume I'm Matt's date rather than the co-writer. It happened at a premiere of the film we wrote. An eager young guy cornered us to ask about the writing process. I answered him, and he looked at me, baffled, like "who's she?" and turned back to Matt and questioned him. Both our names were on the flipping screen! I'm sure this is just the everyday nonsense most female writers deal with in this business. Even those whose writing credit isn't followed by an ampersand and the name of some big, weird bloke.
MV: But I did write it all. You were looking at those Instagram dogs you follow.
GH: I'm sorry, Script Pipeline, I seem to have strangled my writing partner–did you need him to answer any more questions? I can Weekend at Bernie's him for the rest of the interview?
What do you see as the future of TV comedy here and abroad? How does one continue to challenge audiences with fresh ideas in a now-booming space?
GH: I'm hoping we'll keep getting more content from diverse voices. I think that's really exciting as a viewer and a writer, to see stories and perspectives that haven't been as prominent on screen before.
MV: As far as challenging audiences, we can be drawn to content that's made for niche audiences. In turn, our writing can divide readers. But we can only write what makes us laugh. Then we just hope it connects. But to be honest, we have no idea what the future of TV comedy is.
GH: The future of comedy is memes. That's it.

Greta Harrison / Matthew C. Vaughan
Greta Harrison and Matthew C. Vaughan are an Australian comedy and genre writing team that has written for TV, film and digital series. They now live in LA. Their writing credits include animated series Jar Dwellers SOS, which screens on networks around the world. They created Touched by an Angle Grinder, a short sketch series that screened on ABC Australia. They wrote the thriller Event Zero–released via VICE and Blackpills in the USA and screened in Australian cinemas.
Their comedy pilot My Fist Your Face was one of eight scripts selected for the Australians in Film Gateway L.A. Aussie List. Their scripts have been two-time Script Pipeline finalists and recognized by the Academy Nicholl Fellowship, the PAGE Awards, CineStory, and Inside Film Awards. Their horror comedy pilot Inner Beast made the 2018 BloodList.
Follow Greta: Twitter | Instagram