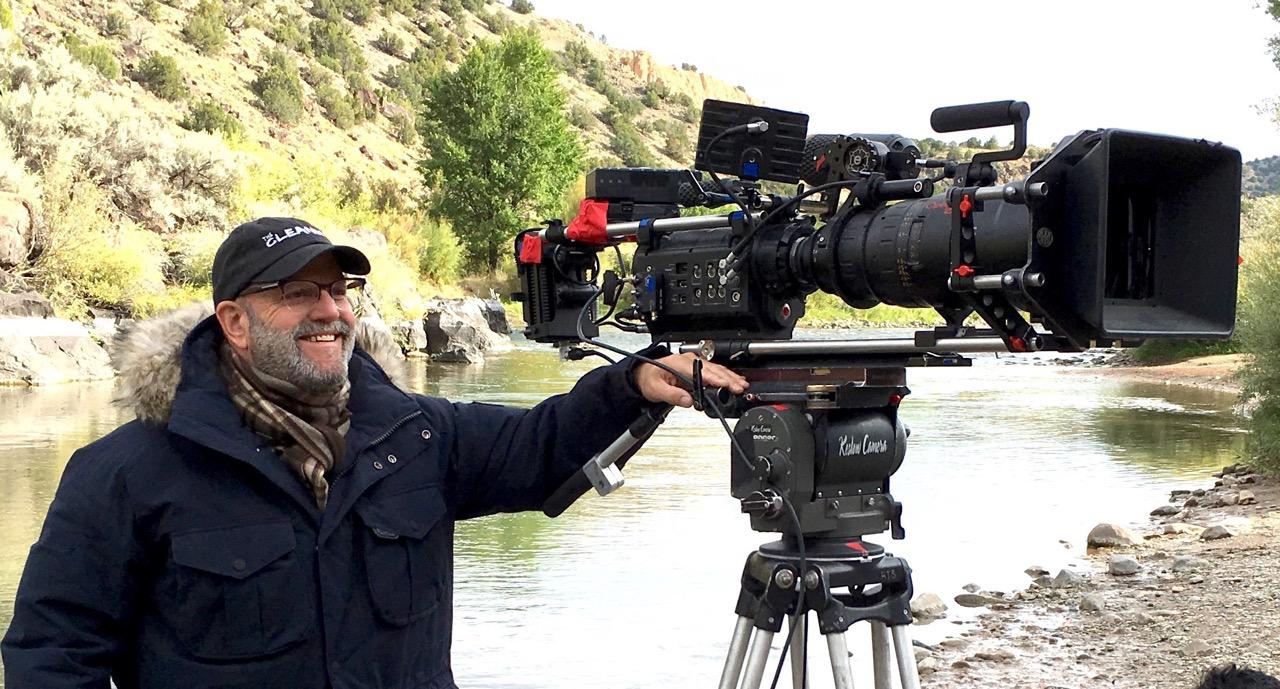 Interview: Jay Silverman
Script Pipeline met director/producer Jay Silverman (The Cleaner) in 2015 and connected him and producer Bethany Cerrona with Script Pipeline Screenwriting Contest finalist Jen Goldson (Everything's Gonna Be Okay). Jay went on to produce Jen's romantic comedy Off the Menu in 2017. The film premiered in 2018 and stars Santino Fontana and Dania Ramirez. It's available on Amazon and iTunes.
You started your career as a photographer. How did you make the transition to the film/TV industry? Was it a logical next step given the types of connections you were making and the work you were doing, or did it take sort of a leap?
Yes, I started as a photographer doing advertising. My speciality was working with people and celebrity endorsements. The transition into film started in the 90s when I began doing what I called hybrid filmmaking. It certainly seemed natural to offer live action along with my photography when a famous person's time on commercial sets are always so limited. It was a huge leap at the start, but my clients enjoyed the synergy and the creative control I gave them. I decided to make the move to feature directing with Girl on the Edge (2015), which was a very personal story. The motivation to make it  was one of wanting to share my experience of healing and to show others who have children who suffer trauma and PTSD that there are answers. . . there is hope. Everything I had done in my career and life up to this point prepared me for the opportunity to tell this story. It felt like such a natural transition, and now telling purposeful films has become my calling.
What were some of the early hurdles in becoming a director (for TV, commercials, or otherwise)? When crossing between different formats, which of course can be a challenge creatively speaking, what drew you to each? And now, with decades of experience, has a preference emerged? Or is directing just directing, no matter the medium?
I always enjoyed problem solving throughout my career, especially when a client would ask for the impossible. Universally, most challenges for TV and commercials involved trying to retain a focused creative vision while dealing with limited budgets and quick turnaround. In the 80s, I got my first studio and was fortunate to solve creative challenges without having to go outside of a studio. This control proved invaluable working in independent filmmaking and selling TV shows. Hence, the reason in 2000 I acquired my stages in Hollywood.
One huge hurdle I had was trying to sell The Cleaner to AMC after developing it for five years. It came as a shock to learn that even though this was my baby, I would never receive "created by" credits. The fact that we had offers for this show twice in two months proved it was a great idea, but not being treated fairly was a lesson I had to learn the hard way.
To be a good director in both TV or film, you need to be a good listener. So many creative people are involved in such detail on a film that it's important to be open to their expertise and knowledge. It's about taking all the best ideas to make the project better and to collaborate. Also, it was very helpful that I am knowledgeable in every trade on the set. I'm very hands-on and am never afraid to lift a hammer or hang a light or learn to compromise with budgets.
You met writer Jen Goldson at our 2015 Script Pipeline event, and it seemed like her screenplay Off the Menu was optioned instantly. What was it about the script that stood out?
First,  I believe a person's passion is the most critical to sell anything. Jen not only had a great pitch that made her stand out, but she totally displayed a desire to want her project in the hands of a filmmaker with equal passion. My producer Bethany Cerrona brought the script on the heels of my last film, which was a serious drama. Timing is everything, and I was excited to jump into this contemporary love story, as Jen's writing style was very engaging, funny, and inspiring.
Off the Menu went from Jen's initial pitch to you and exec Bethany Cerrona, to production, to finished film in about two years. Quick, certainly, relative to the frustratingly slow-ticking industry clock, where it can take a while get a project produced. Naturally, it's easier for a lower-budget indie to hit that fast lane, however what were some of the crucial pieces that had to fall into place? Or was it fairly straightforward? If anything is ever "fairly straightforward" in filmmaking. . . .
Every film is different and presents its own set of challenges. After optioning the script, we met with Jen several times about small changes. Just coming off my last film with new wisdom and experience, we had to figure out a way to get this wonderful script produced affordably without sacrificing the story.
Will Newman, one of my producers, had warned about the cost of having too many characters and locations when making a indie. We mandated early on that to keep the authenticity of the story, it had to shoot, at least partially, on location in New Mexico, so that decision pushed many other decisions into the forefront. Being that Javiara's kitchen was a character itself, our Production Designer Bonnie Bacevich was able to have full creative freedom on my stage. This decision not only saved us loads of time and money but helped me fulfill my creative vision without all the distractions of using a practical restaurant location. Careful thought and consideration was made to the changes needed to be made to the script to scale down for the budget, which kept faithful to Jen's original story.
The cast of Menu really seemed to click on-screen. Especially the leads. How did Dania Ramirez and Santino Fontana come on board?
We had an amazing casting director, Nick Anderson. The script went out to Dania and we both met for coffee, and she was excited because she too loved cooking. I knew she would make a perfect fiery chef, and she loved the script, so the timing was perfect.
Around the same time, we were introduced to Santino via Skype from NYC and he also loved the script. And as luck would have it, he was able to fit us in between his show Crazy Ex Girlfriend and his Broadway opening. Once we had Dania and Santino, the rest of the cast fell into place fairly easily.
Every director and producer is different. Everyone leans toward certain themes. But what motivates you to continue directing and producing? What excites you most about the future of the industry?
I'm totally drawn into filmmaking by my desire to share inspiring stories. It's beyond words how fortunate I was that my first film Girl On The Edge has changed so many young people's lives.
I'm committed to working on purposeful films with social messages. It's critical for me to make films that matter. Films have the ability to cross all borders, to bring hope and unite people. Off the Menu gave me the opportunity to tell a hopeful, sweet story about love and family that unites people from opposite worlds through food.
Along those same lines, where do you see us headed as an industry overall? Thanks to the emergence of more platforms seeking content, are you beginning to see a shift in the type of content distributed, or that has a strong chance at getting distribution on an indie level?
I think all these new digital ways of sharing content are likely how most small films will survive, but it's a bit of a wild west. . . with so many new films/TV shows getting made, it's harder to cut through the clutter and get noticed. With Netflix and Amazon changing the game, we are seeing so many interesting voices that wouldn't have been possible before in the traditional models.
I'm optimistic that if you have a good story and solid production values, your film will find an audience.

Jay Silverman has excelled as a leading director and producer specializing in award-winning film and television. In addition to directing and producing Off The Menu, Jay directed and executive produced the award-winning feature Girl on the Edge, starring Peter Coyote, Taylor Spreitler and Gil Bellows. The film premiered on Showtime. Jay also co-created and executive produced A&E's The Cleaner, starring Benjamin Bratt, an hour-long drama based on a real life interventionist who uses unorthodox methods to save lives of those who battle addictions.
Jay lives and works in Los Angeles and has three daughters.