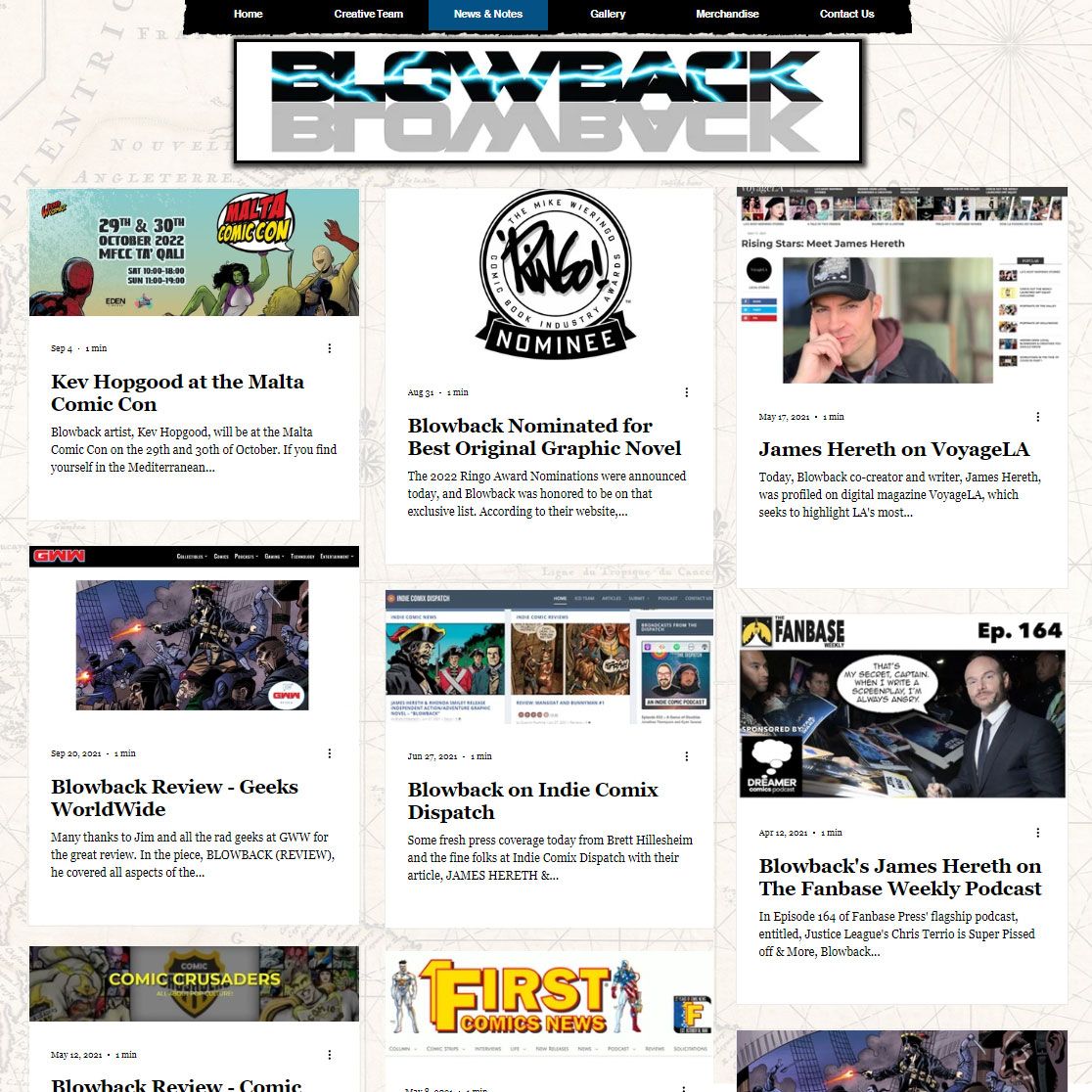 Adapting a Screenplay Into a Graphic Novel: Shouting from the Rooftops
You've researched the medium, you've written the script, you've guided your art team, and released your graphic novel.
You're not done yet, though.
Unfortunately, no one can buy a book they don't know about. So, it's up to you to try and reach as many people as possible.
The truth is, one of the hardest things about publishing is soliciting an audience. Unless you happen to be famous, you're going to have to put in a lot of work.
Historically speaking, writers aren't known for their outgoing personalities. But being a great writer isn't enough anymore. You also need to be a champion of your work. A salesperson, really. And although that might push you out of your comfort zone, it's part of the job now.
So, where do you start?
Well, if you're like me, you don't have piles of cash lying around, just waiting to be spent on a Super Bowl ad. But you can still make some waves for little to no money. It just takes sweat equity.
In fact, from the very start of your adaptation process (perhaps even before), you should be firing up your own personal marketing machine. The machine is you, obviously. This is all up to you.
GET SOCIAL
If you don't already have a social media account, now's the time to create one. Or four. If you do already have one, you should add another specific to your graphic novel.
Granted, things might be a bit—shall we say—tumultuous in the social media space right now, but I'd still recommend starting on the more traditional platforms before possibly expanding to the new kids on the block. If they've got the right stuff.
The advantage to having both a personal and project-based account is that you can use each to like, share, or comment on the other. You don't need to shine a spotlight on the fact that you're behind both accounts, but also don't pretend you aren't. That's creepy.
As a general rule, whenever you can avoid being creepy, that's definitely the way to go.
Through social media, you can start building interest in your project, as well as find and follow like-minded creatives. Some will have helpful tips and tricks and share insights on their experiences in the business. Many will follow you back.
You can post about topics or projects related to yours, or just comment on pop culture in general. Share a glimpse into your work-in-progress through development art, sketches, even process videos if your artists are willing to create some.
Use hashtags when you post, so that you're searchable by people interested in the subjects you're posting about … #comics, #screenwriting, #graphicnovels, etc. Also remember to tag any collaborators, especially if you're displaying their artwork.
Many indie brethren will also solicit creators to promote their books on a thread. Which is a chance to get your work in front of a new audience. Have a short pitch ready to go along with a link to where people can buy or learn more about it. Include art. Make a few versions to vary over time.
Promote and signal boost other creators, and they'll likely do the same for you.
PLAY TO THE CROWD
If you're financing your graphic novel through crowdfunding, you've already taken a huge step in promotion. In addition to your own campaign posts and calls to action, many comics websites will solicit Kickstarter projects to promote, as well as tweets to do the same. Seek them out with searches if they don't organically pop up in your feed.
If you want to get support from the comics crowdfunding community, it helps to also support them. Back some campaigns. Promote others. It's a two-way street.
PHONE A FRIEND
If you don't have a large following, you still might know someone who does. While you don't want to be the person always asking for favors, this might be a good time to cash in if you've been saving up.
A lot of people are willing to help if you just ask. See if they'd consider making a post about your book. They don't have to read it or even endorse it if they're not comfortable with that. All they have to do is say that a friend just released a new graphic novel if anyone wants to check it out.
IT'S BLOG, IT'S BLOG, IT'S BETTER THAN BAD, IT'S GOOD
If you don't have a blog already, this would be a good time to start one. You are a writer, after all. Don't worry, you don't have to churn out material every day. Every month or so should be good enough to help cultivate a following.
In addition to whatever else you share, make sure to post about your adaptation. As much as the final product may be your masterpiece, how you got there can also be a compelling story. Draw readers in. Make them want to know more, read more, buy more.
Make sure you have a subscribe button. You may only get a few or you may get a lot. Either way, you don't want to miss a chance to directly reach an engaged audience. Or at least your childhood babysitter.
Your book should ideally have its own website if you can manage. A centralized place where you can funnel all traffic to learn about the project and the people behind it. You can even include a miniature blog where you post updates and news.
CONTRIBUTE
An offshoot of writing for yourself, is writing for someone else. Lots of websites are looking for contributors. Research sites that center around your book's genre, or anything your work has a connection to.
Pitch an article and see if there's a match. Expand your audience, flex your creative muscle, become a part of another community.
Whether it's your own blog or an article for a separate website, make sure you include a bio at the bottom. Highlight your graphic novel and include links to the official site along with your social media. Example below.
SELL OUT
Make some merch available on your website, even if you and your mom are the only ones who ever buy any. You never know. I use my Blowback travel mug several days a week and ran the L.A. Marathon in my Blowback high-performance tee. Be your own billboard.
Through sites like Café Press and Zazzle, you can create designs for purchase, and it won't cost you a dime.
UPON FURTHER REVIEW
I think of reviews as the coin of the realm when it comes to marketing. Although it's tough to land them, there are lots of reviewers out there to try to appeal to, big and small.
Seek them out. Hunt down their contact info. In the case of the larger comics websites, you may end up filling out an online form. Make sure your request involves a pitch of your book, your creative team's credit highlights, and why someone would want to read and write about it.
With email contacts, I also attach pix of the creators, a few favorite panels, and a link to a pdf of the book on a server, like Dropbox. It's a good idea to also include those pix on that server. In the case of online forms, you won't be able to attach them.
When it comes to comics press, a review isn't the only thing you can ask for. You should simultaneously request a mention of your book release. Reviewers with limited time might be willing to post it as a news item instead.
To make those as easy as possible, include a brief press-release style write-up about your book in the query. Something that can be cut-and-pasted into an article.
When you do succeed in getting a review or write-up, make sure to promote the crap out of that review and reviewer. Follow them on social media. Check out their other reviews. Reward their time and effort on your behalf.
Granted, if they hated the book, this might be a little harder.
PODRACING
Every third human being has a podcast. Look for ones that specialize in comics, movies, writing, or whatever your graphic novel is about. Is it about storm chasers? Look for a storm chasing podcast. Romantic comedy about baking at high altitudes? Find some mountaineering baker podcasts.
Similar to pitching an article, reach out to your targets and let them know why you'd be a great guest. If they invite you on, make sure you promote that episode as well as the podcast in general.
Talk to your collaborators to see if they'd be open to a podcast or interview. If so, try to connect them with any platform that's interested. The artist can talk about all their projects, of course, but encourage them to at least highlight your collaboration.
PRINT IT UP
If you went to college, does your alma mater have an alumni newsletter or magazine? See if they'd consider doing a piece or post about the release of your graphic novel. At NYU/Tisch, they encourage graduates to submit updates on their professional lives. The updates are posted on the alumni website, and some select entries are included in university newsletters and publications.
Contact your local newspapers. That goes for the paper where you grew up, as well as the one where you're living now. Tell them why their readers will be interested. A lot of papers like to highlight success stories from the neighborhood. When it comes to where you went to elementary or high school, you can mention a class or teacher that inspired you to pursue writing. That one will hit all the feels, especially if the teacher is still on staff.
PRO OR CONS
Comic conventions can be tough. A table at the brand-name cons are often cost-prohibitive. Possibly worth it if you already have a following, but probably not when you're just starting out.
That said, smaller, local ones (which won't require travel and hotel) might be worth a try.
If you've done a print run of your book, you should already have a supply on hand to sell. If you're using Amazon print-on-demand, like Rhonda and me, you can buy what are called "author copies" at a discount.
If you do end up working a con, remember to be friendly and try to engage attendees as they walk by without coming off as annoying or—worse—desperate. It's a bit of high wire act.
FOR YOUR CONSIDERATION
Like most creative ventures, there are awards out there for comics and graphic novels. It's always nice to get validation. But more importantly, getting nominated for something can increase awareness of your book. And ideally, increase sales.
Track which ones your project is eligible for, as well as submission and announcement dates. It's also a good idea to vet them for legitimacy.
While some have industry professionals who make selections, others take votes from the public to get their nominees and winners. This gives you a chance to have a social media campaign to seek support, which is another way to help get the word out for your book.
And if you're fortunate enough to get nominated or win, a whole other avenue for exposure opens. Also, you won!
TRAILING
Making a trailer has been on my To Do List for a couple of years now, but I confess I still haven't gotten around to it. If you have the skill and technology (and the time), though, you should consider putting one together.
Now, it's pretty easy to veer into cheese with these things. So, tread carefully. Look up examples until you find a few you think are effective and match your book's genre. Build from that base, while making it your own.
I know precious little about TikTok, but I hear it's a popular venue for authors. Reading excerpts? Maybe posting trailers? You're on your own here.
BIG FINISH
In the end, as much as you should try to get them, don't judge the success of your adaptation by sales alone. It's tough for any book to find an audience, and a first release often serves as a building block to accumulating a following over subsequent ones.
But if you have the will and can find the funding, then an adaptation is a really amazing thing to create.
If you've faithfully followed me through this entire five-part series, I sincerely thank you for your time and attention.
Let's keep making stuff any way we can.