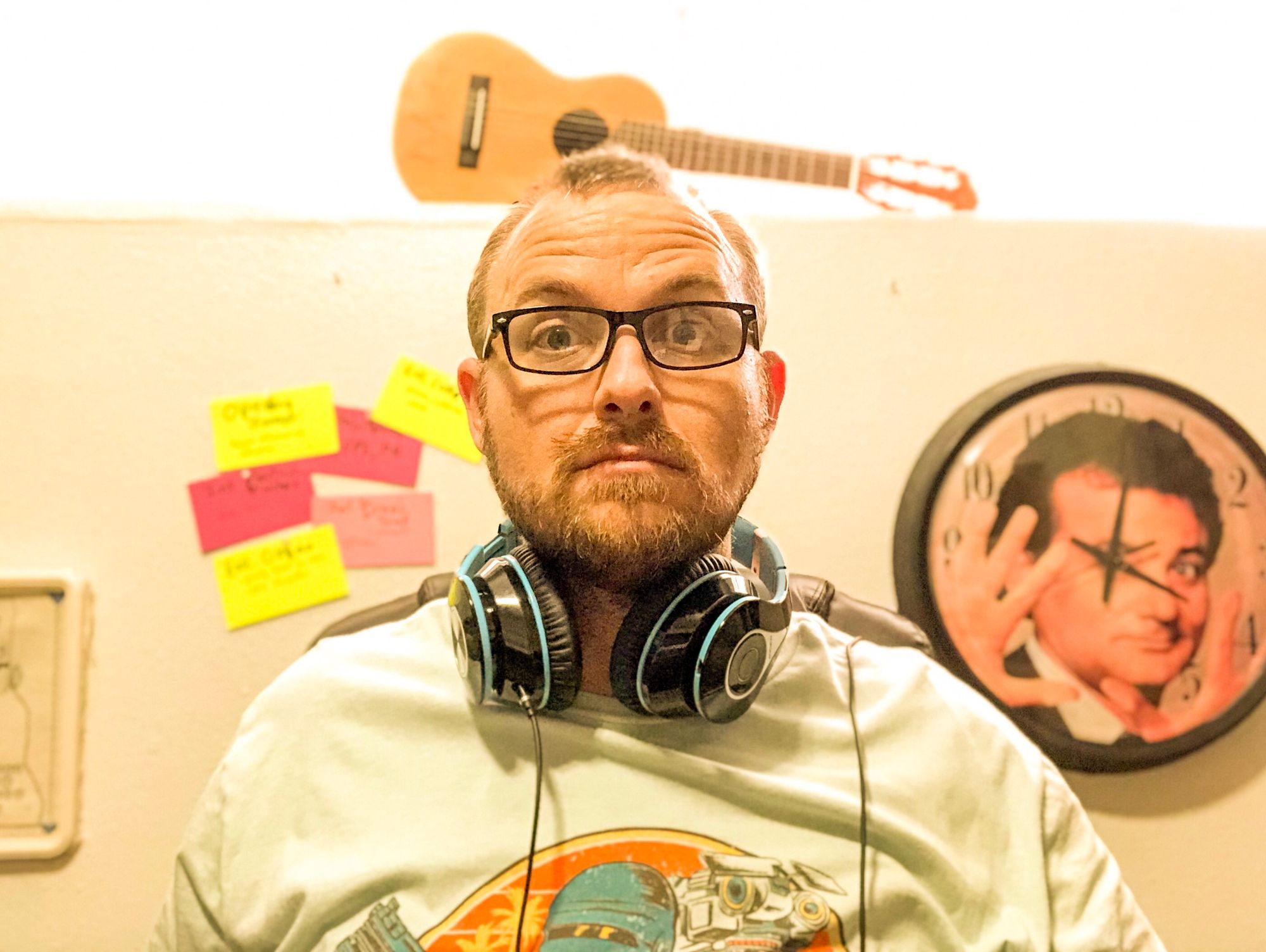 Interview: Nathan Patton
Winner of both the 2018 Script Pipeline First Look Project (Action-Adventure category) and the 2019 Script Pipeline TV Writing Competition, Nathan Patton was quickly recognized as a writer with enormous potential. His ability to craft character-driven stories is overshadowed only by a perceptive understanding of what constitutes as as a stand-out script.
Let's get this out of the way, because it's kind of a special record: you're one of the few writers in Script Pipeline's 20-year history to win two separate competitions—the screenplay Waitress #2 (2018 First Look Project – Action/Adventure) and the pilot Redflags (2019 TV Writing). We've seen our share of great writers, but Waitress signaled to us that a new, exciting voice has climbed above the masses. Prompting the initial reaction of "oh, right, a marvelously unique script can still exist." Long odds in an environment where every writer is drilled with "write for the market, write genre," and thus become hesitant to try something fun and meaningful and different. How did you dream this one up?
Firstly, that's a huge honor, and I appreciate being so welcomed into the Pipeline family. Let me know what dish to bring for Thanksgiving.
I watch a lot of movies (or I did before my son was born. . .), and Waitress #2 came about as a reaction to two things I've seen too much of in films. One was a very popular film from a couple of years ago where the female lead was little more than a prop—a McGuffin for the film's hero to covet. And the other was seeing a lot of what I call "the wife on the phone" trope. In the past five years, I can count at least that many Oscar-nominated actresses who were forced to sit by a literal telephone for the male lead of the movie to call so they could give them support. I mean no disrespect to these films or their creators, but I think we can do better.
Waitress, on its meta level, is also very personal. Was this difficult to integrate? And what made you decide to include this element in the first place?
I'll answer the second part of the question first just to keep you on your toes.
Many of my favorite writers—from Charlie Kaufman to Grant Morrison—have put themselves in their work. So when I decided I wanted to take a tongue-in-cheek shot at Hollywood, I thought I really shouldn't be pointing fingers at others unless I was prepared to also point one at myself and confront my own blind spots. As for how tough it was to integrate, I'll say that the hardest part was deciding on just how much of that element to include. There's a real Goldilocks zone aspect to the balance between the two narratives.
What were your expectations for Waitress? Did you think it would turn heads immediately? There's always a risk in writing something this avant garde and meta, even if it still hugs the action-comedy genre. Did you ever change your mind and consider abandoning the script for a more straightforward project?
I knew I had a pretty solid concept from the beginning—or at least one that I was really excited about—but executing that concept is another story. I actually workshopped this one in class, and it was the most brutal workshop of my time at the school. No one in the class really liked all aspects of it. They wanted me to adjust it one way or the other—to lose the personal part altogether or, crazily enough, to make that aspect more dramatic almost like Kramer vs. Kramer. None of those options really appealed to me, but it was a bit of an uphill battle going through that workshop.
There certainly were doubts, as there always are, about how far outside the box I should go. I would say it definitely would have been easier to just make it a straightforward action movie. But I've tried writing that way in the past, and it wasn't as effective. It didn't feel as personal to my voice and perspective. I think I just have to write the movie I would pay to see on opening day. That usually involves a good dose of strangeness.
Redflags is another one that felt fresh in voice and execution. What a glorious series it would make, too (HBO, Showtime, FX. . . if you're reading this—hi). For a script with such a brilliantly drawn protagonist, did the lead come first, and then you built a plot around her? Or vice versa?
Again, thank you for the kind words. I would say that the story and the main character evolved simultaneously. I knew I wanted to do a techno-spy-thriller with a more deconstructionist, somewhat comedic tone, and I knew I would need a protagonist who would look at things a little sideways, who would see through the BS of the people in these worlds who can maybe take themselves too seriously. And I knew that I would need someone smart enough and tough enough to take all the twists I was planning to throw at her. Of all the characters I've written, Maddy is the one I would most want to hang out with.
A lot of young screenwriters shrug at the idea of getting a formal college education in film or writing. Drawing from your experience, what would you advise an aspiring screenwriter to choose? What was the push for you to move to Austin and pursue writing?
My wife deserves all the credit. She grew up on film. It's something that's been a part of her life since early on (by contrast, my first loves were comic books and music). So, when she decided she wanted to go back to school (we had both dropped out of our first undergrad experiences) to study film in Austin, I was just along for the ride (and tacos). But her passion was infectious, and I started to take screenwriting classes while she focused more on the production side.
It's true that you don't need a degree to learn screenwriting, and the internet provides a lot of what you would get at a film school, but I found my education, and the community of other writers, invaluable. And after I graduated with a film degree, I was lucky enough to get a Michener Fellowship. The Michener program is not only fully funded as far as tuition, they actually pay you a stipend so you can focus on writing while you earn your MFA. It was a great experience and one that I wish more screenwriters knew about.
That said, I was just publicly fired (they call it "graduating," but whatever), so HBO, Showtime, FX, Hulu. . . sup?
You're also into music, correct? I've known this to be true with other disciplines in the arts, but I'm curious about music: does having that extra set of abilities and knowledge help with storytelling?
I can only assume that I annoy people with how often I relate screenwriting to music. When I'm structuring scripts or outlining scenes, I think in terms of tempo, tonal dissonance, loud-quiet-loud dynamics, etc. It's probably just because songwriting was the first kind of writing I taught myself, but it really does help me keep things moving and changing on the page.
When you sit down to write a script, or develop a new idea, do you intentionally say, "okay, let's figure out what message I'm trying to get across first," or does it happen as a byproduct of a provocative concept?
Great question. "Theme" is a bad word in some screenwriting circles, but I can't really write without one. When I'm outlining a script, having a theme or a thesis helps me focus the narrative in a way that could otherwise be a bit unruly due to all the options available to a blank page. I find that a theme is kind of like (here it comes. . .) the bass line in a rock song.

Nathan Patton didn't grow up in a rural Arkansas town, population 85—he grew up on the outskirts of that town. That seclusion led to a lot of time spent inside his imagination, writing and drawing his own comic books, or acting out unmade Indiana Jones sequels in the woods and creeks behind his house.
While he's still inexperienced at adulting, but he did eventually get a job, doing some work in the comics field, and working as a freelance journalist and political cartoonist before eventually deciding to get his MFA in Writing. He's a former Michener Fellow at the University of Texas at Austin, where he still lives with his wife, son, and dog—all of whom are way cooler than him (for one thing, they never talk about themselves in the third person).
His feature script, Waitress #2, won the 2018 Script Pipeline First Look Project and is a 2019 Nicholl Quarterfinalist.
Follow Nathan: Twitter