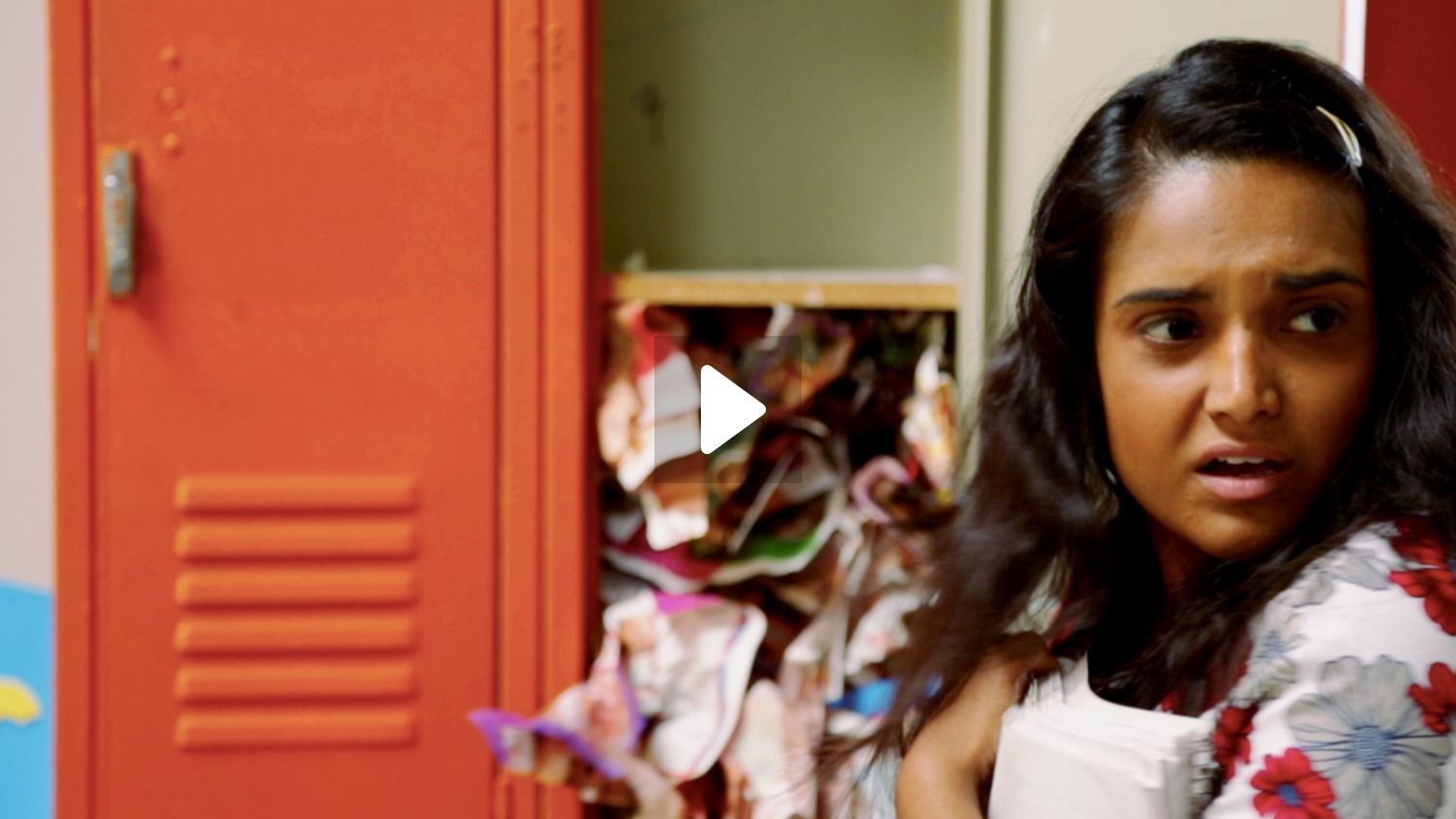 Interview: Prarthana Mohan & Kay Tuxford
Writers Prarthana Mohan and Kay Tuxford collaborated on their first film, The MisEducation of Bindu, a coming-of-age dramedy offering a fresh perspective on the dynamics of high school identity and integration, seen through the lens of a 14-year-old Indian girl living in Midwest America. Prarthana and Kay were selected for Seed & Spark's #HometownHeroes campaign, which allowed Mark and Jay Duplass to come on board as executive producers in 2017. Kay previously won the Script Pipeline TV Writing Competition, and Bindu is Prarthana's feature directorial debut. Both are graduates from Chapman University's film program.
Who pitched the idea to who, and why did you feel this was the kind of story to pursue? Did the co-writing and co-development partnership come naturally, or were there some hurdles (there are always hurdles, right?)?
Kay: The nugget of this came to me in film school for an assignment in my screenwriting class with Paul Wolansky. It featured two unlikely partners in high school biology, including a homeschool kid who was booksmart, but socially tone deaf. Directors in our program could pick shorts they liked by the screenwriting students to film—and Prarthana picked mine. She hasn't be able to get rid of me since.
Prarthana: Kay writes like how I feel inside, so finding her in film school was wonderfully serendipitous. When I read the short I fell in love with it. It was dark, funny, edgy, and I couldn't wait to direct it. Kay is a wonderful collaborator, and I would say our partnership was natural. I'm sure we've had hurdles, but none that couldn't be resolved with a couple of glasses of wine.
When you first began the crowdfunding process, you got off to an incredible start and never looked back, it seems. The film was fully funded rather quickly. Plenty of filmmakers fall short of the mark, though. Is there a trick to it? Or is it karma—years of pitching in money and services on friends' projects came full-circle? It would surely vary from project to project, but what are some of the things you learned along the way?

Kay: The trick is to be non-stop. Which is not a trick at all, but exhausting. You have to be promoting around the clock. And not just the same post—you have to turn it into an event with your audience, something they can participate in. We did a ton of contests, dollar for dollar matching with some of our donors, had video blogs about the project, and made huge graphics when we moved on up to our next achievement (and thanking everyone for getting us there). I'm sure for some it was a little much (I'm sorry, guys!) but it definitely paid off. I still have people that talk to me, overjoyed they helped our team win #HometownHeroes. For a few dollars donation, we offered a hell of a ride to be a part of it.
Also, yes, we've all tried to donate and help friends on their projects throughout the years not expecting an eventual payout, but it just feels good to help talented people we know achieve their dream. Even giving a few bucks might help them over a slump, and they'll be grateful. We certainly were when they returned the favor. If you can't donate to your friends projects, shout-outs on social media on their behalf is definitely appreciated.
Prarthana: I'm not kidding when I say that crowdfunding is in the top 10 most difficult things I've ever done. It's not easy asking people for money, and it's certainly not easy asking them to stay engage and be involved. We had to use every trick in the book. We learned from friends who were both successful and unsuccessful in their crowdfunding efforts. Seed & Spark was also helpful with metrics we should be mindful of. Kay and I geeked out on data, analyzing what posts worked and what did not. We had some incredible support right off the bat, and that's needed to get momentum going. You absolutely cannot go it alone, and we had a core team of 3-4 people who were constantly reaching out. We were reaching out in two different time continents (and sometimes a third), so there was no downtime, and I think that helped keep the project in everyone's newsfeeds.
What made you decide to go the crowdfunding route instead of seeking out potential production companies?
Kay: Originally, this script did go out to production companies. It featured a white main character and we had been locked into that idea for a while because we felt we needed a name to raise funding. The project hit cycles of interest, but we were losing time waiting for that "yes." Once the topic of making this ourselves came up, it felt right. And that also gave us the freedom to ask. . . what if our main character isn't white? What if she's an Indian immigrant? Over a year of rewrites and re-imagining, we excitedly now have the best version of this story we've written. Indie Filmmaking set us free.
Prarthana: Crowdfunding is insanely hard, and we really had to do some soul searching before we were ready to fully commit. The timing felt right to explore this film with an Indian lead and shed light on the immigrant experience. I don't think we could have done this 5-10 years ago when we were shopping this script around. Going the crowdfunding route gave us control over how this film is going to be made. The competition on Seed & Spark gave us the impetus to make it happen.
Kay, you went to school for something other than film. Regrets in that arena? Or did that actually help gear you into the entertainment industry? Ask a hundred writers, and you'll get a hundred different answers, but for either of you, do you think a traditional film school education would have helped?
Kay: Nah. My background education is just proof I really like education. My bachelors are in Biology and English and I stopped myself from another in Chemistry (I had to admit to myself I had no intention of a career in Chemistry, I just liked the classes). My senior year, I signed up for a creative writing class, which I've always enjoyed, but it turned out to be a screenwriting class. It was in the classroom with the really comfy chairs, so I stayed. I stayed and I got hooked. So there's no other way I'd be here if I didn't go to school for something other than film. I did eventually go to Chapman for a Screenwriting MFA program, they really seemed to relish that I had a less-than-typical film background. Sometimes the equipment and technique still intimidates me, but with the advantage of so much digital information and YouTube how-tos, it never takes me long to get up to speed.
Prarthana: I was on my way to medical school like most Indian kids. Somewhere in high school, I was bitten by the theatre bug and waited until after I was admitted into medical school to let my family know I did not want medicine but film instead. I come from a film family in India. My grandpa is a renowned music composer, M.S Viswanathan. While my family was supportive, they thought the jump from medicine to film was a little extreme. After a lot of negotiating, I went to the only communications program in my city that had film courses. Like Kay, I was hooked and applied to Chapman's MFA in Film program as soon as I could and haven't looked back since.
This is a question no one ever addresses in the creative industry, but they should: what kind of support have you had now and in the past from friends and family? Were there hindrances—shall we say "demotivating influences"—when forming your niche in the arts? If so, how'd you overcome that? Financially, mentally, or otherwise.
Kay: I'm glad you asked this! I'll say, honestly, my family had concerns over a seemingly well-put-together daughter/sister running off for show business, but while they don't always understand the ins and outs of the industry, they always hope I do well and I'm happy. Where I think I get that "demotivating influence" comes from other filmmakers right here in LA. Even when I told peers I was crowdfunding, a lot of them who didn't know me too well were inclined to hint that I set my sights too big, or I was destined for failure. I had one screenwriter tell me point blank that he didn't think crowdfunding worked at all without A-List talent attached. I think it's easy for us to do this to other people in our field without meaning to, just because it can be really rough and demoralizing out there, and we project those experiences on each other.
Wow, that was a really long-hand way of saying misery loves company, wasn't it?
Prarthana: I've been lucky to have really supportive family and friends. They had their concerns and voiced them, but once they saw that I was unwavering in my commitment to see this through they got behind me one hundred percent. My father was our honorary campaign manager during the crowdfunding phase. He was so gung-ho about us making our goal, I think he may have talked to every single person in India!
Assuming all goes as planned with The MisEducation of Bindu, would you produce another film, or use this as a springboard to other opportunities?
*Forgive us for asking two overworked filmmakers, "Hey, so what about the NEXT thing?" when they're focused on the current thing.
Kay: You are not forgiven.
But in truth, the more you start working on your films, the more you are thinking in the back of your head about the next one. It's like tattoos, right? Bindu has given me a really strong desire to go further into indie filmmaking and be more hands on. Too often I've felt like. . . well, I'm the writer, I did my part, and it's out of my hands. However, now I'm writing projects with the expectation in mind they will be made by me. My next project I feel I must do is an indie romance centered on a hotel in Phoenix, my hometown. I love the challenge of minimizing characters and locations and just making the story as rich as possible.
Prarthana: Yes! The plan is that this will springboard into many different things. I have a couple of other stories I'd like to tell. Would love to collaborate with Kay on something else as well. This is an exciting time for us!
Writers and directors and actors. . . they're told all the time "never give up." And they shouldn't, if they're 100% dedicated to sharpening their skills. But do you think some take a while to find their place in the industry? In an area they're most talented in? Was that the case with either of you? Is it possible to leapfrog something you're interested in—say, directing—to something you're better in, like writing.
Kay: Yes, no, maybe? Maybe it's just because I was almost a Biology English Chemist at some point in my life, but I don't think we as human beings only have to have one thing we're good at. And even if we find it, it doesn't mean we'll be happy doing that skill the rest of our lives. Sure, it would benefit our branding and we'd be known for it the more we do it, but I feel that we owe it to ourselves as filmmakers to also pursue some personal happiness. Most filmmakers I know work very hard to achieve a modicum of success. The amount of toil and hard work will never translate properly in their paychecks. So it should at least make you happy doing it. If you have a niche in writing but you find yourself drawn to directing and learning more about that. . . no need to stay in your lane. Explore that, and at bare minimum, it'll make you a better writer. Personally, I'm trying to expand my producer skills and experience because it gives me more control over the material I'm working on.
Prarthana: I graduated from film schools when the markets crashed, an international student who needed a visa to stay here, and all sorts of uncertainty ahead. That was nine years ago and I'm still here, working on it everyday.
Pretty much everyone I know that's still here are overcoming crazy challenges every day to be able to continue to find a way to tell stories. I think it's about being resourceful—and yes, maybe not giving up as well.
Kay: I like Prarthana's answer better here. Can I switch mine to this? Thanks.

Born and raised in Chennai, India, Prarthana Mohan has always been interested in the arts. Hailing from a film family, her grandfather's (renowned composer M.S. Viswanathan) stories about the film industry ignited her imagination. In college, Prarthana pursued Visual Communication and her documentary, Hush, won the state award for best film.
Prarthana completed her MFA in Film Production with an emphasis in Directing at Chapman University in California. She was the recipient of the Leo Freedman Award for excellence in visual storytelling, and her thesis film, Turn Around, showcased in the Cannes Short Film Corner and screened in multiple film festivals.
The MisEducation of Bindu, executive produced by Mark and Jay Duplass, marks her feature directorial debut.
Kay is an Arizonan who's wandered west until she reached the ocean, peeling away her Northern Arizona University Bachelors of Science degree in Biology for a pen and paper. A graduate of Chapman University's Screenwriting MFA program and a prestigious Knott Scholar, Kay co-created a one-on-one writing coach program through Writersstore.com and assists writers, from novices to showrunners, on their passion projects.
Her writing has screened at Cucalorus Film Festival, deadCenter Film Festival, and Portland Women's Film Festival. Writing placements and wins include Austin Film Festival, the Nicholl Screenwriting Fellowships, and the Script Pipeline TV Writing Competition for her true story drama pilot Queen of Thieves, co-written with Lily Dahl.
She produced The Awareness, which premiered on Shortoftheweek.com and selected as a Vimeo Staff Pick. Her feature film, The MisEducation of Bindu was crowdfunded on Seed & Spark and selected by Mark and Jay Duplass to executive produce.