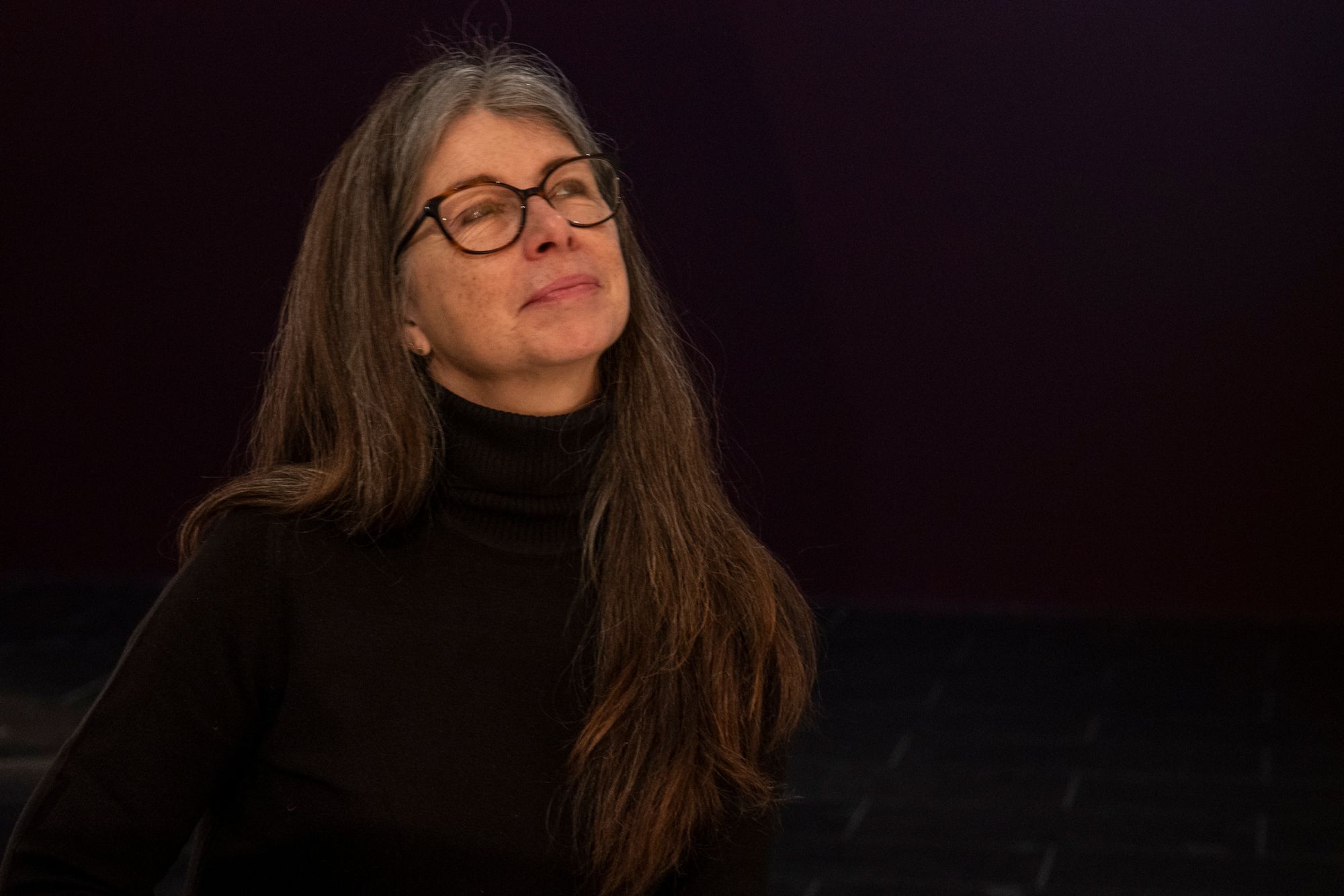 The Impact of Arts and Minds, the Bilingual Art Program Dedicated to People Living With Dementia and Their Carers
For many people, art is the perfect vehicle of self-expression, which provides an outlet for creativity, emotional stimulation, and individuality—and the non-profit organization, Arts and Minds, has developed bilingual English and Spanish art programs for people with dementia and their carers. In this interview, Carolyn Halpin-Healy, Executive Director of Arts and Minds, highlights the high impact of art even when the mind is fleeting.
The vision of Arts and Minds came to fruition through the efforts of Carolyn Halpin-Healy and her co-founder Dr. James Noble. Halpin-Healy, with a background in Art and Art History, began teaching at the Metropolitan Museum of Art in New York City—and in 2008, the MET offered programs for an audience of people with dementia and their carers. Being part of that first teaching team inspired her to create her own program where art could be brought to service in a concrete way—to share art with people and make a difference in their health and well-being through art education.
"It kind of knocked my socks off, the way older adults and people with dementia were present in the world of art. They were ready to ponder the meaning. They were ready to take their time and consider questions of meaning, both to them and perhaps, to the artist and to the others who were there looking."
Finding an audience that was eager to interact with art and other people, as preferred by Halpin-Healy, made her vision clear.
Around the same time, Dr. Noble was finishing his fellowship in Neurology and about to begin his new appointments in the neurology department of Harlem Hospital and as a Neurology professor at Columbia University. Dr. Noble had taken Art History as an undergraduate at Vanderbilt University and found the Harlem Renaissance era riveting. During his time between appointments, he visited museums—and that's where he ultimately met Halpin-Healy, who happened to be facilitating a program that day.
She relays how Dr. Noble honed in on the nuances of the program catering to visitors with dementia and their carers. For example, a father and his son duo warmly relating to each other or a mother and daughter engaging with the art. He saw these interactions with authenticity and in real time. It was more than a neurological curiosity. It was something that could make a difference in the lives of his patients now.
For Arts and Minds, visitors are not patients, but participants, like in any other program—and the ultimate goal is to create a safe, non-judgmental, and encouraging environment to interact with art (including artists and historians), their carers and like-minded people.
Halpin-Healy realized there weren't any programs like the MET provided above 80th Street in New York City and sought a partnership with Shanta Lawson, the Education Director of the Studio Museum in Harlem. According to an excerpt, written by Jennifer J. Manly and Richard Mayeux, called Ethnic Differences in Dementia and Alzheimer's Disease, "African Americans and Hispanics have higher prevalence and incidence of dementia and AD than whites." Understanding that demographic, working with the Studio Museum, who had already been working with family and was eager to reach out to other demographics within the community, seemed like a perfect fit. Soon after, they received their first grant from the Friends of Harlem Hospital.
Before long, the pilot rolled into an ongoing program before becoming the non-profit organization we know today. By following the need and natural growth patterns, the program has become a viable resource and a source of comfort and optimism for its participants.
Arts and Minds is a progressive program that supports carers and loved ones living with dementia. It provides an opportunity for genuine connection, unapologetic self-expression, and reflection. By embracing diversity and inclusivity, participants can see themselves reflected in the art from museums around New York City and beyond, including El Museo del Barrio and the Studio Museum in Harlem.
Art is subjective and nuanced—and we can find it everywhere. For example, in leaves gliding through the air, posters on polls, and graffiti-covered walls. It can be sculptures, messages, or clothing. It's how we see ourselves versus how the world sees us—and how we experience the world.
Halpin-Healy acknowledges that many participants have experience with art, from being art students or artists some time ago or simply admirers of different mediums. When asked if she felt there was a particular type of art that people with dementia gravitate towards, she gently advised, "I feel pretty strongly, for the most part, all art is for everyone. I will however say that if you're inviting people to a program who are not used to being at art museums, who haven't been following art for a long time, maybe you don't show them a Mark Rothko on the first day.
She continues, "Maybe you don't show them some pure abstraction. Instead, the teachers strive to create dialogue as participants interact with images."
She recommends using figurative art. "Figurative art that may have images of people interacting provides easy feelings of speculation about what's going on between those characters."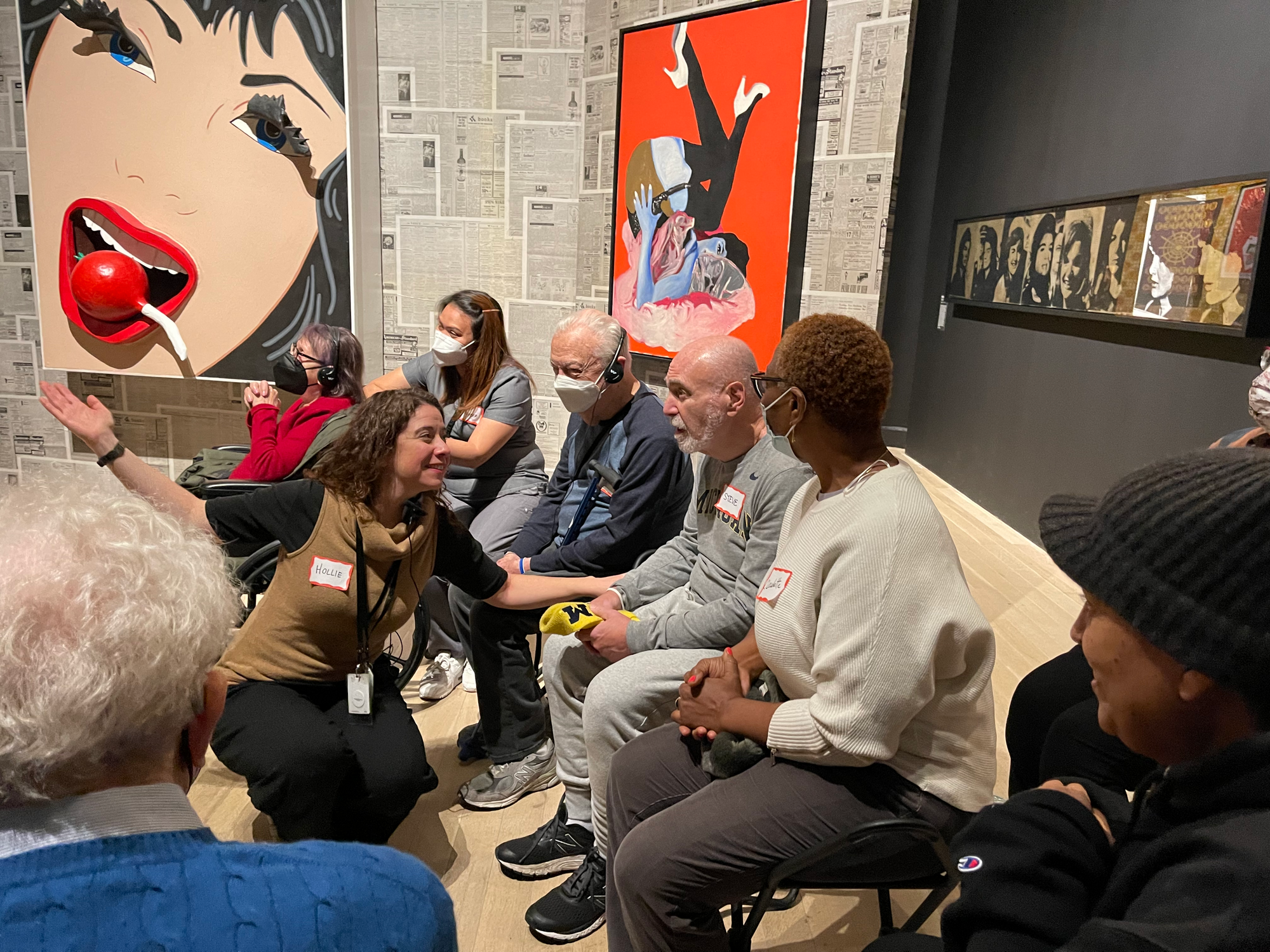 Through the co-founders and their dedicated team, the Arts and Minds organization instills dignity to sometimes voiceless participants, sparking curiosity and (re)igniting a passion for all the mediums we can see, hear, smell, and touch.
Then everything changed on March 6, 2020, when much of the world seemingly came to a standstill and braced for the Corona-virus Pandemic. Dr. Noble alerted Halpin-Healy that the program was going to be cancelled, still a heartbreaking recollection years later. Since it was designed for at-risk people, the best way they could protect their participants was to close to the public. Through painstaking efforts and under the direction of Halpin-Healy, the online program was born and helped create a semblance of normalcy in the midst of global confusion and chaos.
They didn't miss a beat—and the day museums closed in New York City, they presented their first online class to their participants.
Like countless businesses and organizations worldwide, the transition was a learning curve, with staff initially holding up reproductions to the camera and teaching themselves how to maneuver through Zoom's digital features. Halpin-Healy laughs as she recalls those first moments, but somehow they made it through the uncertainty.
"Our approach to art is all about meeting the participants where they are. We have an understanding of what the symptoms of dementia might be." She continues, "It's not just memory. It's also other problems in thinking. There may be problems with language perception and language production. There are visual and spacial symptoms."
An added layer of complexity was ensuring the participants maintained focus within their remote environments. "There are really profound challenges to attention," she reflects. "I think we all live with that in the modern world, and it's that much more difficult for someone who has the diagnosis of dementia or living with any kind of cognitive impairment to maintain focus."
"Nobody wants to join the dementia club," declares Halpin-Healy, "so they come sometimes quite reluctantly—until they find out it's a stigma-free place; it's a safe place, and everyone's dealing with similar challenges. "In a way, that's what we do most powerfully, is help people maintain focus. We provide an object of focus: a work of art that's worth paying attention to, that's worth thinking about, talking about, and engaging with on emotional and intellectual levels."
But what becomes of the care partners? How does the program support them as well?
They're supported through consistent reassurance and interaction with professionals that understand that dementia isn't a one-size fits all diagnosis. It comes in almost gradient forms, ebbing and flowing through its host at any given time. "Sometimes the filter drops, and people say things—it doesn't matter."
According to Halpin-Healy, "It's through the inherent interest in the object and communication strategies that we employ… ." which makes the program successful. She boasts, "We have a really well-trained team of very empathic educators, and they do a great job" through validation and ensuring their participants are not only seen; but heard. Through discernment, they can evaluate if there are serious issues with communication and work with that person.
Arts and Minds encourage carers to use the program as a resource. It's a space to leave your worries behind while enjoying a joint activity and being fully present. Halpin-Healy reveals that carers sometimes admit that they learn more about their loved ones throughout the program, perhaps through a never-before-told story or unleashed memory brought out by a particular work of art.
She continues, "Works of art can stimulate memory. Very frequently, they can stimulate thoughts, ideas, and responses that are both cognitive and emotional. A fond example of the spark that carers gush about deals with participants displaying general apathy but are dressed and eager when it's time to engage with the program. It really puts a spark of creativity, a spark of joy, a spark of something to look forward to."
Another aspect of Halpin-Healy's role is raising funds for the program and designing similar programs for other organizations. At the top of her wishlist is to find a donor for office space where the co-founders and their part-time staff of four can work—collectively and in person.
For more information on Arts and Minds and ways to support its growth, please visit the website and follow them on Instagram and Twitter.
*Feature photo Carolyn Halpin-Healy, Executive Director Arts & MindsPhoto by Fran Kaufman©